food tours & cooking classes in Malaga
food tours & cooking classes in Malaga
Meet local people, learn about the history of the city and taste delicious food as you stroll through the old town
Meet local people, learn about the history of the city and taste delicious food as you stroll through the old town
#1 Food Tours & Cooking Classes in Malaga on tripadvisor!

Welcome to Spain Food Sherpas!
We are a local and dynamic enterprise which works very hard to show you the best of our Malaga.
We believe food is best enjoyed when you put into the context of your local surrounding.
Our tours and cooking classes are not standardized, but a real reflection of the delicacies every season has to offer and the creativity of our chefs.
Our fingers are always on the pulse of the ever changing tapas and food scene in Malaga. It really is a privilege to be friends with some of the best chefs and culinary associations.
 Let us show you this absolutely amazing world!
Discover Malaga on our Walking Food Tours as you eat your way through this ancient city's history, tasting local specialties and sampling outstanding wines. Join us for a slice of Malaga you'll never forget!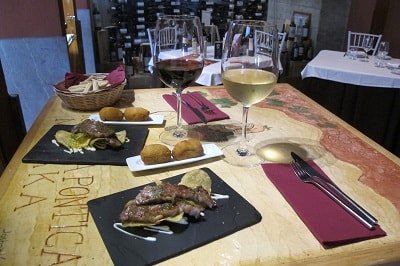 A night on the town for wine-loving foodies. Discover Malaga from an insider's perspective by nibbling on tapas in the best local bars and taverns.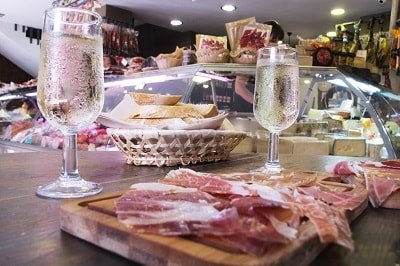 Experience Malaga the way Malagueños do by visiting the bustling Food Market, tasting hand cut Iberian ham and giving in to many mouth-watering tapas.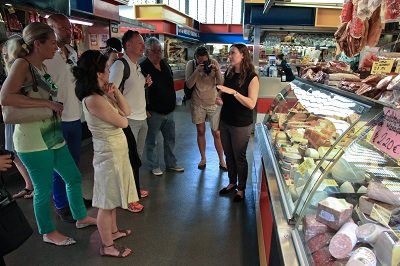 Fill your belly while exploring the highlights of Malaga's culinary and cultural treasures in a private setting.
You want to taste real Spanish and local food, but also learn how to prepare it? Then join us on our hands-on Cooking Courses in Malaga where our experimented Local chef will provide you with all kinds of tips and tricks to cook just like a Spanish does.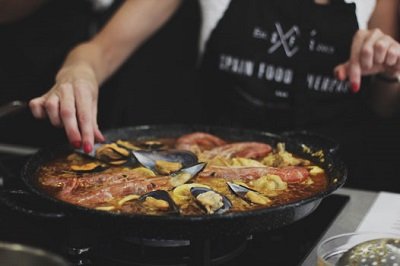 A big Paella pan, fresh seafood, smoky pimentón and a dash of white wine… Discover with us how to cook Spain's most famous dish! Authentic, natural, flavorful.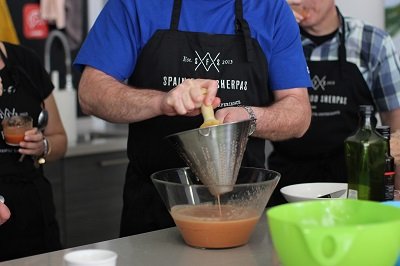 Care for a delicious tapa? Or two or three? Immerse yourself in our food culture by learning how to prepare (and eat) some of our most traditional and tasty tapas!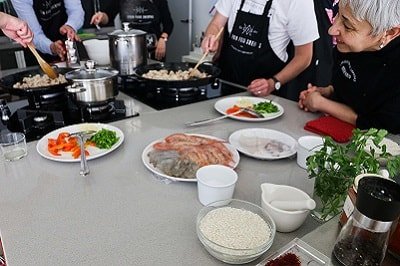 Whether it's a team-building event or a social activity, gather your family, friends and colleagues for a private cooking class at Spain Food Sherpa's Table.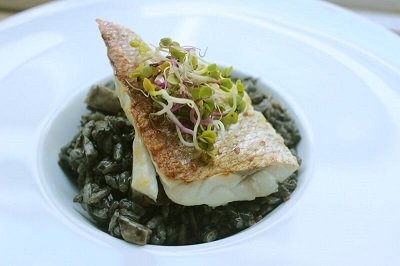 Join our Cooking Courses in the heart of Marbella to prepare traditional Spanish dishes with an innovative twist- all paired with excellent wines.
Food Sherpas
"Local Guides Share Cities'
Culinary Secrets"
—
JEFF GORDINER-The New York Times, July 2013
From the buzzing Mercado Atarzanas (the main food market), to the specialist ultramarinos (traditional, family grocery stores), visitors learn about - and try- the best local fares.

Jane Dunford, The Guardian

This was one of the best tours we've ever taken. Simone is incredibly knowledgeable and helpful. This Tapas and wine walking tour was absolutely the best way to get an introduction to lovely Malaga city.

Erin R, TripAdvisor

We had a company outing after a long day of meetings. I have had Paella in Malaga and Spain before, but I must say this was the best! The best part about it was that I cooked it!

jodeci0, TripAdvisor

We had a brilliant time with Spain Food Sherpas Tapas Tour!! It was a present to our dads 70ths birthday and was worth everything.

Anni E, Google Reviews
MALAGA TRAVEL GUIDE FOR FOODIES

Our Travel Guide provides you with key information and insider's tips about Malaga