MEET THE FOOD SHERPAS TEAM
"As in a high mountain expedition, the most important value provided by a Sherpa is the knowledge of the lay of the land and its reliability."
Our Sherpas guide our guests to those small culinary paradises difficult to get to, revealing the best routes and the most appreciated secrets by locals.
Over 900 Reviews on tripadvisor!
Spain Food Sherpas was born in Malaga in 2013 at the hands of a small team of local food lovers that wanted to reveal and share the hidden culinary and cultural treasures in the off-the-beaten-path areas of Malaga, Granada and Seville. Since then, we have welcomed more than 20000 happy guests on our tours and cooking classes.
Passionate about gastronomy, traveling and discovering new places, we sought for this type of tourism every time we were on the road. Finally we founded Spain Food Sherpas to offer our guests a new way of getting to know our city- just how we would like to live it ourselves.
Stunning local produce and specialized small scale (family) businesses are our pillars, as are traditional recipes and modern fusions- a real reflection of our heritage and community.
Slow food and tourism is something we support with all our heart, because it's the best way to really (and literally) savor everything a destination has to offer.
Our experiences are in small groups, guided by enthusiastic food sherpas who believe that the local gastronomy is an important part of the city's history and its lifestyle.
MALAGA FOOD SHERPA

Felipe
Favorite drink:  Hard to choose just one! An ice cold Victory beer in the summer and a glass of Ribera del Duero red wine (Pago de los Capellanes) for dinner is a good choice.
Malaga spot:  Los Baños del Carmen.
Tapa:  Fried fish from Malaga.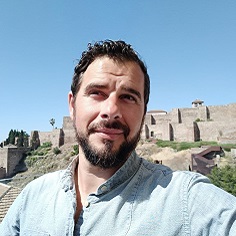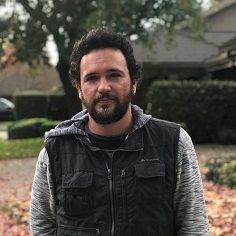 Favorite drink:  A home-made vermouth from La Recova and during the summer a cold glass of gazpacho.
Malaga spot:  El "Balneario de Los Baños del Carmen", an old spa in the neighborhood of Pedregalejo.
Tapa:  "Sopa Viña AB", a fish and seafood soup cooked with mayonnaise and a dry white wine at Juanito-Juan restaurant, in El Palo.
MALAGA TOUR GUIDE

Mayte
Favorite drink:  Botani, dry Muscat white wine or a large glass of gazpacho in summer!
Malaga spot:  The rooftop terrace of the Dulce Dreams Boutique Hostel.
Tapa:  "Caldillo de pintarroja"- a steaming, spicy fish and almond soup at La Campana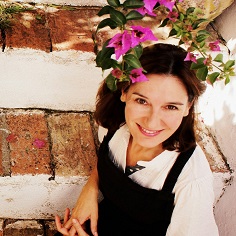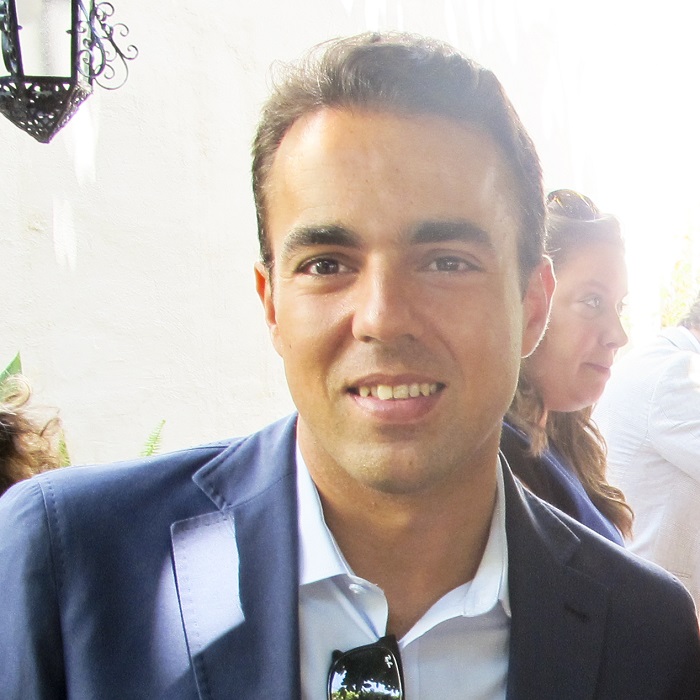 MANAGING DIRECTOR MALAGA

Pablo
Favorite drink:  A glass of Red Wine D+ from Descalzos Viejos (Ronda)
Malaga spot:  The 1st peak of the San Antón Mountain. As a reward you'll get a breathtaking view of Malaga.
Tapa:  A portion of "Manolitas" (sardines you get in July and August) in any chiringuito beach bar of Pedregalejo!
CHEF

Amparo
Favorite drink:  Montespejo white wine, DO Sierras de Málaga
Malaga spot:  Mirador de Gibralfaro.
Tapa/favorite restaurant:  Scallop and shrimp skewer in the restaurant of the Carmen Market.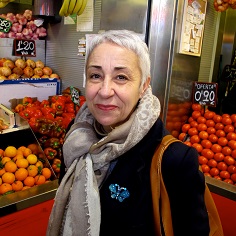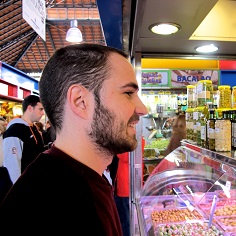 CHEF

Dani
Favorite drink:  Victoria beer (from Malaga).
Malaga spot:  Atarazanas Market.
Tapa/favorite restaurant:  "Chicharrón" and glazed sweet potato sandwich in Arequipa (Merced Market)
GRANADA FOOD SHERPA

Katia
Favorite drink: Undoubtedly my favorite drink is the king of Granadian's wines, it is " Prado Negro " ( Fontadei). I really love the rich, spicy oak flavors in this red wine.
Granada spot:  The monastery of saint Jerónimo, it is situated in the heart of the city. I love historical places!
Tapa: Aubergine with sugar cane honey. Delicious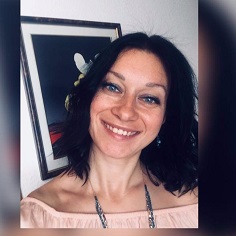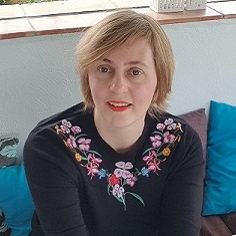 MANAGING DIRECTOR GRANADA

Molly
Favorite drink: Homemade Vermouth with a slice of orange & ice
Granada spot:  The stepped streets in the Realejo quarter.
Tapa/favorite restaurant:  Any of the Moroccan tapas at Om Khalsoum.
GRANADA FOOD SHERPA

Laura
Favorite drink: Glass of "Vino Tinto"
Seville spot:  San Miguel Alto quarter.
Tapa/favorite restaurant:  Iberian Pork Cheek.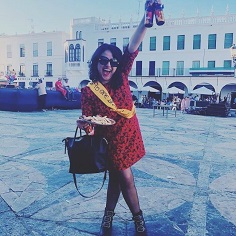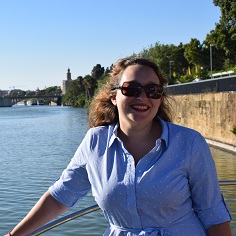 MANAGING DIRECTOR SEVILLE  & FOOD SHERPA

Lola
Favorite drink: Cold beer or Chilled Manzanilla Sherry Wine"
Granada spot:  Maria Luisa Park and the little squares dotted around the park..
Tapa/favorite restaurant: Chipirones a la plancha! (grilled squid) and "La Rosa de San Gil".
SEVILLE FOOD SHERPA

Cristina
Favorite drink: A good white wine from Andalusia or a "tinto de verano" in summer.

Seville spot: Feria Food Market

Tapa/favorite restaurant: Mojama – salt cured tuna.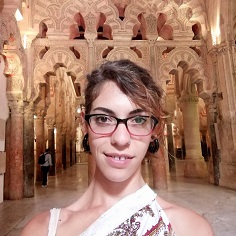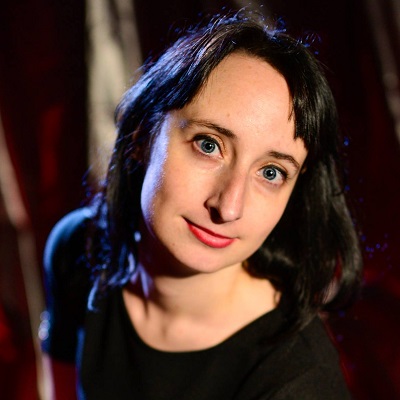 Favorite drink: Tinto con Naranja (Red wine with orange juice)
Granada spot: Plaza de España!
Tapa/favorite restaurant: Montadito de pringá at Antonio Perejil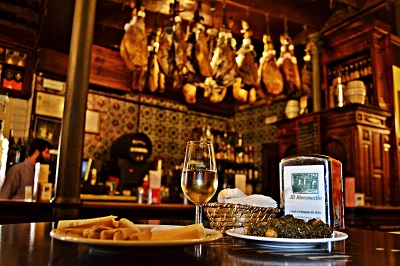 From the unique Manzanilla en rama to the traditional choricito al infierno and even the surprising emparedado de anchoas on our tour we'll share some of our favourite tapas, local recipes, new fusion dishes and other hidden gems.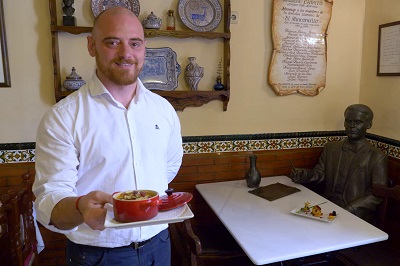 Mon-Sat. 11.am | 6 pm
3.5 h
Discover how locals in Granada eat out and try some of the best foodie places in town. Enjoy delectable dishes and drinks, at the same time you learn about Granada's rich gastronomy, history and culture.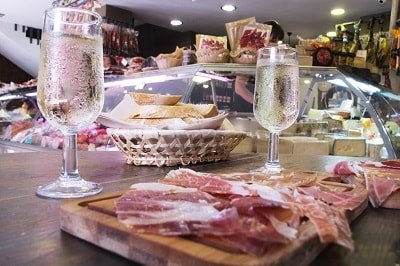 Experience Malaga the way Malagueños do by visiting the bustling Food Market, tasting hand cut Iberian ham and giving in to many mouth-watering tapas.