Ranked #1 Tour on Tripadvisor! 
Join us for a fun and delicious evening and learn how Malaga has become one of the country's top dining destinations!
Have a stroll through the beautifully illuminated streets of Malaga, tasting some of the best local wines paired with delicious tidbits. From different typical Malaga sweet wines, to refreshing whites, fruity reds and even artisanal vermouth, you will really get to experience our diverse wine growing regions. Bars, taverns and restaurants will make you feel welcome, offering their tastiest treats like Iberian cold cuts, fresh seafood and other local specialties.
You will pass by some of the most emblematic venues and hidden alleyways of Malaga by night in an enchanting tour that combines food, culture and history.
Highlights include:
4 Foodie Stops
Progressive  wine tasting and full dinner
The oldest Tavern in Malaga
8 Tapas & 5 paired Wines
Small group (12 people max)
Passionate English speaking Food Sherpa
Food, Wine, History & Fun
Copy of our Malaga Dining Guide

10% off your next Booking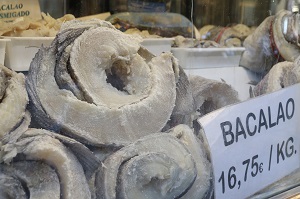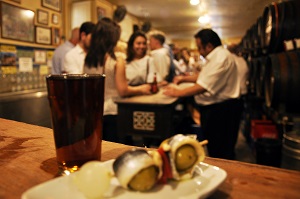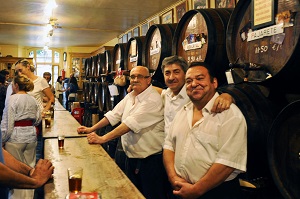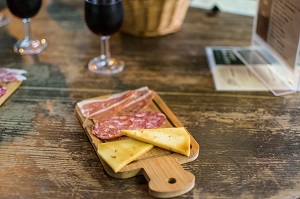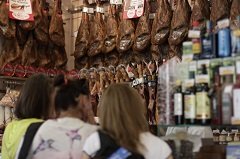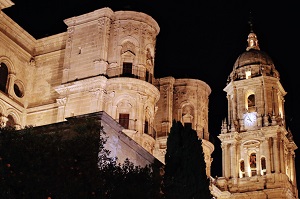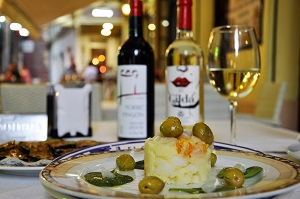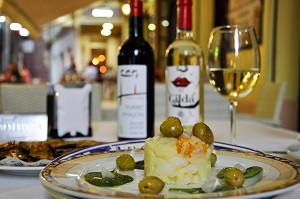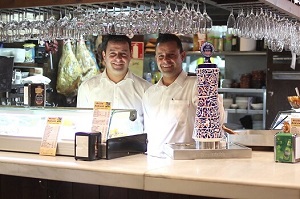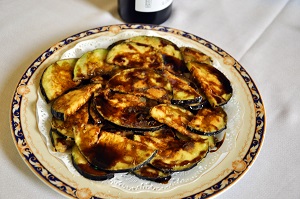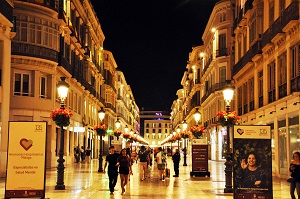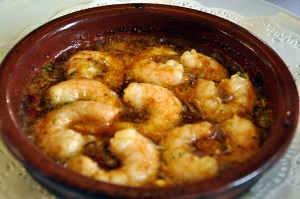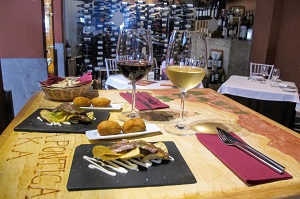 What to Expect
In this half-day activity during the evening, food lovers and those of artisanal produce, have the opportunity to discover the hidden treasures of Malaga. A route that is designed so chefs and local vendors can show you the best of the cuisine of our area: different tapas and drinks that reflect our gastronomic culture.
Our food tour starts with the visit to one of Spain's most charming taverns, founded in 1840, where we will taste the most typical wine of our region. We will visit a "ultramarinos", a small family-run grocery store specialized in iberian cold cuts and cheeses . Tasty tidbits that will definitely get your taste buds going, before hopping in and out of wonderful eateries and restaurants well-loved by locals.
Without doubt, the gastronomy of our city is influenced by the cultural and modernist boom that Malaga is experiencing nowadays. During our activity we will have the possibility to visit chefs who are working in an innovative and different way and who will delight us with traditional dishes and some very interesting and creative versions of them.
During the entire itinerary you will be accompanied by a member of our team, the so-called food-sherpa, who is an expert and passionate about our culture and local cuisine.
You will pass by some of the most emblematic venues of Malaga by night in an enchanting tour that combines food, culture and history. Off-the-beaten-track, experience the city like a local and taste what the south has to offer.
And at the end of the tour, your guide will give you our exclusive Malaga Dining Guide, with all our favorite places to eat and drink in Malaga put on a handy map
*Tastings and Tour stops are likely to change to reflect seasonal produce, and our partners availability.
Frequently Asked Questions
What People Say About Our Tours
"10/10 – would recommend" The food was delicious, we got to choose a drink with every place…
"The Málaga Evening Tapas Tour is a Must-Do!" I highly recommend this tour, and I will definitely go on another Food Sherpas tour…
"Wonderful ! Visit places you wouldn't find on your own . Agree with other reviewers don't eat before you go so much delicious food to try"
"Excellent" We loved the tapastour. We learned a lot and got to try new tastes. In excellent company. Tips: Dont`t eat before the tour.