TAPAS & WINE TOUR IN MARBELLA
Take a deep dive into the most authentic side of Marbella, a constantly evolving city that never goes out of fashion. Stroll through the old town and discover its traditional gastronomy, which combines the city's dual mountain and seafaring heritage.
As Mentioned in:
More than 20000 Happy Guests since 2013
Marbella is without a doubt the Costa del Sol's most iconic city, and its name is synonymous with luxury, glamour and exclusivity.
Boasting a unique atmosphere, the city has become home to thousands of foreigners from all over the world who came in search of the eternal summer of Andalusia. This multiculturalism is also reflected in a gastronomic scene that is difficult to match in any other corner of Spain.
But there is another side to Marbella: less extravagant, more authentic. This is the original Marbella, the one inhabited by Romans and Arabs, a glorious past whose traces can be found in every corner of the city's old town.
A city with its own personality that boasts a gastronomy that's entirely its own, forged between the sea and the mountains.
Tour Times
Mon-Sat  11:45am/ 6:30pm
Duration: 3-3'5 h.
Min. 4 people
48€
Adolescent 13-17 years
Languages:
English|Spanish
Meeting Point

Plaza de la Iglesia de Nuestra Señora de la Encarnación, by San Bernabé statue
Open in Google Maps ⟶
Highlights:
4 Stops
8 tapas and 5 wines.
Private Groups only
Expert Local Guide
Food, Wine, Culture, History and Fun.
The Route
We'll begin our tour in the central square of Iglesia de la Encarnación, and from there set off to discover the city's old quarter. In Spain, it's always "la hora del vermut" or vermouth o'clock, and what better place for a first stop to whet your appetite than a typical Andalusian tavern. The stars of the show here are the cold meats, Iberian pork, and PDO (Protected Designation of Origin) cheeses, all washed down with one of the tavern's famous aperitif wines.
We'll continue through the labyrinth of small, hidden squares and narrow white streets, admiring the flowers that we spot along the way, before stopping off at one of the restaurants and flamenco-style inns that dot the city centre, where the highlight is the traditional cuisine, inspired by the mountains. Hearty tapas in a friendly and welcoming environment.
Next, we'll leave the historic quarter behind, while remaining still inside the city centre. Our next stop is Marbella's Alameda Park, a small green oasis surrounded by countless bars and restaurants of all kinds, from the gastronomic classics that represent the best of traditional local cuisine, to modern establishments that introduce more avant-garde elements to their menus.
We'll finish our itinerary very close to the city's marina, in a typical mesón tavern where we can enjoy seafood fresh from the Mediterranean. Will you join us?
*Tastings  are likely to change to reflect seasonal produce, and our partners availability.
Frequently Asked Questions
What People Say About Our Tours
"10/10 – would recommend" The food was delicious, we got to choose a drink with every place…
"The Málaga Evening Tapas Tour is a Must-Do!" I highly recommend this tour, and I will definitely go on another Food Sherpas tour…
"Wonderful ! Visit places you wouldn't find on your own . Agree with other reviewers don't eat before you go so much delicious food to try"
"Excellent" We loved the tapastour. We learned a lot and got to try new tastes. In excellent company. Tips: Dont`t eat before the tour.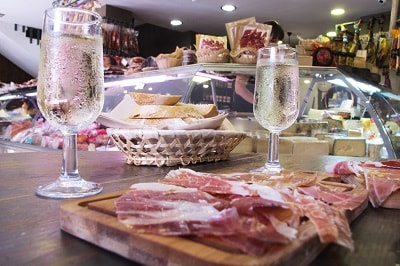 Mon-Sat. 11:00 am | Full Lunch
3.5 h
Experience Malaga the way Malagueños do by visiting the bustling Food Market, tasting hand cut Iberian ham and giving in to many mouth-watering tapas.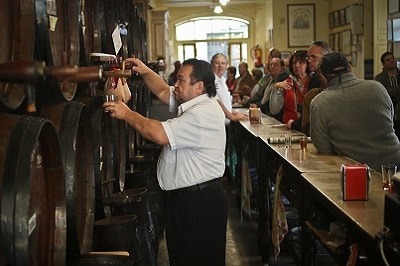 A night on the town for wine-loving foodies. Discover Malaga from an insider's perspective by nibbling on tapas in the best local bars and taverns.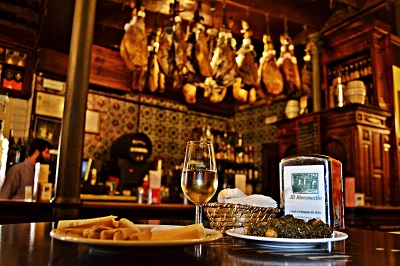 From the unique Manzanilla en rama to the traditional choricito al infierno and even the surprising emparedado de anchoas on our tour we'll share some of our favourite tapas, local recipes, new fusion dishes and other hidden gems.