It is one of the most traditional dishes of Sevillian gastronomy, especially popular during Lent.
The origin of this humble dish take us to the andalusí cuisine and regained its essence centuries later, with the Catholic arrival of Lent, that did not allow meat to eat during the vigil.
The following is the traditional recipe.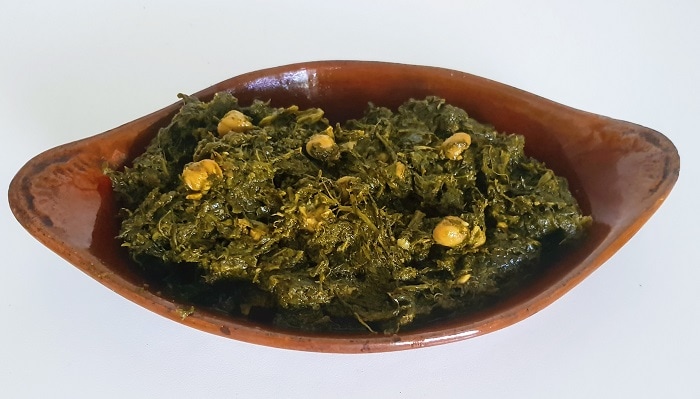 Ingredients (4 people)
500g soaked and cooked chickpeas. You can also use canned chickpeas
400g fresh spinach. You can also use frozen
2 slices of bread from the day before. 150-200 grams
2 garlic cloves
1/2 tablespoon of ground cumin
1/2 tablespoon of ground coriander or a little fresh coriander
1 tablespoon of paprika. 8-10g. We use mild paprika but you could also use hot. We recommend using a high quality paprika like the Spanish Pimentón de la Vera as you can really tell the difference so it's worth spending that little bit extra.
60gr of tomato sauce (pomodoro)
15ml of sherry vinegar (alternatively apple or white vine vinegar)
Extra virgin olive oil
Salt and pepper
Prep: 15 min
Cook: 25 min
Preparation:
You can either use dried chickpeas that have been soaking overnight or ready-to-use chickpeas from a can. If you opt for soaking dried chickpeas, you will need to cook them until they are tender. This will take around 60 minutes in a normal pot or 25 minutes in a pressure cooker. You could even add a ham bone while they cook to add even more flavour. Reserve a bit of the stock for later .
Once the chickpeas are cooked, wash the fresh spinach thoroughly, chop it up then blanch in salted water for 5 minutes. After blanching, drain the excess water.
Peel the garlic cloves then fry them and the bread in a pan with extra virgin olive oil until golden. Take the garlic and bread out of the pan and keep the rest of the oil.
In a blender add the sherry vinegar, garlic, fried bread, cumin, coriander, tomato sauce, pepper and salt. Blend until smooth. Add some of the water left over from cooking the spinach if the mixture is a bit too thick. Alternatively, you could use a mortar and pestle and grind the spices, garlic and bread by hand.
In the same pan, add the spinach and paprika. Be careful not to burn them.
After 2-3 minutes, add the chickpeas and sauté on low heat for another 2 minutes making sure to mix everything together without breaking it apart.
Finally, add the blended mixture and cook for another 3-4 minutes until all of the ingredients are mixed together. If the mixture is very dry, add some of the water you used to cook the chickpeas.
Tip: Serve in a Cazuela (an earthenware bowls where tapas are normally served  like this one sold on amazon ) or a small pan with slices of toasted bread.
Don't forget to share this post!
Sign up for our Newsletter and get the inside scoop on our favorite recipes, exploring and devouring Spain and more.