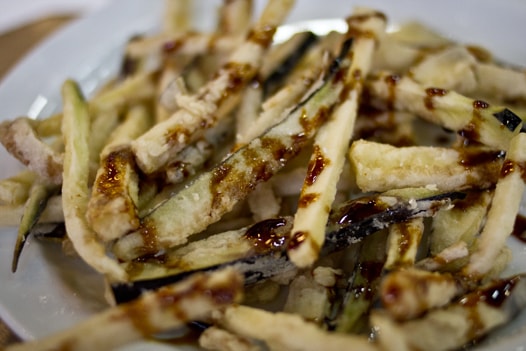 Ingredients:
2 medium size eggplants
All purpose flour to coat
Olive oil for deep-frying (or any other vegetable oil if not available)
Salt
Molasses or salmorejo to drizzle over or dip the sticks
(or any other sauce you may like)
Prep: 40 min
Cook: 10 min
Instructions:
Slice the eggplants in and cut the slices into regular sticks (the size of French fries).
(Traditionally the eggplant would be cut into thin slices but sticks are lighter and have a nicer
texture).
Toss them with salt, place in a colander and let them stand for at least ½ hour to eliminate
bitterness and liquid . Rinse, drain and dry.
Place the sticks in a bowl with the flour and coat them well, shaking off any excess. For better
results repeat the coating shaking off again.
Heat plenty of oil in a deep pan and in batches (not too many at a time) fry the sticks, stirring
gently, until golden. Place on a plate covered with paper towel to absorb the excess of oil.
Serve immediately sprinkled with salt and a drizzle of molasses (Sugar cane syrup from Frigiliana) or salmorejo. They are also great
just with salt. Forks are not allowed!!
Don't forget to share this post!