The province of Malaga has been a wine-producing area since the arrival of the Phoenicians almost 3,000 years ago. It was this civilization that began to cultivate the vine, which kept on growing thanks to other cultures such as the Greek, Roman and in times of the Al Andalus. Around the nineteenth century Malaga's wines were at its greatest: there were about 112,000 hectares of vineyards and the wines were exported halfway around the world from the port of Malaga.
A devastating phylloxera plague destroyed all the vines, but the province has been recovering gradually and today its wines are again one of the most famous and appreciated ones.
Currently there are 3,800 hectares of vineyards in Malaga, where the Muscat and Pedro Ximenez grapes predominate. The diverse topography and different climate zones- ranging from continental in the north, mediterranean at the coast or even subtropical in the Axarquia region- make Malaga wines unique.
We approach the five wine producing regions with the Designation of Origin "Málaga" and "Sierras de Málaga", where 2.3 million litres of wine were produced in 2015.
AXARQUÍA
Axarquía wines are influenced by its complex topography since the very beginning: vineyards are often located on very steep hills, sometimes reaching slopes of 50 or 60 percent. This situation makes the grape harvest much more complicated and requires the use of traditional elements such as animals (mules for example), which are still used nowadays for transporting the grapes to the bodega.
This makes this vintage one of the most artisanal ones in Europe. Tradition also defines the raisin production, which is an important activity in this region. A walk around villages like El Borge or Almáchar allows the visitor to discover the paseros.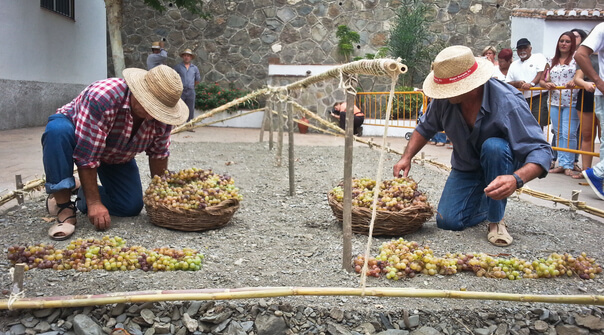 These paseros are seven or eight meters long and two meters wide areas that are oriented to midday sun in order to take in as much sun as possible. Every family leaves there the freshly picked grapes and lets them dry until they turn into raisins. The clusters are turned over and separated by hand during a process commonly known as asoleo.
The Axarquía is the main wine-producing area in Malaga, where two thirds of the province's vineyards are located. There are more than 2,200 hectares altogether and nearly a thousand of them belong to this Designation of Origin. Almost one million kilos of grapes are picked from these hectares, although production varies every year due to weather conditions.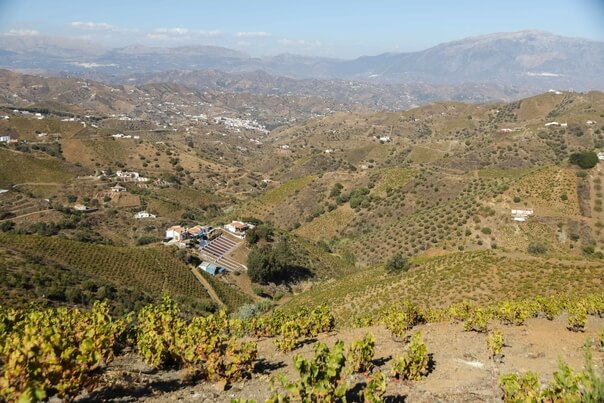 The Muscat grape is the most common variety, which has been cultivated in this area for more than 2,000 years. The variety Romé -red or white- is another highlight and indigenous to this territory. This fact, the shallow grounds, little rainfall and great climate conditions due to its proximity to the Mediterranean Sea, generate the perfect conditions to elaborate wines of a great quality.
Among these wines, some brands truly stand out like Botani -from Jorge Ordóñez winery– or Dimobe -from Antonio Muñoz Cabrera-, which have received many national and international awards.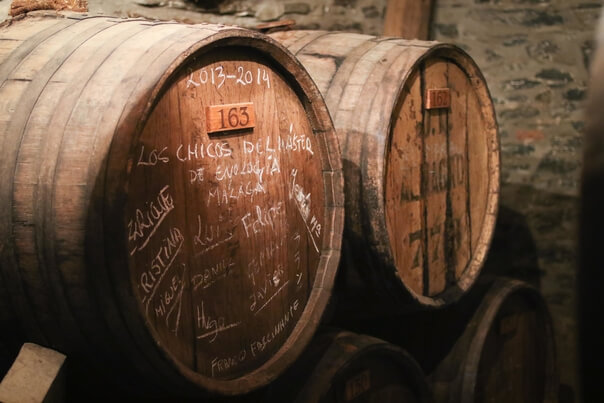 In this region also exists the so-called "Ruta del Sol y del Vino" (Sun and Wine Tour), which passes through some of its main wine producing municipalities: Algarrobo, Sayalonga, Cómpeta, Canillas de Albaida, Torrox, Nerja and Frigiliana.
A number of them organize between August and September festivals to celebrate the beginning or the end of the grape harvest, where local wines can be tasted.
Likewise, some of the most interesting and beautiful landscapes of the region can be admired along this route, as this region is surrounded by vineyards, mountains and the sea.
In addition, some other locations are also very interesting and well worth a visit, like the round cemetery of Sayalonga or the Arabic alleys of Frigiliana.
RONDA
The Mountain Range of Ronda is another of the most important regions when speaking about Malaga's wines. In fact, almost half of Malaga's wineries which belong to the Designation of Origin "Malaga" and "Malaga Mountain Range" are located here: 22 out of the 45 wineries of the province are situated in this territory.
Nevertheless, this region is characterized by its small-scale production, since there are only around 190 hectares of vineyard (all with DO) within the municipalities of Arriate, Atajate, Benadalid, Benarrabá, Cortés de la Frontera, Cuevas del Becerro, Gaucín and Ronda; 760,000 kilos of grapes were collected in 2015. The so called still wines -white, rosé and red wines- are produced mainly with Chardonnay, Cabernet, Merlot, Syrah and Tempranillo.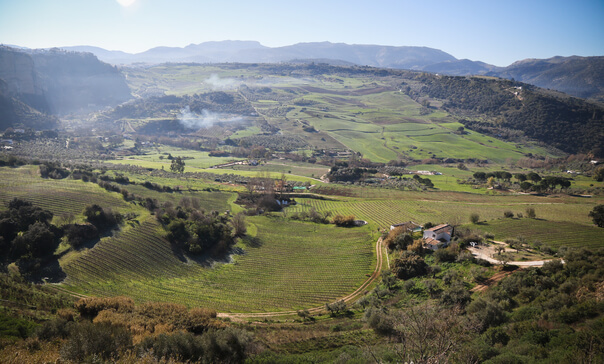 The climate is cold and damp during winter and warm during summer; the region has 2,700 hours of sunlight a year; it is located 700 meters above the sea level and its ground is sandy. These conditions provide Rondeño wines with lots of character, structure and much expression, matching really well with meats and aged cheeses. They are powerful wines which are mainly elaborated in medium or small sized wineries.
All of them come from projects which seek high quality and that are run many times by the winemakers themselves and their relatives. Besides, most of them hire young oenologists who provide the wines with a modern and innovative touch. These wineries can be visited thanks to the "Wines and Wineries Tour" of the Ronda Mountain Range, which is the only one in the province of Malaga certified by the Spanish Association of Wine Cities (ACEVIN). This interesting route allows visitor to discover the secrets of this region's wines, along with their main protagonists.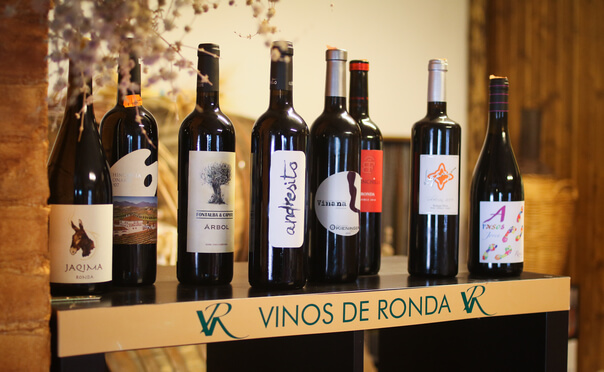 The wines of Ronda have a long history and tradition. For example, the remains of the Roman city of Acinipo are located very close to Ronda. This interesting place highlights the historical importance of wine in this area. Not just because some of the remains which were found show grapes and clusters, but also because of the name of the place itself: Acinipo, which means region of wines.
MALAGA MOUNTAIN RANGE (Montes de Málaga)
The city of Malaga is surrounded by a mountain range characterized by its complex orography and various slopes, called "Montes de Málaga". This is the highest area in the municipality of Malaga and as well the coldest and rainiest. These conditions make the vineyards very diverse, since they are microclimates that provide these wines with an interesting complexity.
There are around 300 hectares of vineyard in this area and just 15 out of them belong to the Designation of Origin. The most common grape varieties are the Pedro Ximénez and Muscat. 46,000 kilos of grapes were collected in 2015.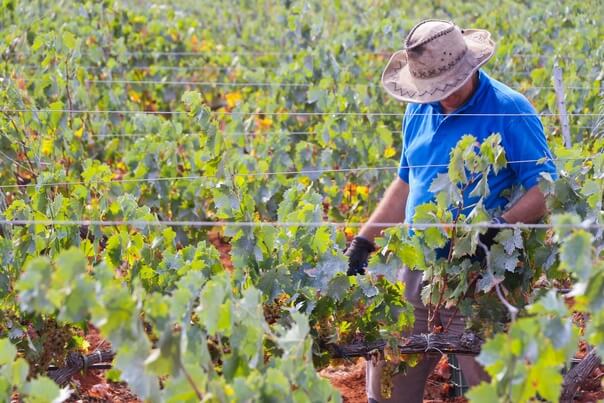 Apart from some "vinos tranquilos" (still wines) -red, rosé and white wines-, in the Malaga Mountain Range they produce naturally sweet wines and sparkling wines in traditional wineries such as Antigua Casa de Guardia (the oldest Tavern in Malaga) or Quitapenas. Some of the most famous wines of Malaga come from this region, like the Pajarete wine, one of the most popular Malaga sweet wines.
It is a liqueur wine with a fairly high sugar content, subject to a minimum aging of two years, without addition of syrup and of a golden to dark amber color. It has a very distinctive flavor and is one of the most demanded ones by people visiting Malaga.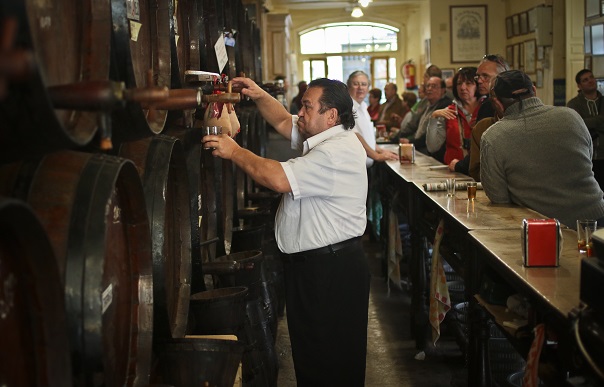 MANILVA
The region of Manilva is located just next to the province of Cádiz and is an area producing Malaga wines since the 16thcentury. A sector that kept on improving over the years, but that deteriorated from the middle of the nineteenth century on. Finally, the importance of tourism and urban development of the area made the decline in production continue. Nevertheless, production is currently steady: around 500,000 kilos of grapes are collected from nearly 300 hectares of the region's vineyards, including municipalities like Casares, Estepona, Manilva and Torremolinos.
The predominant grape variety is without doubt the Muscat grape, but also other ones can be found, like Syrah, Cabernet Sauvignon, Merlot and Tempranillo. With a warm climate, a great influence of the Mediterranean Sea and little rainfall, in this region most of the harvested grapes are dedicated to the production of raisins and the sale of table grapes, although recently they are also taking steps to creating wines. In fact, just five hectares hold the Designation of Origin, where last year almost 3,000 kilos of grapes were collected.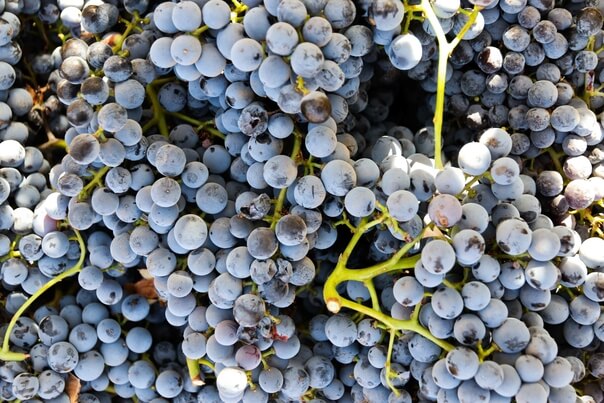 To understand better the Manilveño wine world, the Interpretation Center of the Vines of Manilva opened in 2013, which has 1,000 square meters spread over different spaces like bodegas, laboratories and exhibition areas. It also has a municipal plot dedicated to the vineyard where educational visits take place.
NORTH
The Northern region also has a long history in growing wine. Some of the most traditional and best-known wines from Malaga are produced in municipalities like Antequera, Fuente de Piedra, Almargen and, especially, Mollina. And this is thanks to one of its stars, the Doradilla grape- autochthonous of the Northern Province, although the Pedro Ximenez variety is as well very common. Unlike other areas such as Axarquía or Montes de Málaga, the vineyards grow on a completely flat surface with soils rich in nutrients and a calcareous ground.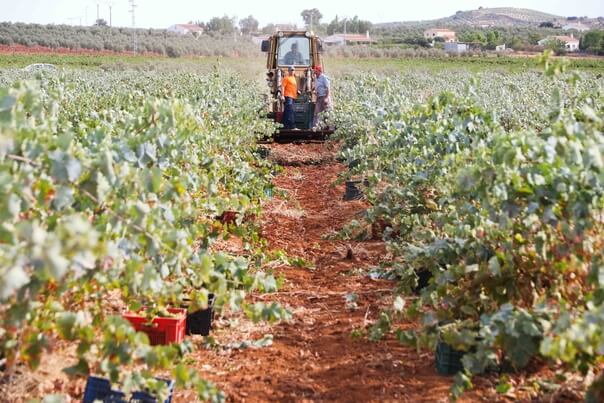 The climate is continental, with cold winters and hot summers and irregular rainfall throughout the year, which makes the final number of harvested kilos also very unstable. Thus, on the 800 hectares of this area between three and six million kilos of grapes can be produced. 500 out of them obtained the Designation of Origin, which produced 3.5 million of kilos of grapes in 2015.
In this region a wide range of wines are elaborated: both the so called "still wines" (red, rosé and white) included in the Denomination of Origin "Sierras de Málaga" and the naturally sweet and liqueur wines (dry, semi-dry, semisweet and sweet) within the Denomination of Origin "Malaga".
winery which elaborates wines of both designations in this area is the Winery Niño de la Salina. They produce their wines under the brand names Andresito and Al Fresco.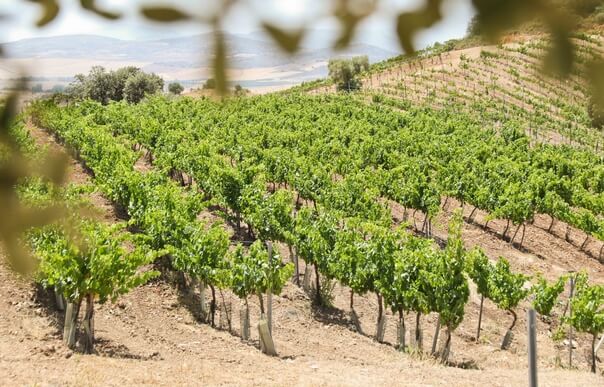 A large part of them are produced under the name of "Mollina Lands" belonging to the cooperative "Virgen de la Oliva", the only wine cooperative in the province of Malaga. Another highlight of this region is the wine included in the brand Málaga Virgen. – Wines that fit perfectly as an appetizer and dessert.
For more information about Malaga wines, and a progressive Malaga wine tasting thorugh the historic center, join our Malaga Wine and Tapas Evening Tour (gift certificates are also available).
Don't forget to share this post!
Sign up for our Newsletter and get the inside scoop on our favorite recipes, exploring and devouring Spain and more.