Last updated: Nov 05, 2020
Fried Fish and "Espetos"
You cannot leave Malaga without having enjoyed the terrace of a "chiringuito" bar on the beach in Pedregalejo or El Palo. The stars among the summer dishes are the "fritura malagueña" (a wide variety of fried local fish like red mullets, white anchovies, squid or school shark) and grilled sardines. You will see that the preparation of an "espeto" is pure art: 5 or 6 sardines put on a skewer and roasted with coarse salt over an open olive wood fire. That's the essence of Malaga!
Where to try them? In Pedregalejo beach you can find the best and most traditional chiringuitos with the best fried fish and "espetos" in town.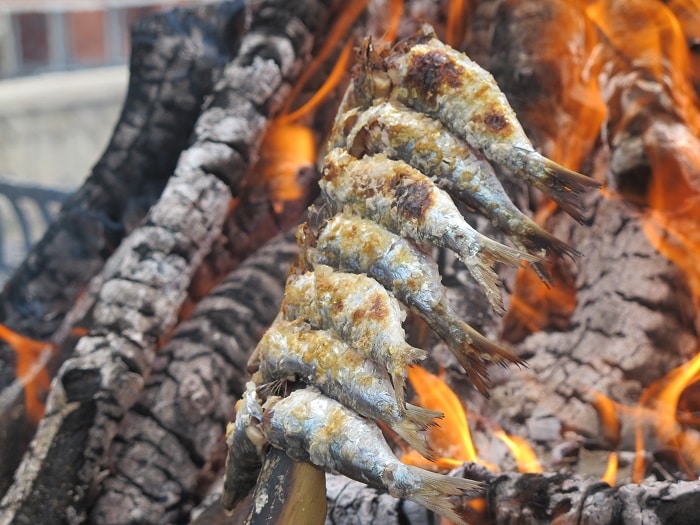 Malaga Style Salad
A traditional recipe from Malaga with an interesting twist, that's very well known and loved by locals (and visitors). Its preparation is simple and can be found in many restaurants and bars, served as a tapa or full dish. The ingredients are potatoes, cod, onion, Aloreña olives (no others!) and… orange – a delicacy from our Guadalhorce valley that adds a citric, sweet flavor to it! All seasoned with the best extra virgin olive and salt. Prepared for this flavor experience?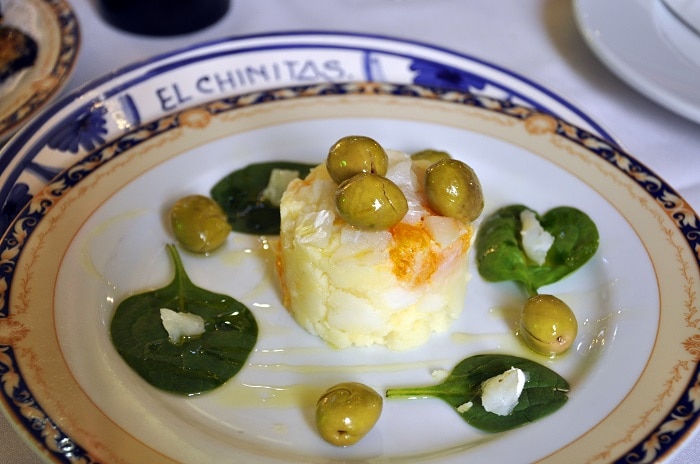 Meatballs in Almond Sauce
A classic, and an essential part of our regional cuisine which you can find in almost every tapas bar. Historically, Malaga is one of the largest almonds producers of Spain, so it is common to find them as a protagonist in many of our traditional dishes and desserts. ¿Have you tried ajoblanco for example? Learn how to prepare them and enjoy this regional specialty of Arabian origin in our tapas cooking classes (and later again at home with our recipes)!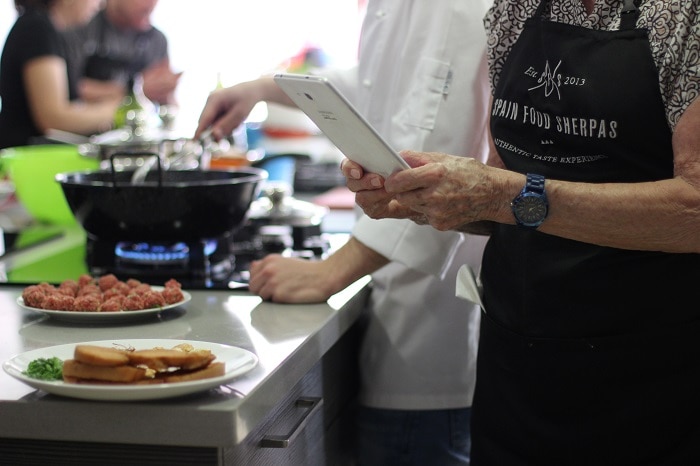 Porra Antequerana
Not just another cold tomato soup of the gazpacho family, but the perfect dish for hot summer days, refreshing and creamy! It is usually served in a bowl and accompanied by a garnish of chopped Serrano ham and/or tuna and egg- some might say the best part- that adds a wonderful touch to it (in taste and texture). Absolutely delicious and amazingly simple. Made from fresh, ripe tomatoes, white bread, garlic, extra virgin olive oil, Sherry vinegar and salt.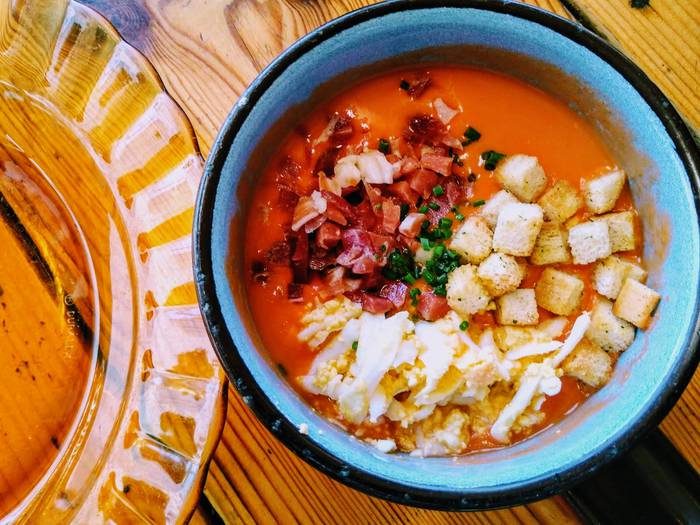 Eggplant with Sugar Cane Syrup
Malaga is known for the quality of its vegetables which reach their entire splendor in the Guadalhorce Valley. Our fried eggplant is finger-licking good (literally), especially when you serve it with "miel de caña"- a thick molasses made of our local sugar canes that still survive on the coast of Malaga and Granada. It sounds easy, but reaching the right point where the fried eggplant is golden and crunchy needs training. Eating it, not that much…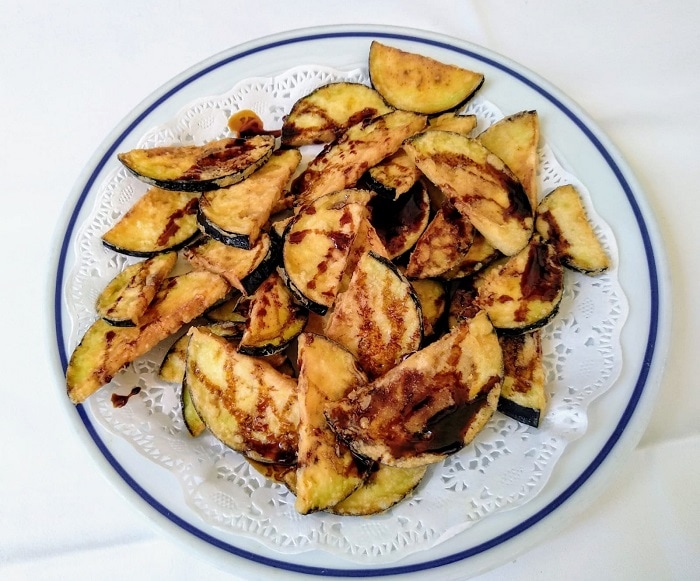 You can try a tapa of this amazing dish in our Taste of Malaga Tapas Tour, in the Atarazanas Food Market Bar
Artichokes
The preparation of "alcachofas confitadas" is not that easy. It takes quite some time since the artichokes need to be slow-cooked in olive oil for more than an hour (over low heat) to get tender and perfect. You can find them in traditional taverns or "mesones" and some restaurants. They are usually accompanied with foie gras, Iberian ham or even bacon. Please, if you get the chance, order them – they're a delight! Or try them any other way: a la plancha, rebozadas, montillanas, fritas,…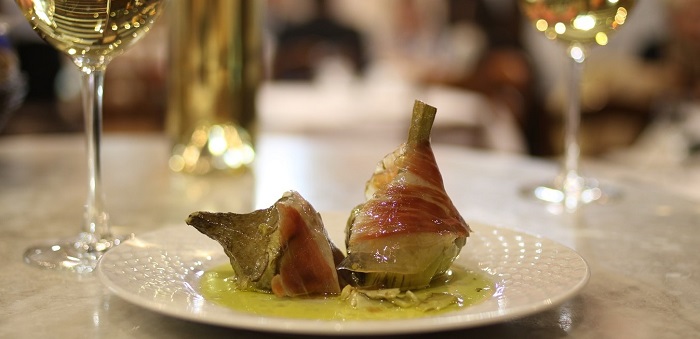 Where to try them? One Tip! The artichokes are "Queen of the House" in the "Mesón Mariano", one of the stops on our Malaga Wine and Tapas Evenin Tour
Pil- Pil Prawns
Being one of the most typical Andalusian treats, this tapa is a "must" of our gastronomy. It is usually served in small earthenware pots, accompanied with bread for dipping in the sauce. Just be careful, because the pot is very hot (it goes from the stove straight to your table), as are sometimes the prawns (now because of the chili). This is all you need: fresh prawns, cayenne pepper, garlic, paprika powder, salt and extra virgin olive oil. Absolutely delicious!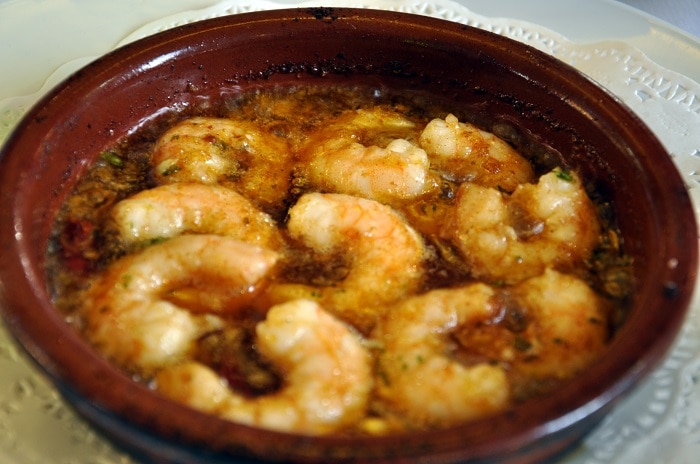 You will find them in many restaurants and tapas bars in Malaga but probably the best place to try them is in Resturante Chinitas or Cortijo de Pepe . If you want to learn how to prepare them, the "Gambas al pil pil" is the star in our Tapas Cooking Classes
Gazpachuelo de Malaga
It's not gazpacho, it's gazpachuelo and this is its Malaga route. The gazpachuelo malagueño is tradition, history and flavor of the south. It is also the dish that all mothers know how to make.
Appetizers from Malaga (Almonds, Olives, White Anchovies)
No excuses allowed- there is always time for a snack! And Malaga's countryside is full of almond and olive trees that provide us with the best appetizers. Fried in olive oil and with a pinch of salt the almonds are mouth-watering and we even have our own olive variety, la aceituna Aloreña. It's the only one in Spain with a designation of origin and it comes straight from the heart of our valley. Some "boquerones" or white anchovies are also always welcome. It's the most famous fish from our region, rich in calcium and omega 3. Fried or with lemon they are the perfect tapa along with a small beer.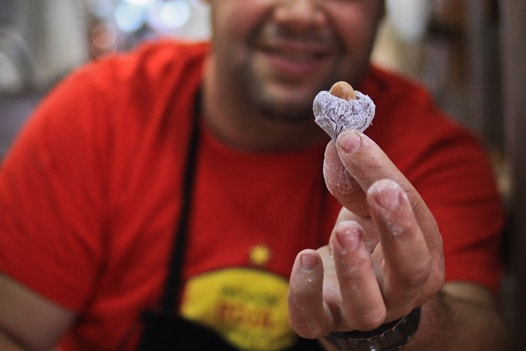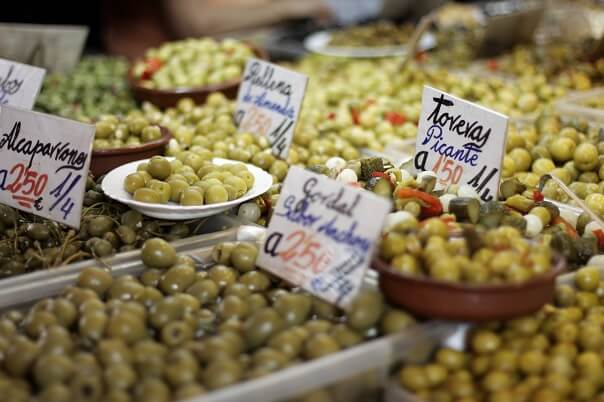 Bonus Tip: Essential Drinks to try in Malaga
Muscat Wine /Homemade Vermouth
If Malaga tastes like something, it's probably its sweetest delight: Muscat wine. You can almost taste the sun in its sweet berries and wonderful fruity notes in the wines. Not only is it great for dessert to complete an extensive meal, but also as an aperitif to whet the appetite and awake your senses- especially with some cooked prawns or cured cheese. An explosion of flavor!
Also try our homemade vermouth, from Moclinejo for example, made from the same grape!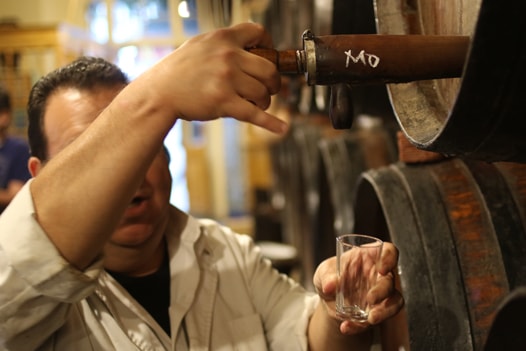 Dry Muscat White Wine
Gotta try it to believe it: it smells like a Muscat wine, fruity and sweet as we're used to. However the first sip is going to change your mind! Our winemakers and oenologists from Malaga elaborated a dry white wine from the famous "Moscatel" grape. It is a perfect wine to make those hot summer days a little more easy-going, accompanied by fresh fish or shellfish, and in good company. It is light, fresh and a wonderful makeover of our clas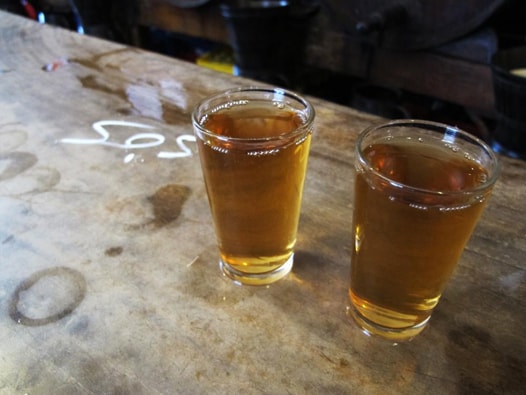 The best place to sample these delicious wines in Malaga is "La Casa del Guardia", the oldest tavern in town and  the first stop of our Malaga Wine and Tapas Evening Tour
Don't forget to share this post!
Sign up for our Newsletter and get the inside scoop on our favorite recipes, exploring and devouring Spain and more.