Pedregalejo has one of the most popular beaches of Malaga. But if you think that you can only eat fried fish there, you are missing out on a lot. That's why we stroll among "biznagueros" (people that sell the typical Biznaga flower made out of jasmine) along the Boqueron, Jábega and Cenacheros streets, to show you the best of this amazing neighbourhood
1.Where to eat in Pedregalejo?
Payoya goat cheese, duck hamburger or spicy tuna tataki are dishes that already made a name for themselves in this traditional fishing district, where you can also try one of the best "camperos" of Malaga. A new date, with the gastronomic discoveries of the capital of the Costa del Sol, without forgetting the essence of the product par excellence of Malaga, since (naturally) you must also pay a traditional tribute to yourself from time to time: a tasty, grilled sardine skewer.
Pez Tomillo
Here they serve the food on the same dishes typical Spanish grandmothers use(d) to- brown or green glass bowls. The place is huge and has a lovely terrace with tables made out of recycled materials, sea view and stranded "jábega" fishing boats on the beach. A venue you'll never want to leave. Less, during sunset.
Its menu is based on local produce: from delicious payoya goat cheese, tasty porra from Antequera (cold tomato soup) to fried fish (see other Malaga local produce). And there's more- like the shrimp twister or the zucchini and truffle risotto.
They just updated the menu to include now as well pasta. And cocktails or champagne, which become great companions of the meals. Like the vermouth Summer of 82 (Verano del 82). But everything easy-going, since you have to leave some room for dessert, to try the exquisite homemade pies.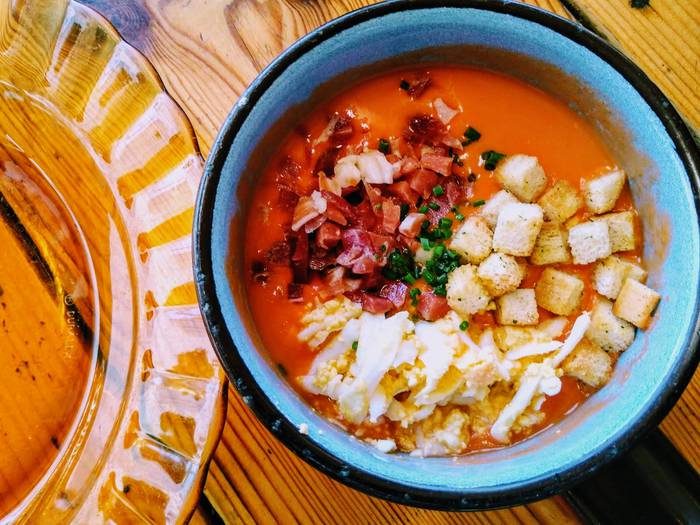 The Pez Tomillo (literally Thyme Fish) is located next to the Astilleros Nereo (Nereo Shipyards), property of the Sanchez-Guitard family that, as the Gallic villagers, resists urban speculation in the area. Of absolute ethnographic interest, it is one of the last naval workshops that maintains its artisanal carpentry of wooden boats. Maybe one of the best things to do in Malaga, Pedregalejo beach. The site is open for anyone to visit and learn about this form of art and the manufacturing process of the classic "jábega" boats of Phoenician origin that are still used in Malaga or the first steps of the reconstruction of a Galveztown brig. A real double experience -gastronomic and ethnographic, separated by just a few meters.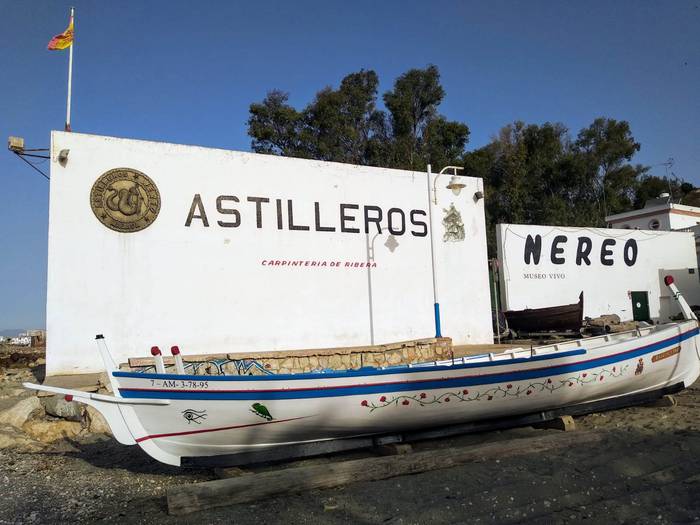 Misuto
In Malaga there are not many sushi restaurants. The east side of the city didn't even have a single one. So Rui Junior, Alejandro Salido and Alejandro Contento saw this opportunity and in August 2014 they gave the starting signal for his adventure called Misuto in Pedregalejo Beach. Their proposal goes beyond sushi and even beyond the typical fried fish (pescaíto frito), but without giving up on the healthy local cuisine. This goal has been achieved with a menu that combines the Japanese and Mediterranean cuisine, paired with local wines. The Mediterranean cuisine is prepared by Salido, trained in the Palo Cortado and Asako restaurant, who honors the tradition with dishes such as porra, Malaga style salad or fried baby squid salad and papaya.
The Japanese flavors are the responsibility of Rui Junior, sushi chef of this establishment, as of the Óleo restaurant (located in the CAC Center for Contemporary Art in Malaga). His spicy tuna tartar is already one of the great classics of Misuto. And the foie Uramaki is a must, a true delicacy: a rice roll filled with crab meat and avocado, topped with tuna and foie gras and finished with a reduction of Pedro Ximenez wine. Acinipo and Payoya Negra, both from Ronda, are two delicatessen red wines recommended by the person in charge of the wine list, Alejandro Contento, a doctor by profession and an oenophile by vocation.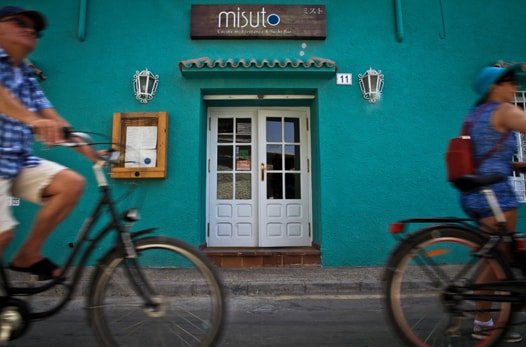 LEARN MORE
JOIN OUR PEDREGALEJO FOOD TOUR!
Discover with us this old fishermen's quarter, one of the most authentic and trendy places in the city and enjoy its seafood gastronomy, the flavor and history that its corners distill.
LEARN MORE
La Galerna
In La Galerna you can have breakfast, lunch, dinner or a snack between meals. One of the best things to do in Malaga, Pedregalejo beach. Whatever you want. And you can also see Sr. Chinarro (a renowned Spanish singer) run a race beneath the sun of Malaga. A few steps from the sea, the menu is varied enough to suit any of your preferences. In its colorful space with recently renovated furniture, the different types of multigrain bread in the morning are a great way to start the day with energy… or also a reason to stand up your boss, not to work anymore and to spend hours listening to the waves.
For lunchtime their salads are more than recommendable and if you don't like any of the ones offered, you can always choose your own, selecting seven ingredients of the 23 options and adding one of their five sauces. Homemade fruit smoothies are the perfect choice for those who want to enjoy a sunset without alcohol. And for those who are up for it, some cool beers are the perfect counterpoint to the hot "terral" winds from Malaga- the same wind that teaches you how life in hell should be like. The same you will experience when you want to get a spot on a Sunday, in summer, in Malaga, which is like almost six months of the year.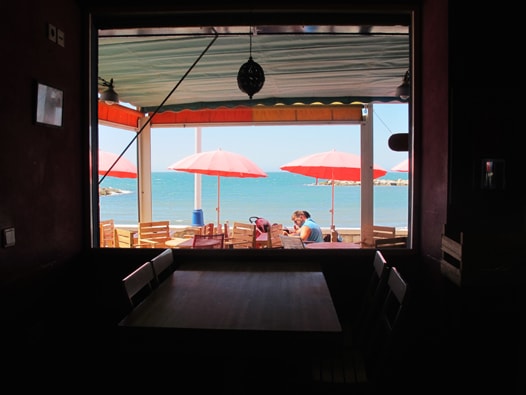 Mafalda
The "campero" is a sandwich from Malaga consisting of a round, white bread that is filled with many different ingredients: mixed (normally with ham and cheese), chicken, tuna, bacon and cheese, a spicy hamburger… In Mafalda, they've been preparing them for 33 years now and when you try them, you'll understand that yes, the experience is absolutely worthwhile. Don't expect an exclusive venue or a reserved atmosphere; no waiter will come out to serve you your food on the terrace, but they'll scream your name for you to pick up your order. In case you hear it- since the racket is important: you are on the beach, in Malaga. This classic from Pedregalejo beach has also been modernized a little and now its offer even includes menus for gluten intolerant or vegans, gluten-free bread, retinto or ox burgers. Everything is always accompanied by caramelized onions and garlic mayonnaise that is unique and famous. Also the so-called club sandwich is noteworthy that consists of several toasts interspersed with ham, cheese, chicken, onion, lettuce, tomato and alioli. They also serve gazpacho, since you'll need something to help your stomach settle. The subsequent nap is obligatory.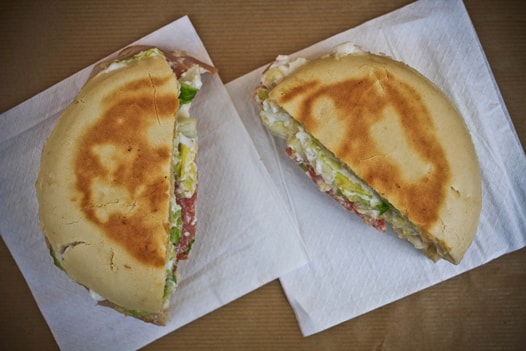 El Caleño
They ope its gates more than 30 years ago and it's become one of the most famous and appreciated "chiringuitos" in  Malaga.
In El Caleño  the classics are the fried fish of which the waiter seems to have a vast number: boquerones, (baby) squid, cuttlefish, red mullet, mackerel … Also excellent seafood, which is another of the specialties of El Caleño.
And they even sometimes have tasty Garrucha prawns, although usually you can find products from Malaga like prawns from Caleta de Velez,  Or the more than recommendable "búsanos" (sea snail), although you will need to fork out for some of them. They also have local stews and soups like the "gazpachuelo" or soupy rice with anchovies.
Of course, they have the local delicacy  that you must try, once you are in the Pedregalejo district: the sardine skewer. There's nothing like a few sardines sprinkled with salt and roasted over an open olive wood fire, to taste the real flavor of Malaga. It will also stick with you on your hands for a few days. That's just how it is.
2.Where to Stay in Pedregalejo?
There are apartments and small hotels scattered throughout the neighbourhood. The so-called Balcón de Pedregalejo, it's an apartment with a modern design, a nice terrace and a good location, very close to Misuto and Pez Tomillo. It has a 9.6 score in Booking.

Right in front of Mafalda and the anchor – a monument to Pedregalejo's fishing history, the El Jardín de las Acacias  apartment with a private swimming pool has an excellent location as well.
 La Chancla is one of the oldest businesses in the neighbourhood. It used to be just a bar  where we went to play darts and billiards back in the 90s.
Nowadays it's turned into a small and cozy 3-star hotel located on the promenade of Pedregalejo. A few meters from the sea, you can enjoy this nice and quiet part of Malaga. We especially love the view of the bay of Malaga from its terrace, the perfect place to see the sunset.
If you fancy somthing a bit different, then Hostal Las Acacias may be for you. It's a restored  old house with a lovely patio located 100 meters away  from the beach.