La Rioja is one of the most important wine regions in the world. Talking about La Rioja inevitably means talking about its famous wines, but as man does not live by wine alone, it turns out that this small autonomous community also has a fantastic gastronomic heritage. You only have to take a stroll along the famous Laurel Street in Logroño (a real feast for the senses) to see that the people of La Rioja are very serious about las cosas del comer (things about eating).
Potatoes with chorizo or patatas a la riojana are the flagship of the traditional cuisine of La Rioja. A dish of humble origins, as simple as it is powerful, present in every home and which continues to have a place on the menus of all kinds of restaurants. One of those stews that, with just a few ingredients, can make you touch the sky.
In fact, one of its greatest followers was the famous French chef Paul Bocuse, leader of the "nouvelle cuisine" and one of the most important chefs of the 20th century. The now mythical anecdote tells that in 1979, Bocuse was hired by the Cune winery to be in charge of the commemorative meal for its centenary. There, after tasting the potatoes with chorizo that the winery's cook had prepared, the French chef uttered a now legendary phrase: "You people are fools because this is much better than what I am going to give you later". A love declaration that contributed in a decisive way to make this stew known beyond our borders.
So now, the only thing left to do is to uncork a good Rioja red wine to whet your appetite while we go into the kitchen. Let's get started with the recipe!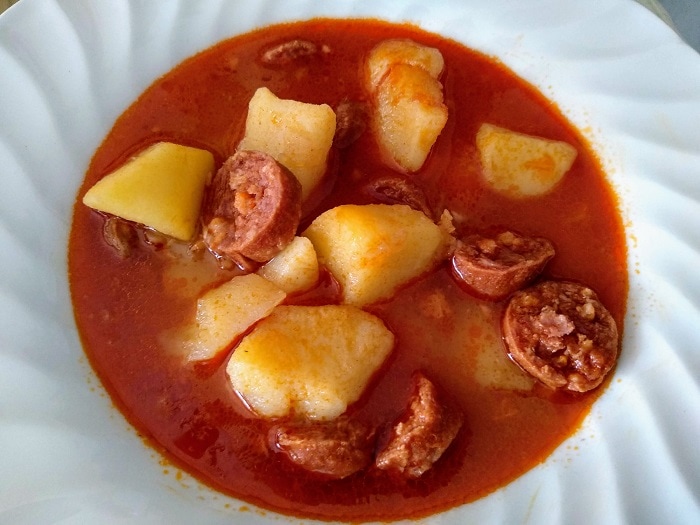 Ingredients:
1.2 kg of potatoes. Although any variety can be used, the best ones are Kennebec or Mona Lisa type because of their higher starch content
400 grams of cured chorizo sausage (sweet or spicy)
1 small onion
1 Italian green bell pepper
2 cloves of garlic
2 dried choricero peppers or a teaspoon of their pulp
4 tablespoons of fried tomato
2 bay leaves
Broth or water
Extra virgin olive oil and salt
Prep: 40 min
Cook: 60 min

Nutritional Facts (yield): 416 kcal / 19gr fat
Preparation:
The first step would be to rehydrate the choricero peppers. To do this, cut them in half, remove the seeds and the stems and soak them in hot water for half an hour. Then, separate the skin with the tip of a knife and set aside. However, the pulp of the chorizo bell pepper is sold canned and it is very useful to save time.Another step before turning on the heat is to prepare the potatoes. Peel them, wash them well and then, very important, chop them using this method: make a cut halfway through the potato and then break both halves apart with your hands. In this way, the irregular edges left on the potatoes will release more starch, thickening our stew naturally.
Peel and mince the onion and garlic cloves. Remove the tail and seeds from the green bell pepper and mince it as well. In a pot, cover the bottom with extra virgin olive oil (three tablespoons more or less), add these three ingredients, a pinch of salt and cook them over medium heat for 5 – 7 minutes.
Cut the chorizo into pieces about 1 cm thick, put them into the pan and cook them for a couple of minutes, so that they release the fat. If there's too much oil, you can remove a little.
Add the choricero bell pepper or a teaspoon of its preserved pulp and the two types of paprika. Stir a few seconds, so that the paprika does not burn and add the fried tomato and the bay leaves. Cook everything well for a couple of minutes.
Finally, add the chopped potatoes and stir well all together. Cover with water (do not add too much, so that the tips of the potatoes stand out from the top), add salt and cook over medium-low heat for 40 to 50 minutes, or until the potatoes are soft. It is possible to add a little more water if we see that they become too dry during the cooking.
TIPS:
– If at the end the stew is too soupy, we can take out two or three potatoes, mash them with a fork, add them again and cook the whole thing for 2 or 3 minutes more. In this way it will be more thick.
– You should also let it rest between 10 and 15 minutes with the pot covered before eating it.
– It is very typical to accompany this dish with pickled peppers or chilli peppers (the combination is sublime!) and, of course, with a good glass of local wine, which is exactly why we are taking a little piece of La Rioja home!
Don't forget to share this post!
Sign up for our Newsletter and get the inside scoop on our favorite recipes, exploring and devouring Spain and more.