TASTE OF GRANADA FOOD TOUR
5 Stars rated on TripAdvisor
Local Places. Local Food. Local People
On our 3.5 hour Taste of Granada Tour, you'll have the opportunity to discover Granada's traditional products, dishes and hidden treasures.
 Have a stroll through the beautiful city centre, tasting a selection of locally made specialties paired with delicious wines. From local style ham cured in the mountains, to dry fruits and nuts in one of the oldest grocery shops in Spain to traditional Granada tapas in a charming family-owned restaurant you'll enjoy delectable dishes and drinks as you learn about Granada's rich history and culture, passing by some of its most emblematic sites and culinary hotspots.
"Unlock the hidden gems and history of Granada's famous tapas."

I really enjoyed this experience, I went with a friend but as the groups are small and intimate it would also be great for someone visiting by themselves.
"This is a MUST for anyone visiting Granada! "

A highlight for us was visiting one of Spain's oldest shops selling dried fruits and an amazing selection of nuts, along with tasting Granada's award winning tapas.
"Add this to your list in Granada"

What to do besides the Alhambra in Granada seems to be a bit of a questions and this tour is the answer.
TIME
Daily Mon – Sat at 11 am/6 pm
Duration: 3.5h
PRICE
 65€ per adult.
35€ children under 16.
MEETING POINT

Kiosk at Isabel La Catholica Theatre
Casino Sidewalk (close to Puerta Real) .
Meeting Point Map
Highlights include:
4 foodie spots
Full Lunch/Dinner
Become a Granada insider
Sample dried fruits and nuts inone of the oldest shop fittings in Spain
Granadas traditional cuisine and Poets corners at Restaurante Chikito
Small group (10 person max)
Passionate English speaking Food Sherpa

Copy of our Granada Dining Guide

10% off your next Booking

¡
Food, Wine, History & Fun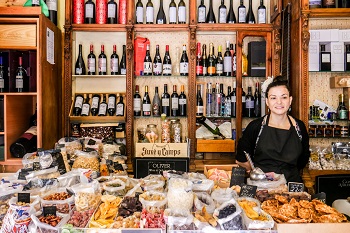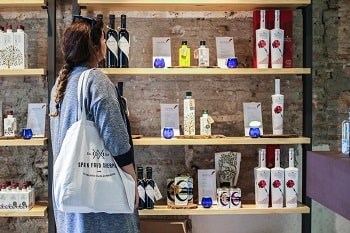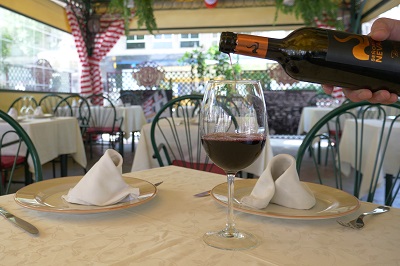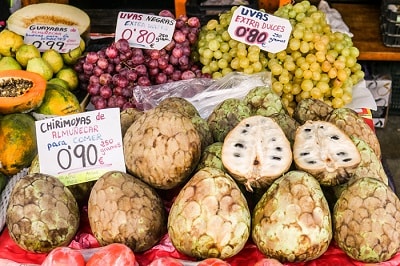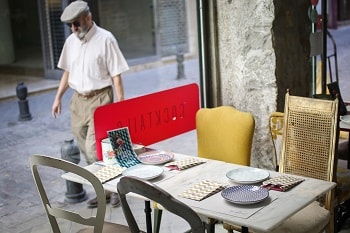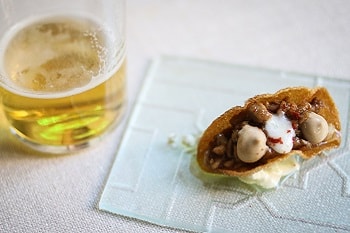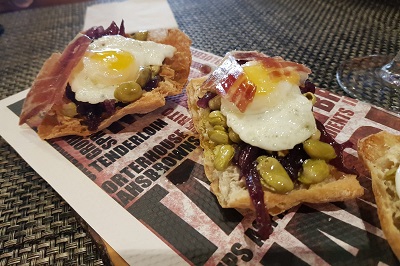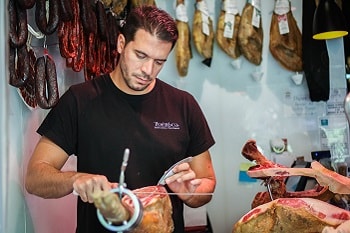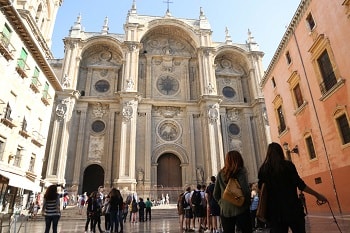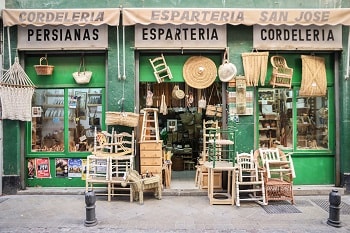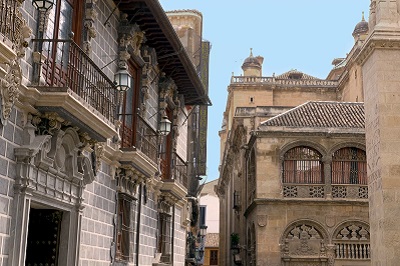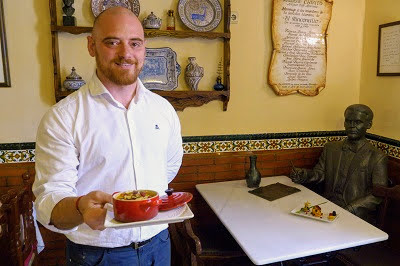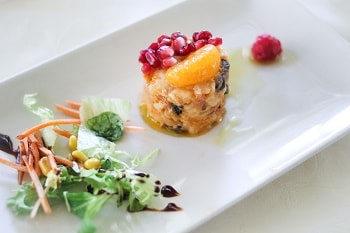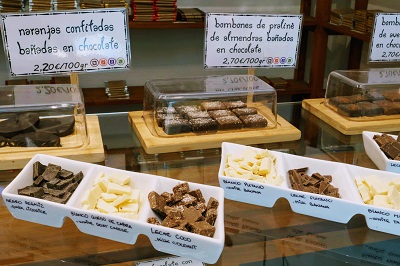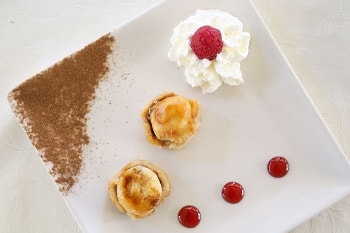 What to Expect
Discover how locals in Granada eat out and try some of the best foodie places in town!
Our Tapas Tour starts with a visit to a small shop with a fabulous selection of products all from the Granada region. From hot sauces produced locally to selected wines from the North of Granada. Experience the diverse, seasonal products of our region. Meet Alfredo  and see him share some of Granada´s locally made specialties.
You will learn how to differentiate "Jamón Serrano", including our worldwide famous and highly appreciated Iberian Bellota ham. Also local ham from the mountain villages of Sierra Nevada. Awaken your senses and enjoy this hand-cut delicatessen in a small, family-run specialty store.
But not only traditional tapas reflect our local gastronomy, but also the ones with a modern twist, although always inspired by autochthonous ingredients and authentic recipes. A good example is the mouth-watering Segureño Lamb tapa of our friend Nicolas at La Milagrosa. Made with 100% Granada ingredients, Local Olive Oil, Lamb and tomatoes.
Throughout the whole activity you will be guided by a member of our team, a Food Sherpa, an expert in our local culture. A person with a deep knowledge of the best-kept foodie secrets of Granada.
Don't miss this opportunity to experience the best places to eat in town and to discover hidden gems that even locals don't know about!
PRIVATE TOURS >>
DIETARY RESTRICTIONS
We want everyone to be able to discover our delicious gastronomy, so we're delighted to provide tasty substitutions for vegetarians, dairy and gluten intolerant, pregnant or those who don't drink alcohol…
If you have any other allergy or preference, we will try our best to suit the tour to your needs.
Substitutions must be indicated in advance at time of ticket purchase.
Do you have more Questions? Check out our FAQs
We are "andaluces" and love to eat! That's why we would only take you to places that totally convince us and where we go with our friends and families. No tourist traps
Not all Tours are created equal. Our tours are not standardized, but a real reflection of the delicacies every season has to offer and the creativity of our chefs. We took much time and effort in designing the tours so you can enjoy delicious treats, discover hidden places and submerge in our (food) culture in local hideaways.
Feel welcome and like a local. We have great friendships and exclusive partnerships with restaurants, taverns and market vendor.
Expert foodie guides. Our guides attended a special training on Gastronomic Tourism promoted by the Provincial Council of Malaga. They truly are real professionals and experts on local cuisine!
Much more than wonderful food in interesting places.There's more to it- it's about the attitude, about getting a bit closer to our authentic culture and real people!
*Because we work with family-run businesses tour stops and tastings may change slightly to reflect seasonal produce and availability.
OTHER TOURS THAT YOU MIGHT LIKE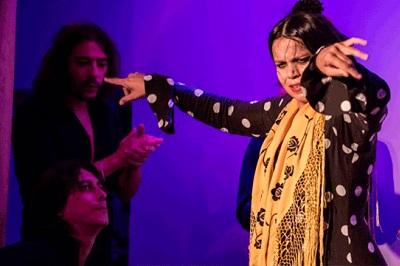 Get to know Granada's passionate flamenco culture, and taste some of the best tapas on this 4 hours Granada Flamenco and Tapas Tour!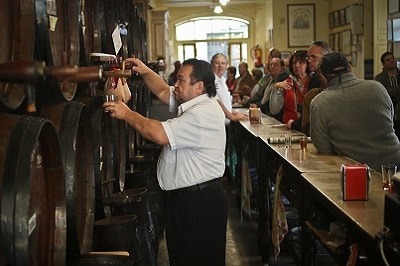 A night on the town for wine-loving foodies. Discover Malaga from an insider's perspective by nibbling on tapas in the best local bars and taverns.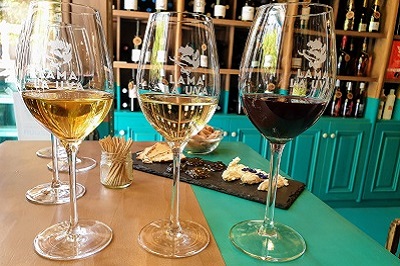 From the unique Manzanilla en rama to the traditional choricito al infierno and even the surprising emparedado de anchoas on our tour we'll share some of our favourite tapas, local recipes, new fusion dishes and other hidden gems.
STAY CONNECTED
subscribe our newsletter
SPAIN FOOD SHERPAS GIFT CERTIFICATES
Have friends or family coming to Cordoba?
Food tours make great gifts.

© Copyright 2019 Malaga Gastronomia y Desarrollo S.L.
All rights reserved
▲▲▲