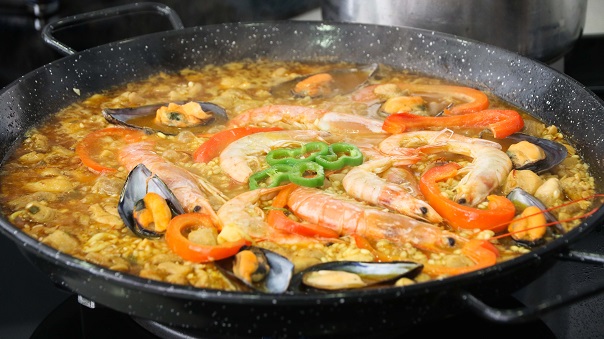 Ingredients:
400gr."Bomba" rice is the best but any other

short-grain variety is ok

200gr. pork
½ chicken
200gr. squid
12 mussels
200gr. clams
12 prawns
2 medium sized tomatoes
1 green pepper, ½ red pepper
1 clove of garlic
½ glass extra virgin olive oil
Saffron*(read below), pepper, salt, parsley, white wine
Stock (where you boiled the mollusk in; twice the quantity of the rice)
Preparation:
Start the paella by pouring half a glass of extra virgin olive oil into the paella pan.
Cut the red pepper into slices, fry them slightly and remove them from the pan (keeping them on a plate aside). Chop the onion, garlic and green pepper and sauté them in the same oil over low heat. When the vegetables are lightly cooked, the peeled and chopped tomatoes are added.
This is the "sofrito".
Then the pork and chicken are incorporated, all cut in small pieces and seasoned with salt and pepper, until all the meat is almost tender. Then add the squid, sliced as well. Boil the mollusks until they open up a little. Keep this stock and the mollusks aside.
When these ingredients of the paella are tender and almost done, add the rice while stirring, to mix everything well together. Then you add the stock of the mollusks that has to be twice as much as the rice (for every bowl of rice, add two of stock or water).
Now let it boil for five minutes.
Grind in a mortar the saffron, pepper, garlic, parsley and dry white wine and add it to the paella. Wait a bit so it gets mixed up well and try it (add salt, if necessary).
Reduce the heat and let it simmer for ten minutes.
After that, take the mussels and clams that opened up after we boiled them and put them on top of the paella. Place as well the prawns (washed and raw) on top and the slices of red pepper you fried in the beginning. Slowly boil it five more minutes and then remove it from the heat.
It is convenient to leave the paella rest for four or five minutes before serving.
Enjoy!
*When buying saffron, to make sure it's the authentic red gold that comes from La Mancha (there are only a few official distributors there) read the label carefully. It should be clearly visible D.O.P La Mancha which means Protected Designation of Origin.
Otherwise it will probably come from Iran, which is the largest producer. There is a big difference in quality, but also in price, so it's up to you.
For our readers from UK, we have found a company based in Ciudad Real (La Mancha), selling authentic saffron from La Mancha in Amazon Uk. You can find it here
In US,  we have found this one sold in Amazon It claims it comes from La Mancha and it has many good reviews. They alos provide the certificateof origin and lab analysis report.
As for the rice, the variety Bomba from Valencia is optimal for Paellas.  The well-known brand Santo Tomás sells it through Amazon US here   and Amazon UK here
Otherwise, any other short-grain rice will be ok too.
Melde dich für Newsletter von SFS an

!

Rezepte, letzte Foodie News aus Malaga, Insidertipps und spezielle Rabatte auf unsere Food Touren und Kochkurse!
Don't forget to share this post!
Sign up for our Newsletter and get the inside scoop on our favorite recipes, exploring and devouring Spain and more.