No salad is more representative of the beautiful coastal city of Malaga than the one that bears its name: Malaga style salad. It captures the essence of what Malaga and its terrain is, combining perfectly the taste of the sea and the fresh vegetable gardens.
The fish in a salad like this could not be missing, being cod one of the most used ones in the Mediterranean area. You can opt for salted cod which is introduced then for several hours into water to lose its high salt content (or you can put it in olive oil flavoring it this way). Like this it has later on a mild flavor and texture.
The "Ensalada Malagueña" is very refreshing,
original and surprising and consists of the following ingredients: cod, potatoes, Aloreña olives,
cachorreñas oranges, onion and a good splash of olive oil.
On the other hand and as another fundamental ingredient of the Mediterranean diet there is the potato and the extra virgin olive oil. We need to underline the importance of using a "good olive oil" here as it strongly influences the flavor, providing delicate nuances and its beneficial contribution to our health (there you should be generous- in quality and quantity).
The other two "highlights" of this dish are the famous Aloreña olives, which are the only table olives in Spain with a Designation of Origin, produced naturally and with a lot of care; and oranges. This is an element that surprises many people who try it for the first time, but the truth is that it complements perfectly with its sweet at the same time slightly sour flavor- its fruity and fresh contribution creates a truly interesting contrast of flavors.
Moreover, apart from being delicious, it is a very "complete" salad incorporating carbohydrates, proteins, vitamin C and calcium, among other nutrients.
Get yourself carried away with this "explosion of flavors", savoring this dish consciously and expanding your culinary horizons! Just watch out, you might get addicted…
Here is the recipe: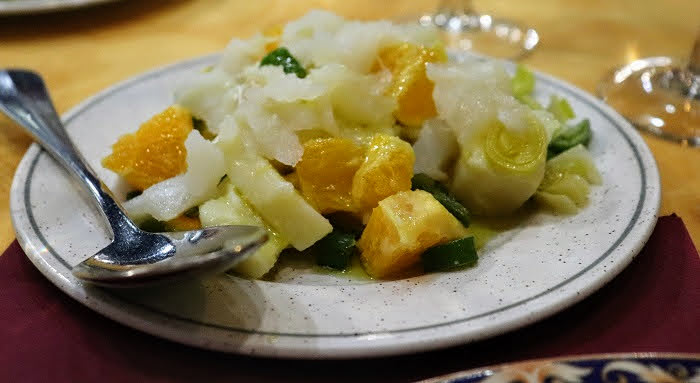 Ingredients:
3 potatoes (0.5 kg)
100 gr. salted cod
3 oranges
Extra virgin olive oil (at least 100ml)
2 to 3 spring onions
Green olives (Aloreña if possible, at least 15)
Salt
Prep: 10 min
Cook: 35 min
Instructions:
To start, you need to desalt the cod. Immerse it in a bowl with cold water
for 24 hours, exchanging the water every now and then.
Boil the potatoes until they're tender and ready. (In this water you could also introduced
during the cooking time the cod, once it is already a bit desalted. This adds some salt and flavor to the potatoes.)
Once cooled down, dry and peel them and cut them into medium- sized
pieces that are easy to eat.
Fillet the oranges so there is no white part left over and cut them into pieces the same size as the
potatoes. You can keep the juice to add it later on to the salad.
Cut the spring onions into thin slices and start bringing the ingredients together: Mix the potatoes
with the oranges and onions and add the desalted, pulled cod over everything in thin strips/
pieces.
Add the green olives and end it all with a pinch of salt and a generous amount of extra
virgin olive oil.
Enjoy!
Don't forget to share this post!