We're going shopping. We stop for a beer and, after lunch, we top everything off with a tasty coffee. We propose a day in Malaga, where you can discover delicious flavors and products that respect our environment. We do so in places full of good vibes that came to the Costa del Sol from halfway around the world: if Malaga is a great place to live in, it also is one to create your own business like many foreigners did already.
Many opted for the city center, a territory of which Spain Food Sherpas  knows all its secrets. With them, we approach these establishments set up by "guiris" (foreigners) that once visited Malaga and who couldn't bring themselves to leave anymore. You will thank them: their stores are awesome.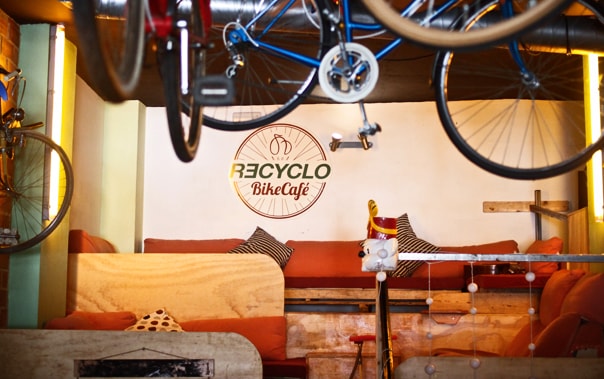 La Brujhada
San Agustín, 11
When Paris was a feast, Hemingway savored Turnedós in his favorite cafés. He did so hiding from familiar faces in order not to be disturbed while eating or writing. Now he could also hide in Malaga- a city that usually is as well a party. He could taste this favorite dish thanks to two Parisians, Fabienne and Patrice, who elaborate it like only few can do in this town: it's a sirloin steak with homemade foie gras, red wine and truffle oil.
They offer it in La Brujhada, a restaurant specialized in French Cuisine that is open since mid November 2014 in the very center of Malaga. It is located next to the Picasso Museum, almost lost between ugly postcards, flamenco costumes, castanets and magnets for the refrigerator from the souvenir shops around.
Its existence is due to a series of coincidences that include a seven-meter truck, a pizza expert, a holiday in St. Jean de Monts, an unfulfilled promise and a suitcase full of ideas prepared during one weekend. Both tell you the story with the same calmness, joy and life philosophy that they applied as well to the restaurant. And to the name: "Brujhada" comes from the word "bruja" (witch), referring to the capabilities of Fabienne as a numerologist, and Patrice's balmy capabilities like a fairy ("hada").
With artificial lawn on the floor, some numbers on the wall and the colors green and purple as protagonists in every corner, the establishment offers seasonal French cuisine based on old family recipes and local produce. But don't get too used to it: the menu changes completely with every season and every month is dedicated to a different region of the neighboring country with six original proposals of that region.
Behind the stoves are now helping the Moroccan Haki Hatim and the French-Hispanic Georges Avila. All together they seek to redefine the classic restaurant concept: that it's not simply an establishment where they serve food, but also a place to chat, drink coffee and enjoy no matter how much time passes by. All of that with the excuse of eating well. And that is easy with dishes ranging from Parisian-style salmon tartar to tasty veal sweetbread or poached eggs with smoked bacon, wine and onion sauce.
But the star is the homemade foie gras based on a mysterious recipe -or so the story tells- accompanied with seasonal products (dried figs, currants and spiced bread in winter, corn bread, pear jelly and candied kumquat or mini hamburgers, apple compote). Don't forget to try the lemon cake or chocolate mousse with seasonal fruit before you leave. And yes, you will return: not only for the food, but you will also want them to tell you again their story. They'll be delighted.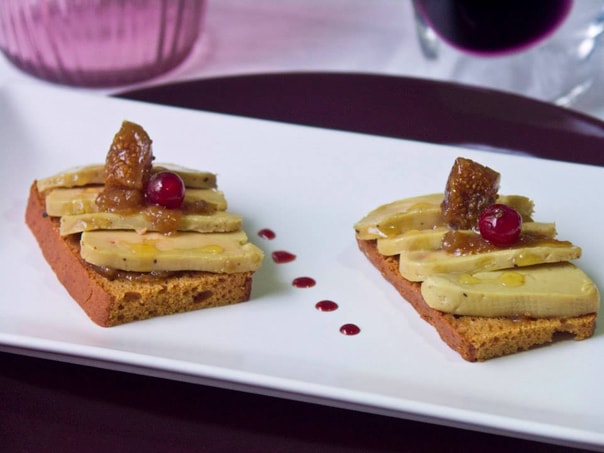 Recyclo Bike Café

Marqués Villafiel, 4
You'll be surprised to see, hanging from the ceiling, your old Orbea Furia blue or the classic Motoretta 2 in red. The shelves are full of books about cycling, but you can also find others like Joyce's Ulysses, a poetic anthology of Antonio Machado or a volume on Communist Priests. The beer, which is cheaper if you go there by bike, invaded the bar, with a prominence of craft beer from Malaga.
On the walls, a young designer exhibits his artwork. And a projector is used for watching the greatest cyclist showdowns on a big screen. If this is what you're seeing, you're in the Recyclo Bike Café  – a place that was born as a meeting point for Malaga's bike colony and that grew beyond it, almost accidentally.
Its cuisine is based on products from the nearby Atarazanas market and on homemade vegetarian dishes that range from lemonade to vegan chorizos or veggie burgers. Their prices accompany: menus for six Euros which speak for themselves. And their success is also based on the great and healthy environment that permeates the place.
It's enough to say that you can make your own fruit juice pedaling on the "bicibatidora" (bicycle-mixer) they have in the entrance. And in the bicycle shop next door they'll repair your bike and you can also get a chain there, if you want to leave it tied to the door. A place focused on the "Malagueño", something particularly difficult to find in a city that rolls-up the red carpet for cruise ship passengers and removes it as soon as they leave.
The creator of all this was an Englishman raised in the Alpujarras, a Spanish of English blood named Patrick Peckham. Patrick, a tireless traveler, discovered during his Erasmus year in Krakow his passion for small quality cafes that existed in the Polish metropolis. He also gained experience while working as a waiter in Berlin. After a while in Germany, his political consciousness brought him back: he wanted to be part of the change in Spain through social movement.
On his way back he met skinny Gregg and blonde David, a Londoner and a Californian that owned a bike shop in Pedregalejo- Recyclo Bike Shop , the bicycle nerve center of Malaga since it opened a decade ago.
With David (the Californian) as associate, it all came together to open up Recyclo Bike Café- the place to be for bikes lovers, but as well accessible to almost anyone, with truly reasonable prices. And it worked: the place is packed from breakfast to dinner, daily. Search for your spot, you'll find it.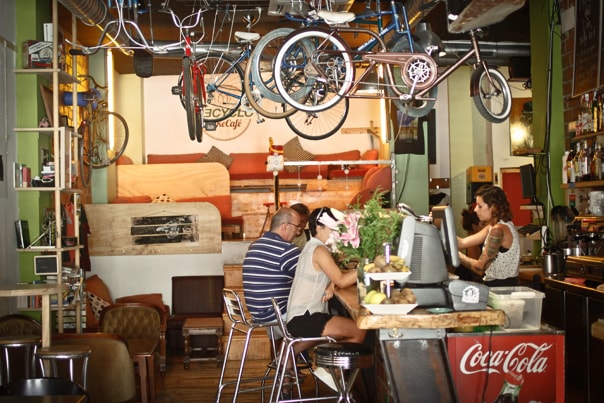 Veganized
Fernán González, 3
From Recyclo you can see Melanie arrive at work by bike. She pulls up the blinds and the light illuminates a peculiar store in Malaga. She turns on her laptop, puts on some reggae music and starts the morning in a place where you find very unusual clothing.
Everything is organic, made with ecological and recyclable materials, free of chemicals and toxic elements. Its manufacturers don't use animal oils, fats, additives or colorings. These brands are moreover certified for having decent working conditions for their workers.
The respect for the environment (and the human being) is the protagonist in the catalog of Veganized, a store that opened this year in February in Fernán González street number 3. They offer clothes for practically all ages. And proposals committed to a better world ranging from slippers to jackets, underwear or pajamas. Everything made of materials such as linen, hemp, recycled polyester and even cork.
Melanie is the daughter of one of many Andalusians who emigrated to Germany in the 60s. Since her childhood, the Spanish blood flowing through her veins made her try her luck in Spain. After studying two degrees- economics and nursing- she always had a steady work and a good salary in her country. And Ullrich, her partner, too.
But the routine, the gray skies and the desire for new experiences changed what Melanie had wanted. And, far from conventionalism, they left everything behind and took a vital leap forward to the sun shining in southern Spain.
Although their roots are in Córdoba, both needed the sea nearby, so they came to Malaga and spend later on five years in Almuñécar on the Tropical Coast of Granada. They were lucky, because they always found work quickly. They settled down. But a decade and two daughters later, they took a new vital leap. Again they left everything behind and persuaded an idea they were having since very long: to have their own business with the same life philosophy.
And like this Veganized was born, with its own online version and perhaps the only place in the capital of the Costa del Sol that ensures that your clothing is fair for everyone involved in its manufacturing: including your health.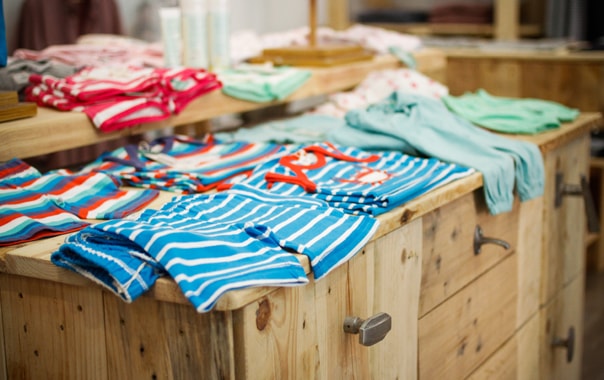 Het Beste Biertje
Trinidad Grund, 7
After shopping, the team of Spain Food Sherpas  can take you to a street that doesn't belong to anyone. A place where the breeze will bring you the smell of the sea. Mermaids of the ships entering the Port of Malaga and thousands (millions) of seagulls that seem to laugh about everything high above our heads.
A borderline street that doesn't belong to the historic center, but neither to the new Soho district- an area that deserves a break. So sit down and switch off your mobile phone. Free your agenda from all your plans and avoid any meetings for the rest of the day: this is your moment, just for you.
Because when you order a wheat beer with coriander and orange, you simply have to relax, enjoy and savor it. Maybe to ask for another one and even better when you share it with someone. But take it easy: there you've got a menu with 45 other varieties. And the hours between noon to midnight are al