Last updated: Nov 11, 2019
Autumn is synonymous in Malaga with chestnuts,"aguardiente" (brandy), wine and pig slaughter. We hit the road to enjoy traditional gastronomic festivals that many villages in Malaga celebrate in autumn.
Festivals, where everyone is welcome and in which you can discover the secrets of our local cuisine, thanks to dishes like chanfaina, arriera salad, bolo ojeneto or malcocinao. – A good moment to stroll through the tiny villages of the Serranía de Ronda mountain range or the Axarquía. Whet your appetite, take some warm clothes and let's go!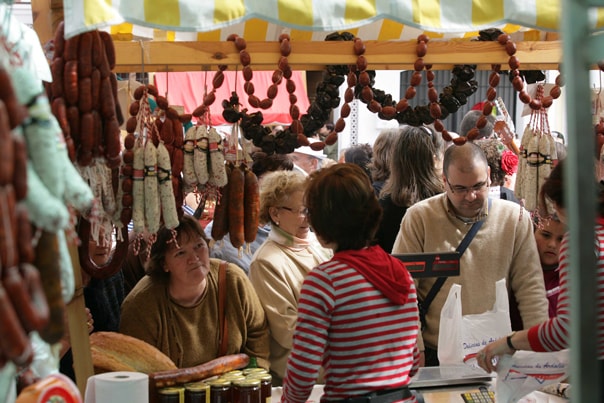 1. Artisanal Cheese Festival · Teba ·  October
In times of the Crusades, a Scottish admirer of William Wallace traveled through Andalusia. During the first decades of the fourteenth century Sir James Douglas was on his way to the Holy Land, to bring the embalmed heart of King Robert the Bruce. It sounds too much like a legend, but it's true.
While crossing the Iberian Peninsula, he didn't want to miss the opportunity to join the Christian troops to defeat the Muslims. So he participated in an intense battle near the "Castillo de la Estrella" Castle. But he had bad luck: he lost and couldn't fulfill his goals, but his adventures are remembered every year in Teba, a village where remains of this castle still exist and in which they build up a monument that smells of cheese every first weekend of October since fifteen years.
It's the time when they celebrate the Artisanal Cheese Fair in this town that is one hour away from Malaga by car. More than fifty stalls offer this product in infinite varieties: goat, cow, sheep or mixed, fresh, tender, semi-cured, old, with spices, in oil, curds, yoghurts …
Cold cuts, oils, jams, honey and sweets top off a huge range of handmade products. You can learn about all of this in workshops and tastings organized whenever there is a free space: Teba gets crazy this weekend when more than 10,000 people visit the city, almost three times its normal population.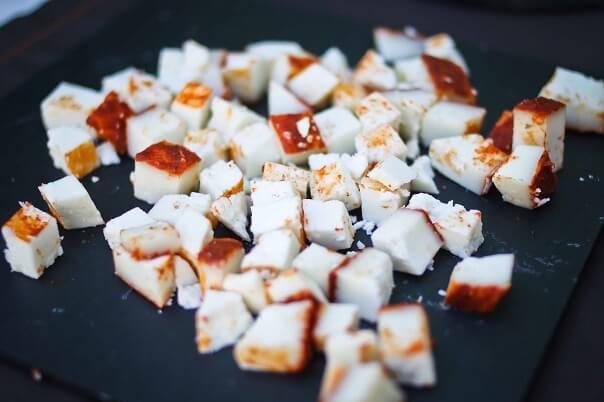 2. Perota Soup Day · Álora ·  October
Important: don't forget your spoon! At least that's what they say on the poster of this festival, where they make it clear that Álora provides the soups … and you the spoon.
It is more than likely that they'll give you a plastic one anyway, but you never know, so it's better to make sure. Like this you can taste the perota soup (the inhabitants of this beautiful town are called this way) and, like many recipes of the Andalusian cuisine, it can find its origins in the countryside.
The day laborers were those who used the products of their surroundings to face the hard working days under the blazing sun. In Alora, north of Malaga, the recipe of this dish includes ingredients such as tomato, green pepper, onion, potato, garlic, bread and asparagus- everything thanks to the rich vegetable gardens of the valley, irrigated by the Guadalhorce River.
The dish is completed with white wine and seasoned with oil, salt and parsley. During this holiday weekend, almost 7,000 portions are distributed for free every year, accompanied by the only olive with a designation of origin, the exquisite Aloreña Olive.
Moreover, you can always buy handicrafts displayed in the stalls that are set up along the town or vibrate with the verdiales music while strolling through the city, trying to reach the castle. You can also approach the vertiginous Caminito del Rey, which is just one step away from there.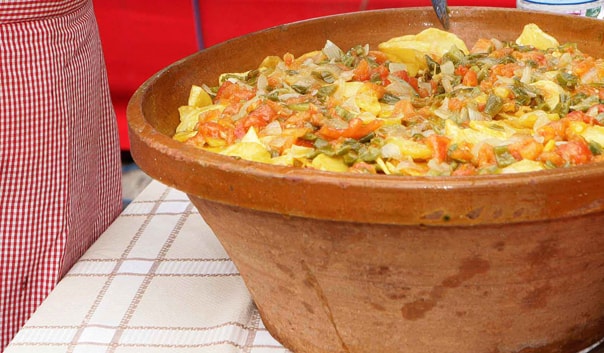 3. Wine and Chestnut Festival · Yunquera ·  October
The "pinsapo" is a unique tree. It only grows in southern Spain and northern Morocco. It was discovered by an adventurer of the old times, a Swiss, who in the mid-nineteenth century decided to make a botanical trip to the Iberian Peninsula. And the vast majority of these trees can be found in Yunquera, in the Sierra de las Nieves mountain range.
It is the largest village of this region of Malaga, although it doesn't even reach 3,000 inhabitants. An area bordering with Ronda that offers a great variety of small white villages that are relatively isolated and where the word tranquility doesn't even come close to describe it. Yunquera is one of them, although the serenity is gone every year in late October– that's when the Wine and Chestnut Festival starts, which will reach its 12th edition in 2020.
A demonstration of the classic "pisá" (grape-stomping) helps to understand the process of making the tasty local wine that accompanies perfectly the chestnut in its many varieties: roasted, cooked, in syrup, sweet or Kurdish style, picked directly from the tree.
It's also worth trying one of the most popular dishes of this village that is of course highly recommend by Spain Food Sherpas: the "malcocinao" (literally "poorly cooked") is prepared with chickpeas, bacon, tripe, chorizo and morcilla (blood sausage) and its flavor is completely opposite to the name it carries. Sack races and tourist tours will help you digest, as will the rhythm of the performances of the Verdiales Groups that complete this festival.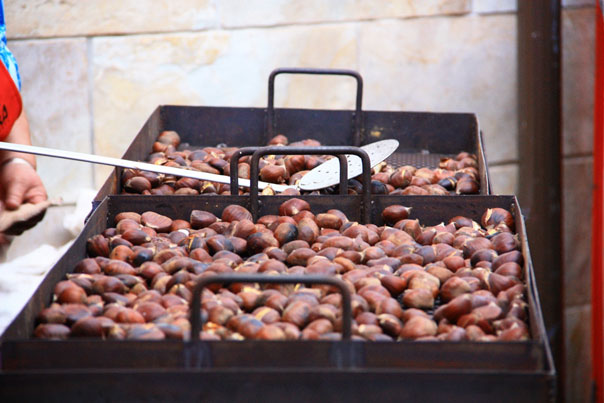 4. Chestnut Festival · Pujerra · 31st of October & 1st of November
The trip to Pujerra is long, but well worth it. From Malaga it's a two-hour drive away, but passing through an amazing countryside full of chestnut trees in autumn, enjoying a symphony of colors starring red, yellow and green.
The best stretch is at the end, along a narrow scenic road to this village of barley 300 inhabitants. There is the largest cooperative chestnut factory in Malaga, a museum about this fruit and every autumn they pay their tribute to this product that feeds a big part of the town's population.
In a giant "tostón" or roast you can taste the warm chestnuts in a usual cold festival where other sweets are also available like "buñuelos", "pestiños" and a big variety of those of Arabian origin.
It's time to try drinks like "mistela", which is made in Pujerra with roasted almond, coffee, sugar, cinnamon, lemon and orange peel, and of course aguardiente (brandy). One way to warm you up in the middle of the Genal Valley- but be careful with curves on your way back home!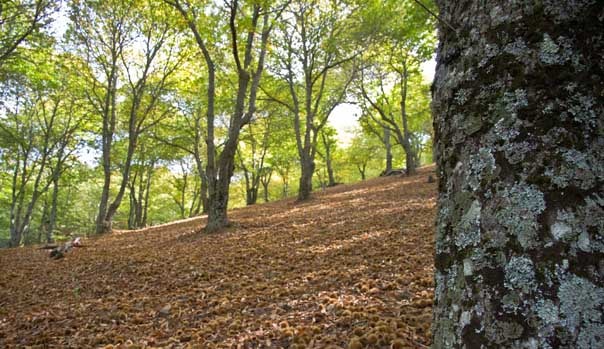 5. Maroween: Chestnut and Sweet Potato Festival · 31st of October & 1st of November
Maro is a tiny hamlet in Nerja where you can find the best beaches in all Malaga: quiet, small rocky coves where the clear, at times turquoise, water that is home to an incredible biodiversity.
It's a very rural setting and its gastronomy is based on the vegetable gardens of the surroundings and the culinary wealth of the Axarquia. Maro is also a place where they have mixed tradition and modernity in a very unique way. Like this the classic festival of the roasted sweet potato and chestnut, which is held on the day of "Todos los Santos", has managed to merge with the celebration of Halloween to create the so-called "Maroween".
So witches and monsters that terrorize the little ones enjoy their spare time in the gastronomic festival and regain strength with sweet potatoes and chestnuts (no signs of pumpkins). These products are the stars of another festival held in the nearby village of Alcaucín just one weekend after, where you can try the first "mantecado" cookies of the season together with the typical anise. A couple of shots … And let's sing some carols- now even in Spanish!
6. "Tostón popular" · Ojén · November
To the fans of Indie music the town of Ojén will sound familiar: it's the village that celebrates every summer the "Ojeando" Festival with groups like Los Planetas, Love of Lesbian, Xoel Lopez or Ivan Ferreiro among many other artists.
But this beautiful and steep town in the mountain range ten minutes away from Marbella celebrates as well another festival, this time in fall- its "tostón popular". An opportunity to learn the process of roasting chestnuts, but also to enjoy the local cuisine with dishes like grilled bacon, jervía soup, chestnut stew, rice with fennel or the "bolo ojeneto" made with chickpeas, beans, garlic, onion, fennel, pork, potatoes, bay leaf, olive oil and salt.
As well the "salmorejo" from Ojen, very similar to the one from Malaga and very different from the one of Cordoba, because it is a type of salad made of boiled potatoes, cod, onion, pepper and orange. A dish highly recommended by Spain Food Sherpas, as is the tasty prickly pear brandy (aguardiente) that is produced in the village.
If you have children bring them along, because this festival is family-friendly and there are many competitions and traditional games in the town's square like the potato dance, sack races, the apple or chair game; and remember, as a little one you also spend many hours with these games.
Hungry and ready to sample some of these typical dishes and wines from Malaga? Join us on our daytime Malaga Tapas Tour or Malaga Evening Tapas Tour for a +3,5 hour food experience around the streets of the historic center of Malaga. 
7. Ham Festival · Campillos · November
The poet José María Hinojosa is the eponym of the largest park in the town of Campillos, where this member of the "Generation of the '27" was born at the beginning of the last century. This is exactly the place where the ham, jamón, (and other pork cold cuts) is celebrated each November since 2008.
This region is the main producer of pork delicacies in Andalusia and therefore, this feast is unavoidable if you want to enjoy every part of the pig… and there are many.
About a hundred stalls offer all kinds of produce made out of pork and there you will discover parts you never knew they existed and of course you will be able to taste sausages like chorizos, morcilla (blood sausage), salchichón (salami), zurrapas and chicharrones (both lard based creams), bacon, drippings …
And if you don't like meat, don't worry: you can also taste other handmade products like cheese, another specialty of the region. Around 10,000 people attend this festival, which is completed with a handful of activities like "escanciado" demonstrations (how to pour a drink correctly), the performance of verdiales groups or children's activities.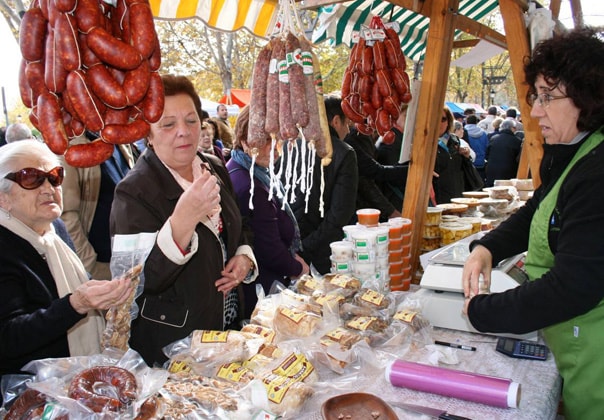 8. Rabbit Festival · Parauta ·  November
In the ninth century, when Malaga wasn't yet Malaga and not even Spain was Spain, a neighbor of Parauta got very famous. His name was Omar Ben Hafsun and he led a rebellion that resulted later on in the Caliphate of Córdoba. From then on, about 1,200 years later, none of its neighbors has begun a similar revolt in this tiny village in the Serranía mountain range of Ronda.
Today there are barely 250 inhabitants and no one seems to lead a new revolution. It is such a small town that, in order to celebrate their Rabbit Festival, they must enable their sports center since it's the only open space in which to make a huge rice with rabbit for locals and visitors.
Traditionally this small animal was vital for the families of that region and now they pay tribute to it with this gastronomic event in which, apart from an enormous rice with 300 rabbits, many other dishes are prepared with this animal, always maintaining the local tradition.
With narrow, steep, cobbled streets full of houses with whitewashed walls, Parauta is definitely worth a visit, which allows you as well to discover the many hiking trails this region of Malaga has to offer, like the circular walking tour to Igualeja and Cartajima, also wonderful small white villages.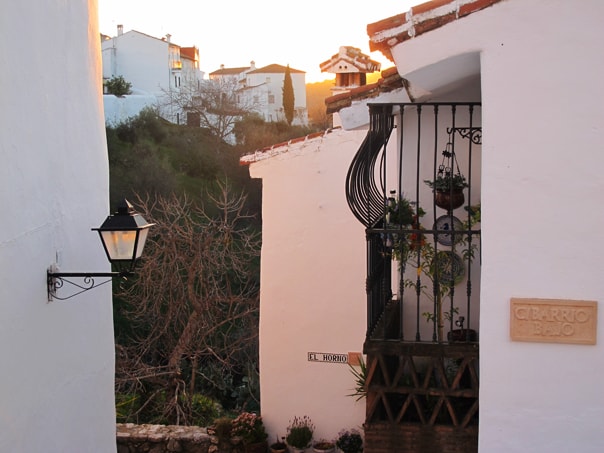 9. "Chanfaina" Stew Festival · Totalán ·  November
Totalán can be reached from Malaga by a winding road in just over half an hour. There they prepare a dish that eliminates the cold instantly. It's the "chanfaina"- the recipe calls for potatoes, olive oil, vinegar, garlic, breadcrumbs and many spices like oregano, saffron, pepper, cloves, cumin and bay leaf and it is topped off with sliced meat and blood sausage.
If you prefer so, you can also have it vegetarian, but you then you must call it "widow chanfaina". Every last Sunday of November they celebrate this dish with a festival where you can savor more than 6,000 free portions, accompanied with wines from the Málaga Mountain Range and other products such as almonds.
They expose as well different farming tools and handicrafts, a popular flea market is build up and musical performances by the local band, verdiales groups and, of course, classic orchestras of the village may not be missing. Or did you think it'll work without them?
10. Purple Carrot Festival · Cuevas Bajas ·  December
A few decades ago, in the region of Antequera, they used a strange purple carrot to feed their animals. It was a product that was not being used in gastronomy, but that contained many nutrients and its season was in late autumn and early winter during which time the meadow of Antequera didn't have much to offer anymore.
Today the Purple Carrot (zanahoria morá) is a delicatessen that resists thanks to the fertile lands near the Genil River where farmers of the municipality of Cuevas Bajas still maintain the production of this curious carrot of incredible proportions: it can exceed one kilo easily.
To make it become more fashionable, they invented in the village the Purple Carrot Festival, which is held every first Sunday of December and which serves as well to celebrate the end of the harvest. In jams, creams, grilled, raw in a salad and even dried, this local delicacy- which you can also find in some other parts of Spain like the Balearics Islands- can be tasted during this festival with a portion of "migas" (fried breadcrumbs) and a wine to get warm.
A nice walk along the bank of a river that comes directly from the snowy hills of Sierra Nevada allows finishing a great gastronomic journey.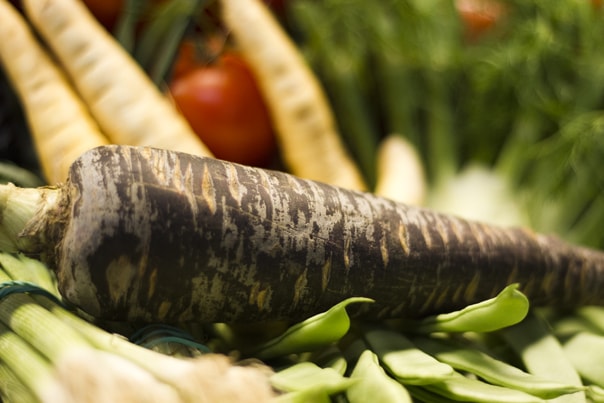 11. Chacina Festival (cold cuts) · Benaoján ·  December
A great plan for the Constitution bridge day is to travel to Malaga and head for the Sierra de Grazalema Natural Park to stay in any of its wonderful villages. You can make this trip perfect by enjoying the Chacina Festival in Benaojan, in the region of the Serranía de Ronda mountain range.
Most of the sausage and cold cuts factories are concentrated in that area, so they do know about meat. A lot! They demonstrate it since more than a decade, every first weekend of December: that's when the whole town proudly presents their best products of the pig slaughter to the visitor.
During these days the small alleys of Benaojan smell like pork loin, chorizo, morcón and morcilla (both blood sausages), but also the aroma of dried ham is in the air, that gets so well cured there due to the climate. If you couldn't manage to go, you've got an extra opportunity: one week after, the town of Colmenar, located next to the Natural Park Montes de Málaga, also celebrates its Chacina and Mosto (grape juice) Festival. Can't have enough of it!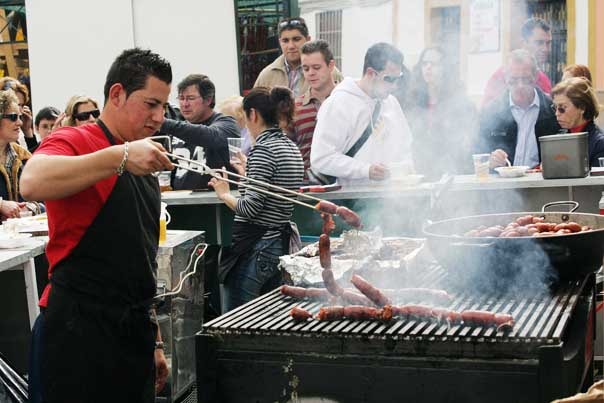 12. Migas Festival · Torrox ·  December
Traditionally, the day laborers of Torrox changed their facial expression when they heard a unique sound. – The one of a seashell blowing in the wind, announcing that lunch was ready.
Today there are other ways to inform that it's lunchtime, but every Sunday before Christmas this conch sounds again in this region of Malaga: to tell the visitors that the Migas Festival reached its culmination and that it's time to distribute thousands of portions of this special dish.
Although it's made with breadcrumbs almost everywhere in the province of Malaga, (sometimes you can have it with carrot, other times with pomegranate or oranges) in various areas of the Axarquía region tradition dictates to elaborate it with wheat semolina. And one of the best places to try it is in the Migas Festival of Torrox, which is held for more than three decades and has become one of the most important days of this village.
Furthermore, the migas can be accompanied by the "arriera" salad (with onion, orange, cod, olives, olive oil, vinegar and salt) and a quaffable wine of this terrain.
Dates  may slighltly change up to two months prior to the festival. Please check out the availability on the official  websites provided.
English version of the article "Para disfrutar bien del otoño hay que ir al sur: las fiestas gastro de Málaga", written by N. Sánchez / Spain Food Sherpas for www.traveler.es (05/10/15).
Don't forget to share this post!
Sign up for our Newsletter and get the inside scoop on our favorite recipes, exploring and devouring Spain and more.