Speaking of the 21st century Málaga is speaking of a city in constant transformation that has known how to adapt to the needs of its time. Far from that vacation destination that in the late 70s based its appeal on the sun and the beach, the Málaga of today is a modern and cosmopolitan city that adds to its privileged climate an enviable historical, cultural and gastronomic heritage. An evolution that has also brought with it the development of a vast commercial fabric that combines the main international franchises with initiatives of more local character, aimed at highlighting the indigenous products.
The fact is that Málaga is also a paradise for those who like to go shopping and this is evidenced by the multitude of shopping centers and areas of shops that have been flourishing around the center. You just have to know where to go and for this we show you the 10 most important commercial areas of the city.
1) CALLE LARIOS.
The Marqués de Larios Street, popularly known as Larios Street, is the most famous street in Malaga and its main artery. Around it revolves the life of the city and there are located the majority of the large international firms, from Women Secret's, at the beginning of the street, to Victoria's Secret, which delimits its end around the Plaza de la Constitución. There are the classic stores of the Inditex empire such as Zara, Springfield, Pull&Bear, Stradivarius, Mango or Massimo Dutti. It should be noted that, despite being in the center of the city, prices do not vary with respect to the rest of the branches, and it is not uncommon to find genuine bargains during sale season, although for this you have to get up early and be patient.
And if we get the urge between store and store, nothing better than to stop at Casa Mira (C / Marqués de Larios, 5 – Tel: 952 22 30 69), one of the oldest ice cream shops in the city (it opened its doors in 1890), where it is mandatory to taste one of its glorious turron ice creams.
+INFO:
– Opening hours: although all stores open at 10:00, the closing time varies from one to another. On Sundays, many of them are usually closed.
– CASA MIRA opening hours: from Monday to Sunday, from 10:30 to 23:30.
– Nearest parking: Central Parking (Plaza de la Marina, 5)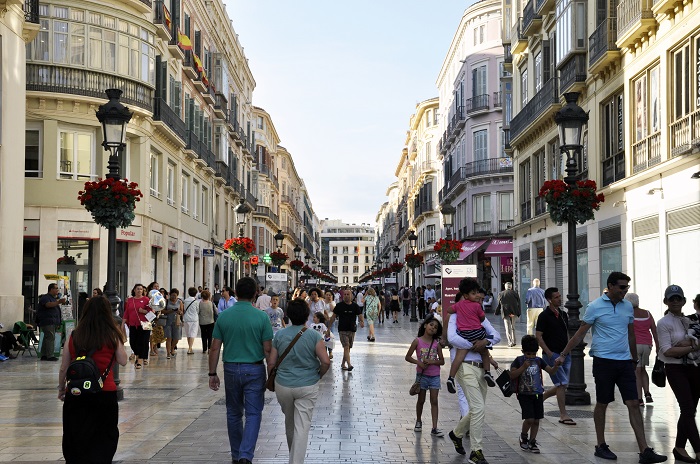 2) THYSSEN MUSEUM AREA.
The inauguration of the Museum Carmen Thyssen Malaga in 2011 brought about the revitalization of an area that had been neglected until then. This new museum gave new life to the commercial area formed by the streets San Juan, Santos, Compañía, Especerías, and Andrés Pérez, which came to be known as the "Thyssen Area". This area is home to a variety of unique shops, including traditional shoe stores (Calzados Hinojosa, C/ San Juan, 20 – Tlf: 952 212 735), antique hat shops (Sombreros Casa Pedro Mira, C/ Especerías, 18 – Tlf: 952 21 29 51), charming delicatessens (El Almacén del Indiano, C/ Cisneros, 7 – Tfl: 952 21 93 19), and one of the most beautiful bookstores in Spain (Mapas y Compañía, C/ Compañía, 33 – Tlf: 952 608 815).
+INFO:
–Thyssen Area Local Business Friends
– Nearest Parking Lot: Parking Camas (C/ Fernán González, 7 – Tlf: 952 22 07 42)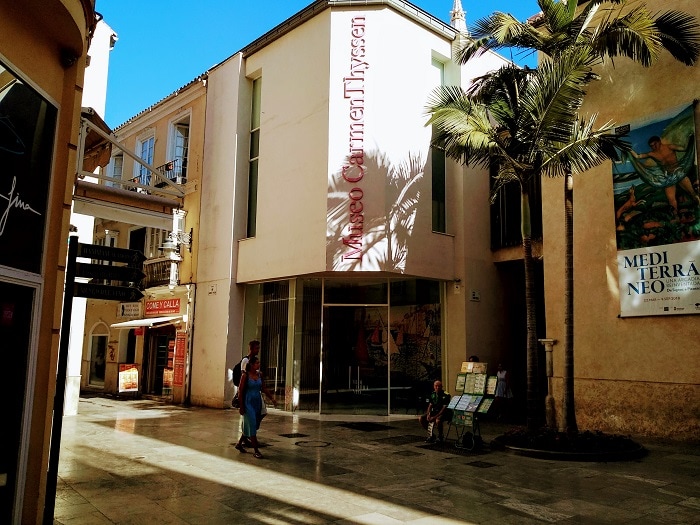 3) MUELLE UNO.
2011 was also the year chosen for the opening of Muelle Uno, a space resulting from the renovation of a part of the Malaga port industry, which has become one of the most special commercials, leisure, and gastronomic areas in the city.
Not in vain, because of its privileged location by the sea, and its proximity to the city center, Muelle Uno offers one of the most beautiful panoramas in Malaga and is worth a walk around it at sunset.  Perfumeries (Primor), clothing stores (Slora, Lacoste), shoe stores (Deichmann), and optical stores (Solvisión) are some of the businesses there, and they are complemented by the artisan markets that take over the area on many weekends.
The varied gastronomic offer is also worth mentioning, as it is interspersed between the classic franchises such as KFC, Burger King, or the only Hard Rock Café in the province, with genuine gems such as the Michelin starred José Carlos García restaurant or the modern Cambara, which specializes in rice dishes.  The Centre Pompidou Malaga, the first branch of the famous Parisian museum outside France, deserves a whole new chapter. It opened in 2015 and has quickly become one of the icons of the "new Malaga."
And if what we want is to live by the sea and enjoy its immensity, whether trying to spot dolphins or taking a relaxed catamaran ride with a glass of cava at sunset, Muelle Uno is also the headquarters of a multitude of companies dedicated to enjoying the charms of the Mediterranean.
+INFO:
– Muelle Uno: Paseo del Muelle Uno, 4. Tlf: 952 00 39 42.
– Opening Hours: Monday to Sunday, from 12:00 to 24:00 (it may vary depending on the store).
– Centre Pompidou Málaga: Pasaje Doctor Carrillo Casaux s/n. Tlf: 951 92 62 00) Monday and Wednesday to Sunday , from 12:00 to 24:00 (it may vary depending on the store).
– It has its own parking lot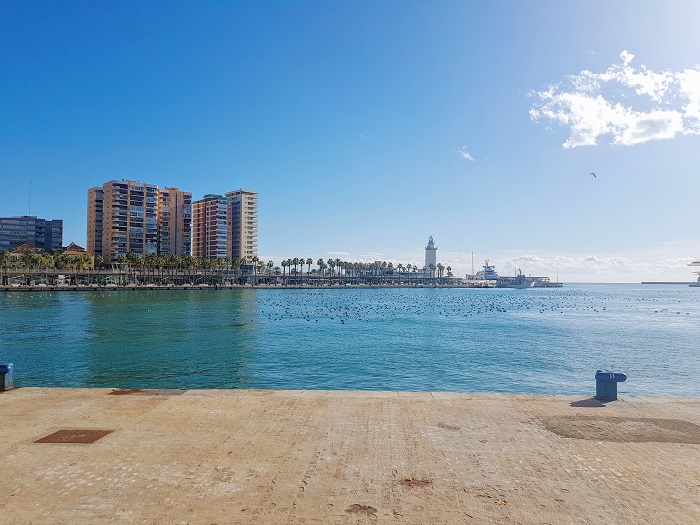 4) EL CORTE INGLÉS.
It is often said, always in a humorous vein, that for a city to merit being on the map of Spain it must have a center of El Corte Inglés. The truth is that this is the chain of department stores with the most venerable history in our country.
Its origins date back to the mid-30s and since then it has been forging an image of an eclectic place and one of trust. Located on the left bank of the Guadalmedina River, the El Corte Inglés center in Malaga has two buildings joined by a subterranean passage in which almost anything can be found, from fresh flowers, jewelry, and toys to bicycles, books, household goods, or the latest in technology.
A special mention must be given to its supermarket, located in the basement and always well stocked with first-rate products, as well as its adjacent Gourmet Corner, which is geared towards the most demanding palates, where Iranian caviar and the most exclusive French wines are the stars.
+INFO:
– El Corte Inglés Málaga Edificio 1: Avda. Andalucía 4, 6. Tlf: 952 07 65 00.
– El Corte Inglés Málaga Edificio 2: C/ Hilera, 8. Tlf: 952 07 65 00.
– https://www.elcorteingles.es/centroscomerciales/es/eci/centros/centro-comercial-malaga
– Open: rom Monday to Saturday, from 10:00 to 22:00.
– It has its own parking lot