Far away from franchises and big brands, the street Andrés Pérez in Málaga has reinvented itself. Traditional trade, neighborhood initiatives, unique proposals and a savory gastronomy are the main ingredients of this different place. Google claims that its 140 meters can be walked in two minutes: come with us and it will take days.
Old timers tell us that back in the day it was impossible to stroll through calle (street) Andrés Pérez. Time passed. The people did too. And the street became a tiny abandoned desert. This wasn't too long ago: it's been 5 years since this narrow path was ugly, dark, dirty and unsafe. Take a look at it through Google Street View to find a bleak image from 2011 filled with graffiti, crumbling walls, and abandoned shops.
This was the case, during that same year that Paco Cano and his partner decided to open the antique shop La Casa del Cardenal, in a precious house from the 17th century marked by its Arabic architecture. They cleaned the street, bleached the metal shutters and started to create life in space that had none. The risk paid off: many people followed his lead and little by little a bouquet of stores opened on the street. Six years later, it is now worth it to take a stroll in this street that has been converted into one of the most interesting of the city. And one of the cleanest: the owners collaborate by cleaning and keeping dirt at bay from the street and the neighboring areas.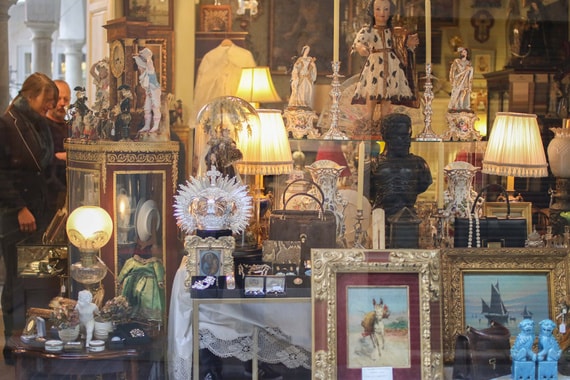 Photo credit: Nacho Sánchez
The protagonists of this rebirth are new traditional shops. It's a refreshing break from the franchises and big name brands that tend to take over large capital cities. "This is a singular street and we want it to remain so", emphasizes Francisco Cano, who also is president of the Neighborhood Association of the streets Carretería and Andrés Pérez. His antique shop is an addictive place for people who are nostalgic for past time periods: lamps, cooking supplies, women's accessories, jewelry, art, paintings from Malaga, clocks, furniture….in La Casa del Cardenal you can find absolutely everything, always in an impeccable state, without a speck of dust and perfectly organized. The woman in charge of this tidy state will eye your every move so you don't break anything. Careful!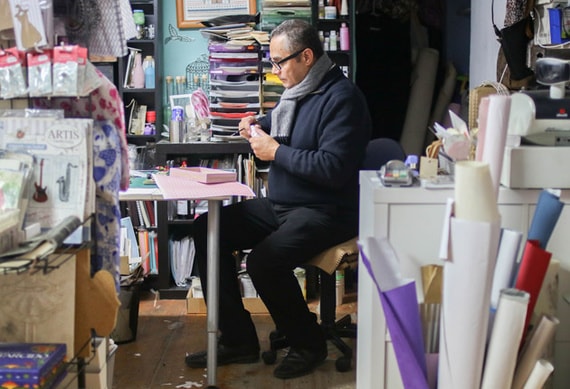 Photo credit: Nacho Sánchez
Another one that performs each step of the way is Ahmed Smaimi, who runs a beautiful store called Scrappiel. His philosophy is that a creative adult is a child who has survived. Therefor, in a small space you can find a multitude of objects that will make anyone go wild who is a lover of all things Do It Yourself. Bookbinding, crafts, and many other techniques like decoupage are Ahmed's specialty, whose patience, calm nature, and knowledge resemble those of craftsmen from back in the day.
Underneath the light of a magnifying lamp and carefully, he restores or creates beautiful items, something that you can do as well thanks to his workshops. It seems unlikely that you will adopt his talents but the shop is filled with machines that "help make everything easier", so much so that this Moroccan from Tánger, will soon occupy one of the studios in the plaza Pintor Eugenio Chicano, only a few meters away from his shop.
A small alley that extends from Andrés Pérez leads to a small plaza where you can find an art gallery, a vintage clothing store or a shop selling craft leather. Also this is where the new headquarters for the legendary record store Candilejas will be located, where they will continue to survive in modern times of digital music and ambitious real estate.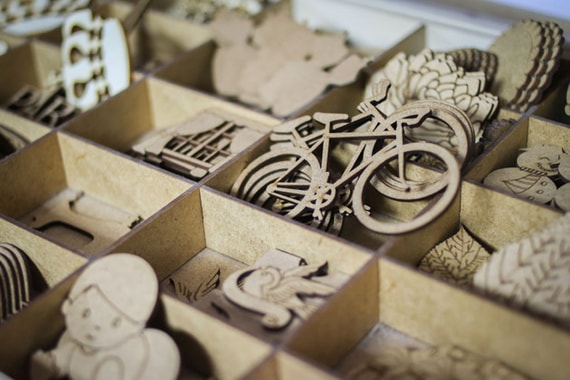 Photo credit: Nacho Sánchez
Another unique place where they know a lot, undoubtedly, on calle Andrés Pérez: La Casa Invisible. Is a social center that next year will have been around for almost a decade. A lot has changed since the first celebration held there for the 10th Málaga Film Festival, but time hasn't stripped away the place's spirit: to promote local self organization, critical thinking and collective creation. In its precious patio you can find a vegetarian restaurant with delicious options, along with numerous performances and activities.
However, it is in one of the rooms of this large building where the true essence of La Casa Invisibile can be found. Workshops, assemblies, courses, concerts, reflection groups and countless other activities has converted this project into a stable of Malagueñen (To be from Málaga) culture. So much so, that even though the City Council of Málaga insisted on shutting it down, support and strong voices from within the organization and outside pushed for it to say open, and in the end, it did.
Photo credit: Nacho Sánchez
Back on the street and underneath a verse from Gongora, it is easy to become astonished by the giant iron windows that fill a part of Andrés Pérez. In these windows, the wide ranges of different greens from the plants give color to a street that is not often reached by the sun. Many of those plants are placed in clay pots of the long gone factory of the Hermanos Morillo, another example of how everything on this street is special. As is also Mahatma Showroom, a space created for artists with great souls, just like their slogan reads.  This business was started four years ago by a team of architects and it is a very special place in honor of Gandhi.
In one area, you can find a space for flirtatious expositions where they celebrate creative workshops that have to do with our planet and its ways of living and creates an interesting alternative to the classic balls and paint for children. On the other hand, they have a space filled with a ton of educational toys that you probably won't find in the large toy stores. Soon they will release their own line of educational toys that is in the works.
Right across the street is Color Hueso, a store that opened three years ago thanks to an invitation from Angela who is from the mountains, and Teresa, who is from Cordoba. In 2013, Angela was an unemployed psychologist and Angela had been unemployed for sometime since her last collaboration project in Guatemala. For a change of pace, both of them decided to travel through the beaches of Cádiz and Almeria to sell handmade crafts during the summer. "And everything went really well", explains Teresa. So much so, that they decided to open their own store in the center of Málaga.  They knew about the area because of their trips to La Casa Invisible, they loved the street and rental prices sealed the deal. Now, the establishment is a reference point in the area for those who want to find clothes and accessories.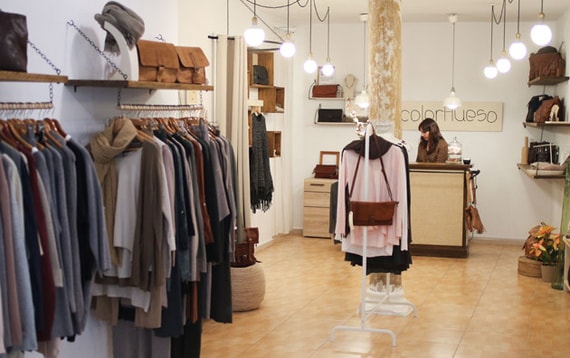 Photo credit: Nacho Sánchez
Another one is Lady Blue, which has been run by Montse for a couple of years now. She is a lover of the small ecosystem that makes up the small shops in this area and of all of the people who pass through, which is increasing thanks to the apartments available to tourists. Because of this, there are less people who can reside in the neighborhood permanently.
Fashion is also the star of the show for three stores in the area that are close to each other in distance as well their Italian accent, although each one has their own shade. Quasipercaso is a shop where Luana Fazio has a precious collection of vintage clothing from the 50s to the 80s, where her collection of hats and headpieces stand out, you can rent them for weddings, events, film showings and theater performances. This Sicilian arrived to Málaga fifteen years ago and went ahead with her store three years ago, around the time that the street began to have life. Since then, loyal clienteles open the doors each day while curious, shy, and hesitant window shoppers look in through the window. From there you can also see pieces of jewelry that for six months have been part of the products available in the stylish and quaint store.
From the other side of Italy comes Eugenia, who traveled to Málaga from Milan following the footsteps of her soccer player son. She is the owner of EZE, an art shop where she lives with her mischievous cat Agata. Her couch is the perfect space to sit and chat and observe everything that Eugenia does by hand; but also the network of artisanal products available where you can find Japanese kimonos, bags, clothes and accessories made from leather and silver.
From her front door, a line of cacti take you to Ambär Showroom, trade run by another Italian, Fausto, he was born in Empoli, located in the heart of Tuscany. In his shop you can find small collections of accessories made by designers from or based in Málaga.  "Ambär is original fashion for original people who like to express themselves in multiple forms", says Fausto.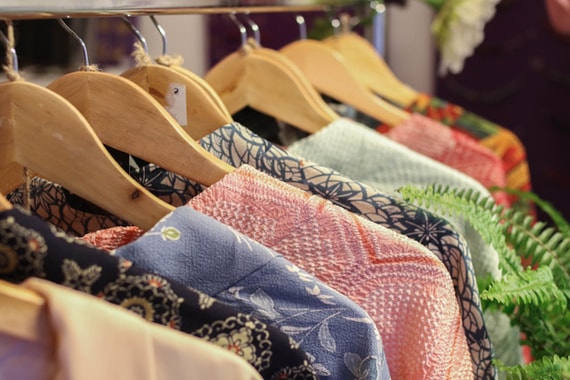 Photo credit: Nacho Sánchez
Of course, Andrés Pérez, also offers you gastronomic choices so you can satisfy your appetite. There are three options. At the end bordering the Plaza de los Martires, the vegetarian restaurant El Calafate is a familiar face in the area. There a stupendous menu that is a perfect balance between quality and price entertains you. Let yourself be surprised by bean tabbouleh, a porra (a cold tomato soup) dish, different pastas with vegetables, the refreshing white garlic soup, veggie couscous, their variety of salads, they way they work tofu, or their savory elaboration of lentils made in an Andalucían style with raisins and nuts. It is an oasis for vegans, vegetarians, and celiac people, but also for anyone who is lover of healthy food.
Halfway down the street you can find Taberna Las Merchanas, that is on its way to turning one year old thanks to the classics: montaditos, Russian salad, flamenquines and croquettes from grandma Maria. A picturesque bar filled with references to Holy Week that probably appears strange to a tourist who doesn't know too much about this religious holiday. Just to be sure, those responsible for La Merchanas explain for every tourist that asks the significance of each image and carvings of virgins, saints and legionaries that make up the decorations of the establishment. Nearby, like any other ideal Andalucían street, Andrés Pérez also has a church that was constructed in the 18th century, that of Aurora and Divine Province, officially known as Santa Catalina and where the Sacramental brotherhood of Vineros is located. Which goes out on the Thursday of Holy Week every year.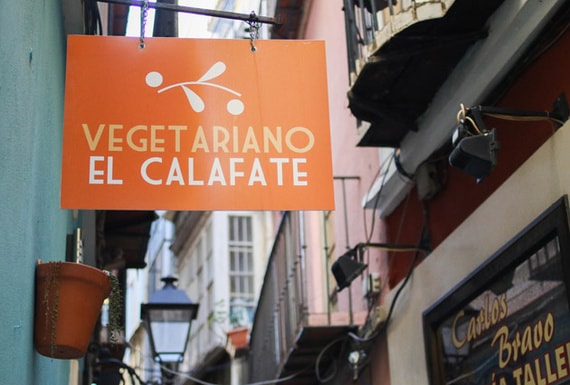 Photo credit: Nacho Sánchez
Finally, and on the other end, on the corner of calle Carretería, exists Soca Restaurante, one of the newer neighbors of the area and where Japanese and the Mediterranean cuisine are worshipped. Both gastronomic cultures remain united thanks to Ivan Rubio, a young chef from Málaga trained in the kitchen of the restaurant A sako. That is where he discovered the secrets of making sushi from the chef Rui Junior, meanwhile he learned about Mediterranean flavors from Alejandro Salido, who is responsible for the restaurant Misuto, located the neighborhood of Pedregalejo located in Málaga.
You can see Rubio working thanks to windows that allow for customers to see into the kitchen. The results of this production will bring you an appetite by simply reading the menu: smoked sardines in bread with romesco sauce and basil gel, Russian salad with quail in pickled Iberian carille with curry sauce and a hint of honey or grilled scallops with a truffle fried egg cream, mushrooms and papada Joselito (a piece of pork that is naturally cured with various spices), they only have a few options, that are perfectly paired with the seasonal dishes of the day. And a wide se