Sunday in Malaga: Culture, Traditions and Tapas Tour
Sunday in Malaga: Culture, Traditions and Tapas Tour
Embark on a journey into Malaga's history, culture and delicious tapas scene!
Embark on a journey into Malaga's history, culture and delicious tapas scene!
"Amazing food tour through historic Malaga"
"Excellent tour that is worth the time and money!!!"
"Tapas tour great way to find foodie gems"
"Fantastic tour of the culinary Malaga"
5 Stars rated on TripAdvisor
Local Places. Local Food. Local People
While on Sunday evenings most restaurants are closed, Malaga on a Sunday afternoon might just be the best time to experiece the city like a local.
On this 3 h tour, you'll visit three of Malaga's best tapas bars, from age-old favorite among locals to modern delights, as you wind your way through the city center sampling interesting local wines and delicious tapas.
TIME
Sundays at 11:45 am.
Duration: 3 h.
PRICE
65€ per adult.
35€ children under 16.
Highlights include:
3 favourite places among locals
6 Tapas & 5 paired Wines (Full Lunch)
Small group (10 person max)
Learn about Malaga's Culture, History and Traditions
Passionate English speaking Food Sherpa
Food, Locals, Culture & Fun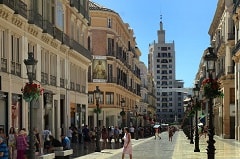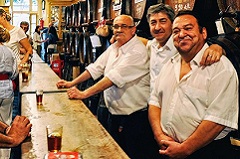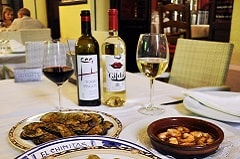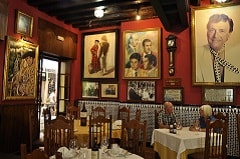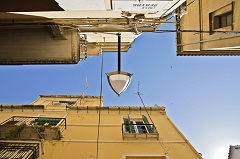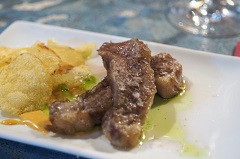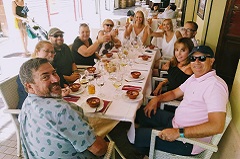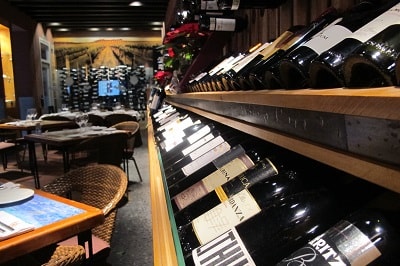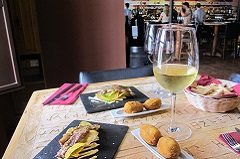 What to Expect
Savor delectable dishes and drinks, at the same time you learn about Malaga's rich (food) history and culture, passing by some of its most emblematic sites and culinary hotspots.
We will taste a typical Malaga wine in the oldest and most traditional tavern in the city, founded in 1840. Without a doubt, a must to live a Sunday like a Malagueño*
Our second stop will be in an emblematic Malaga restaurant in the heart of the Historic Center of Malaga with typical Andalusian decoration, with paintings flamenco bullfighters and "cantaores". Its cuisine is based on local products and the Mediterranean diet, bay fish, seafood, good meat and traditional dishes.
We will end our tour in a beautiful "vinacoteca"/wine bar / restaurant run by our frien Julián with an interesting offer for wine and food lovers with more than 500 differnt wines.
Throughout the whole activity you will be guided by a member of our team, a so called Food Sherpa, who is an expert in our culture and has intimate knowledge of the Malaga's best-kept foodie secrets.
Don't miss this opportunity to experience the best places to eat in Malaga and to discover hidden gems that even locals don't know about!
*Tastings and Tour stops are likely to change to reflect seasonal produce, and our partners availability.
DIETARY RESTRICTIONS
We want everyone to be able to discover our delicious gastronomy, so we're delighted to provide tasty substitutions for vegetarians, dairy and gluten intolerant, pregnant or those who don't drink alcohol…
If you have any other allergy or preference, we will try our best to suit the tour to your needs.
Restrictions must be indicated in advance at time of ticket purchase.
Do you have more Questions? Check out our FAQs
We are "malagueños" and love to eat! That's why we would only take you to places that totally convince us and where we go with our friends and families. No tourist traps
Not all Tours are created equal. Our tours are not standardized, but a real reflection of the delicacies every season has to offer and the creativity of our chefs. We took much time and effort in designing the tours so you can enjoy delicious treats, discover hidden places and submerge in our (food) culture in local hideaways.
Feel welcome and like a local. We have great friendships and exclusive partnerships with restaurants, taverns and market vendor.
Expert foodie guides. Our guides attended a special training on Gastronomic Tourism promoted by the Provincial Council of Malaga. They truly are real professionals and experts on local cuisine!
Much more than wonderful food in interesting places.There's more to it- it's about the attitude, about getting a bit closer to our authentic culture and real people!
Why our Taste of Malaga Tapas Tour? It's a fascinating journey through the history of Malaga's gastronomy. From fresh produce in the market to traditional dishes or even modern day, contemporary delicacies.
*Tour stops may change slightly to reflect seasonal produce and availability. From July to September the first stop will be at another place.
OTHER  ACTIVITIES YOU MIGHT LIKE: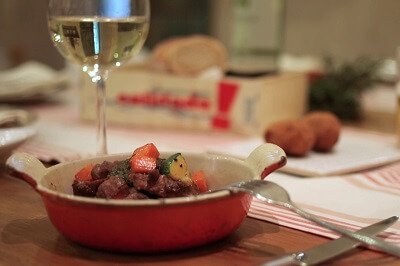 A night on the town for wine-loving foodies. Discover Malaga from an insider's perspective by nibbling on tapas in the best local bars and taverns.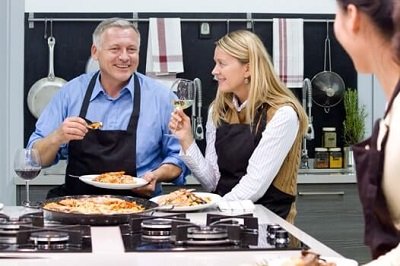 Whether it's a team-building event or a social activity, gather your family, friends and colleagues for a private cooking class at Spain Food Sherpa's Table.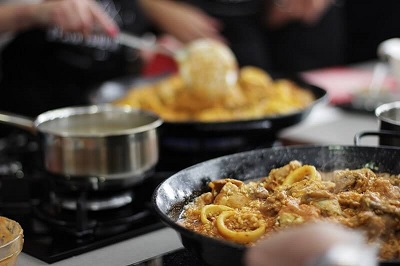 A big Paella pan, fresh seafood, smoky pimentón and a dash of white wine… Discover with us how to cook Spain's most famous dish! Authentic, natural, flavorful.
MALAGA TRAVEL GUIDE FOR FOODIES

Our Travel Guide provides you with key information and insider's tips about Malaga