We go deep into the authentic Malaga. We skip Picasso, bulls and flamenco dresses. Even espetos (sardine skewers) . We believe in genuine establishments with a special charm: in any of them you will see a recommendation plaque from Tripadvisor on the door. Let's go back to the roots, return to the origin and find some of the greatest local places to eat in Malaga. Open up the backpack to keep the real taste of Malaga!
1. LA RECOVA
Pje Ntra. Sra. de los Dolores de San Juan, 5
Some old chairs, a wooden box and a couple of glasses of sweet wine. Paco can be easily found during mid-morning at the door of La Recova. He is 80 years old and its former owner, but he still has so much love for it, that he goes there every day for a drink. The place is a mix between an old grocery store which it was up until a couple of years ago, an antique shop, a warehouse and the main room of a farmhouse. The music is played on vinyl records. You can find neither WiFi nor Coca-Cola, but earthenware pitchers and an olive oil dispenser. Also a bottle with sweet wine to attract mosquitoes to keep them away from the customers.
A classic is to buy a food can and to eat it right there with a glass of wine, playing dominoes with the regulars in the afternoon. It has normal business hours, so no lunches: at midday it's closed. And a "siesta". Impossible to leave without tasting a "florestel": Muscat wine with soda (mixed you get less tipsy). Everything you can see in La Recova can be bought. Even the tables.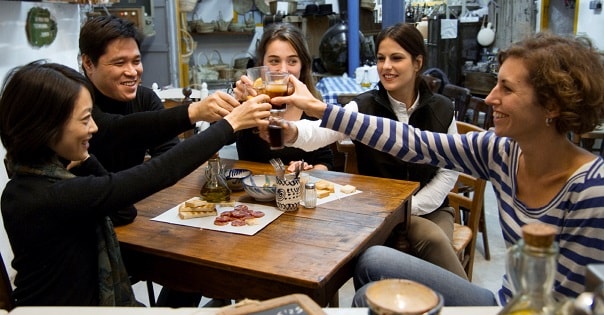 2. ULTRAMARINOS ZOILO
Calle Granada, 65
Zoilo Montero's uncle ran this place until 1956. When he thought about selling it, Zoilo took it over. His desire to prosper motivated him … But probably there was another compelling reason: love. There he met Mari Carmen, who had a shop specialized in selling eggs right next to his establishment, who would become his wife. Zoilo gave his name to this grocery store and since then it has become one of the few traditional businesses that survive mass tourism in the historic center of Malaga.
They no longer have roasted malt to make coffee, but the essence of products with a "Sabor a Málaga" (Taste of Malaga): María Mannin "tortas" (cookies), "pan de higo" (fig bread), "borrachuelos" (typical sweets from Malaga), olives with almonds, mango jam, chestnuts in syrup. It's as easy to find a lawyer buying a "salchichón" (salami) from Malaga, as a "señora" from the neighborhood buying sunflower oil as an offering in the Santiago church next to it, because that helps your wishes come true.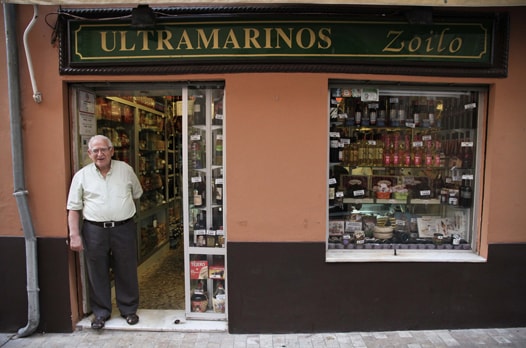 3. UVEDOBLE TAVERN
Calle Císter, 15
Willie Orellana goes every morning to the Atarazanas food market to get his fresh provisions. There he buys tuna or cod, vegetables, fruit. All seasonal produce. This is how he came up with some of the dishes in his menu, because the storekeepers have always known a lot. He is the owner and chef of the Uvedoble tavern, which is not so easy to discover: although it is in the very heart of the official tourist tour of Malaga, it camouflages between souvenir shops where they sell bull toys and modern postcards in black and white for two Euros. Perhaps that's why his clients are mostly locals.
Willie studied in La Cónsula like many other chefs with Michelín stars. And he gave a new twist to some fast food dishes: The menu includes a pil-pil prawn kebab or a minipizza with apple, goat cheese and foie. His wisdom comes from home. He states that it took his mother hours to prepare any dish, because she made it with care, step by step, without haste. And everything was exquisite. This is what he looks for in his cuisine. Black noodles with squids from Malaga, tuna tataki with "porra antequera" (creamy tomato soup) or the dorsal loin of a swordfish with "manteca colorá" (type of lard) are some of his delicacies.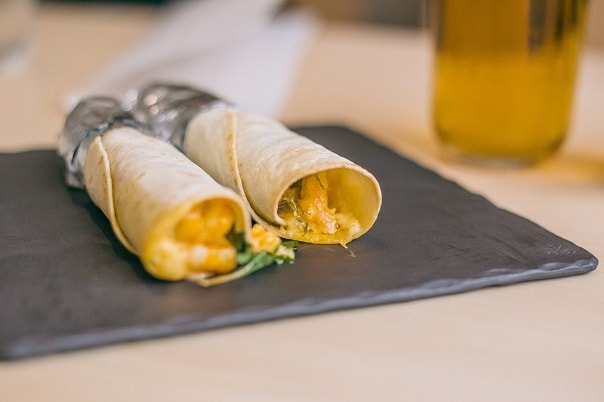 4. MARISQUERÍA LIÑÁN
C. Jaboneros (C. Trinidad)
Something must be going well when the seafood restaurant Liñán just opens from 11am to 5pm and they run out of goods every day. The clientele is one hundred percent from Malaga (or almost). It is located in the district of "La Trinidad", one of the most popular ones of Malaga and, with some exceptions, the only one where the old community "corralones" still survive (multi-family house with a beautiful courtyard). The bar was opened in 1981 by Antonio Palomo senior and his son left school to help out with just 17 years. Now he runs it.
The fish dishes for five Euros compete with the dish of cooked shrimps for four and a half. From there on: sea snails (purple dye murex), king prawns, scampi, scallops … He says the key to success is the way of cooking the seafood. A secret that will take to the grave he says.
5. BAR OF THE "MERCADO DEL CARMEN"
Calle la Serna, 5
The neighborhood of "El Perchel" was one of the first ones to grow beyond the old walls of Malaga: people were fed up with the smell of fish, so they sent the fishermen out of town. The old tradition is still vivid nowadays in this quarter, which continues smelling of fish especially in the market, dedicated almost entirely to this produce.
There Paco Ocaña buys his products. Formerly he ran the "Bar Paco", the original, more shabby and traditional, in the old market of Carmen, now consumed by urban speculation. Today he is the owner of the same establishment in the new market hall, more modern, but with the same shrimp skewers and smooth clams like always. Virgin Carmen has the gift of omnipresence on his walls. And also on the other side of the partition: it shares the terrace, as sunny as hidden and surprising, with the church of the same name next to it.
Some eggs sunny side up with garlic and parsley or smooth clams with salt and pepper revitalize anyone. Paco Ocaña no longer remembers the years he dedicated to the bar, but his children have inherited his skills- they opened a couple of stores in the more central Atarazanas market.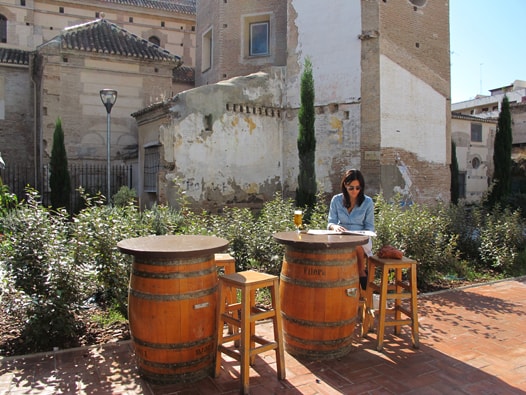 6. LA ODISEA DE VINOS
Subida Coracha, 1
In La Odisea it smells like wine. The air is sweet. And the coolness makes you forget the eternal summer of Malaga. The name has a history: in the 90's, in order to end with a marginal but precious district in central Malaga, they thought the best would be to tear down everything and to replace it with huge stone walls. But for Juan Manuel and María Jesus there was no way that would happen! The family fought for it and the court proved them right a decade later.
Today, his house is the only one left and it is called "The Odyssey" to remember the titanic effort of maintaining it. Built in the early nineteenth century, their son opened in the basement La Odisea, the only place exclusively dedicated to wines from Malaga. Its interior is monopolized by 21 barrels of 21 different wines, but in the fridge are a few more, like Andresito, a Muscat that gladdens the soul or a restorative sweet wine from Moclinejo. The decor is hard to describe: from an old telephone to modernist postcards, a "verdiales" hat or Reconquista Brandy bottles.
It has an inviting patio where we can find an old Civil War refuge and from the menu the "migas" (bread crumbs) are outstanding, as well as the fried eggplant with sugarcane syrup from Frigiliana.
Don't forget to enjoy the Vermouth of the house.


7. MARIANO MESÓN
Calle Granados, 2
On one side, Antonio Banderas and Marisa Paredes. On the other one, the sinner Chiquito de la Calzada and Enrique Morente. And in the middle, Joaquín Sabina, Jesus Sacristan and Alfredo Landa, the one who made the best gin tonic in Spain. Mariano Martín enjoys taking pictures with celebrities which he hangs on the walls later. But his thing is cooking, something he is doing since he was 14 years old and now he almost reached 60. His philosophy is not to serve anything to a customer he would not want to be served himself- common sense which is lacking in many restaurants.
At Mesón Mariano the artichoke is the queen: grilled, fried, in salads, "a la montillana", battered or in olive oil, among other surprises that Mariano pulls out of a hat. The young goat from Malaga is another of his culinary keys. The shoemaker's son always goes barefoot: Mariano's favorite dish is potatoes with fried egg.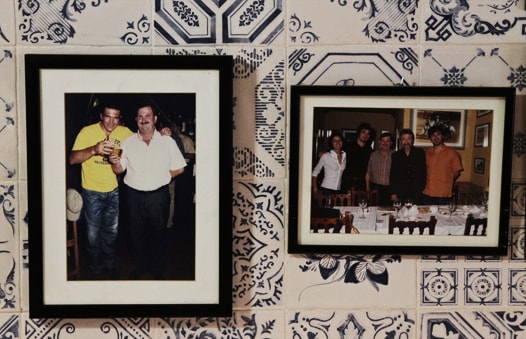 If you want to learn  all about Malaga's delicious local food, dishes and wine join us on our daytime Malaga Tapas Tour     or our Evening Tapas & Wine Tour
We spend around 3,5 hours around the streets of Malaga's historic center to visit  some of these and other establishments where you'll meet the hard-working people behind the food, try our favourite local products, and taste some wonderful local wines.
Don't forget to share this post!
Sign up for our Newsletter and get the inside scoop on our favorite recipes, exploring and devouring Spain and more.