Now that the winter season started, we want to present you some classic Spanish Christmas pastries from Andausia. These sweets are consumed in Spain especially during this time of the year and they can be found in many stores like bakeries, confectionery shops of your neighborhood or in supermarkets.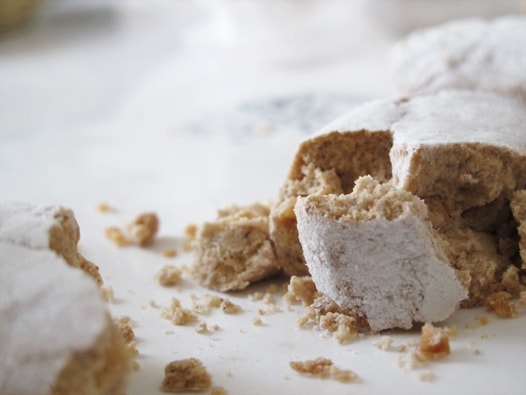 This selection of treats which you will find below start from the same base, in many cases they even have the same ingredients or a similar way of elaboration.
But each one has its own special features and details that make it different and unique. In any case, the best thing you can do is to try each variety to find out which one is your favorite.
1. MANTECADOS
To begin with, we will show you one of the most typical and best known Spanish pastries, the mantecados. They truly have a unique texture and flavor. Because of their fragile consistency it feels as if they were "melting" on your palate when you eat them, creating an exquisite flavor.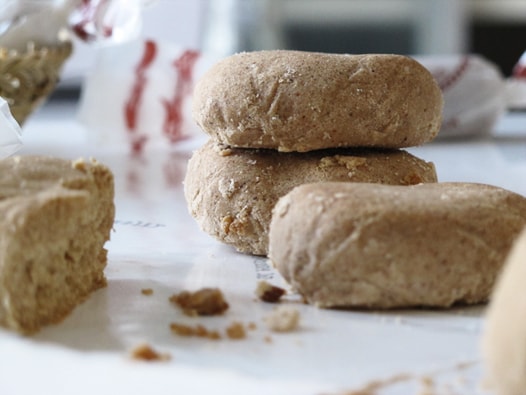 Originally they are from Andalusia, more precisely from the province of Malaga– from the beautiful town of Antequera (although as well Estepa).
They date back to the sixteenth century when their elaboration began due to an excess of cereals and lard in this region.
Their export started in the nineteenth century thanks to the drying process which allowed their transportation over longer distances. For the preparation of the authentic recipe from Antequera you need pork lard, flour, sugar, ground almonds and cinnamon, but there are many more choices and flavors like chocolate, lemon, puff pastry, double cinnamon etc. This typical dessert has nowadays its own designation of origin.
2. POLVORÓN
The polvorón is another specialty included in the "mantecados-family" because it is made out of the same ingredients- the difference is that it always contains almonds.
As its name suggests is Spanish ("polvo" means dust or powder), it is a type of cookie which is very soft and sandy and coated with icing sugar that melts in the mouth, creating a very fine and creamy texture.
3. ROSCOS DE VINO
On the other side there are roscos de vino or "wine donuts" which are another type of sweets, this time in shape of a donut. However they differ from the mantecados and polvorones, because they do not contain lard, but a nice dash of  sweet wine from Malaga and "aguardiente" (liquor from Ojén, a village in Malaga).
It is a very traditional Spanish "cookie" and it is made out of flour, wine, sugar, olive oil, lemon zest, sesame and liquor, coated with a lot of icing sugar.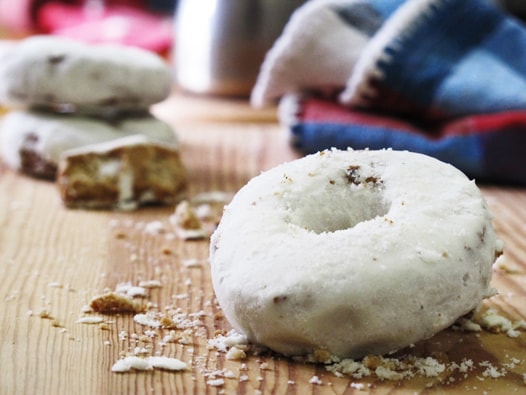 4. ALFAJOR
The next pastry sweet, the alfajor, differs quite a lot from the ones described before. It is a recipe of the Andalusian cuisine which has its origins in the Arabian cuisine of the Al-Ándalus.
Its name comes from the Hispano-Arabic for 'stuffing', as it is a dessert in the shape of a compact cylinder stuffed with a sweet almond, nuts and honey paste and either covered with bread crumbs or wheat wafers.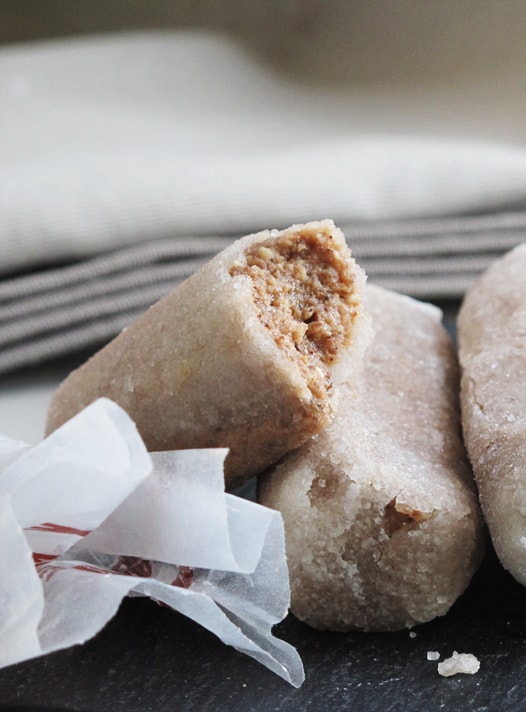 Apart from this selection of cookies and desserts found in many shop windows these days, there is another type of sweets that are very famous and usually eaten during this cold season of the year. Many call them "pan fruits" although they have very little to do with real fruits.
The recipe is very simple: the foods are fried for a few minutes in a pan with boiling oil until they are golden- they always need to be served freshly.
Like this a very typical sweet dish is fried bread dough (or pastry dough) sprinkled with icing sugar or immersed entirely in honey. This technique is very frequently used since the Middle Age in Spain and finds its origin in the Sephardic cuisine.
5. BORRACHUELOS
Another snack that is made like this are the "borrachuelos". They are called like this, because the dough is previously mixed up with one key ingredient: white wine or anise liquor (you need to know that "borracho" means drunk in Spanish).
The ingredients are wheat flour, olive oil and a mixture of orange, clove and aniseed aromas. Once kneaded they are deep fried and covered with a lot of sugar or honey.
They can remind you of Arabian pastry which has been very influential in the choice of ingredients and their combination and has left an important legacy in the rich and flavorful Andalusian cuisine.
We do not want to end this post without mentioning our "pestiños"– the elaboration process and ingredients are similar to those of the borrachuelos, but its size and shape are different.
This fried delicacy is dough in the shape of a square with the two opposite corners folded and joined in the center. It is eaten during Christmas and Eastern- so you can savor them twice a year- double as yummy.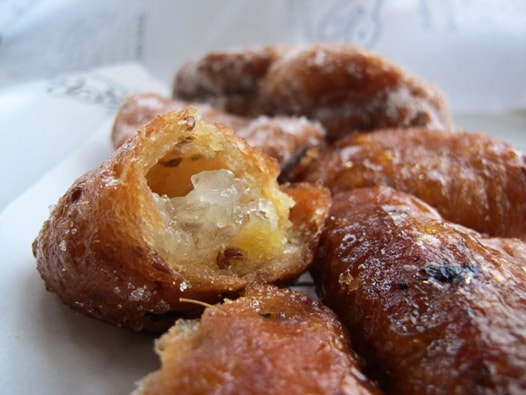 Let's discover, eat and enjoy!
Merry Christmas!