Spain Food Sherpas is proud to share with you the article "Málaga Marvel" written about our beautiful city of Malaga: the food and travel supplement 'Metro LIFE, your urban guide'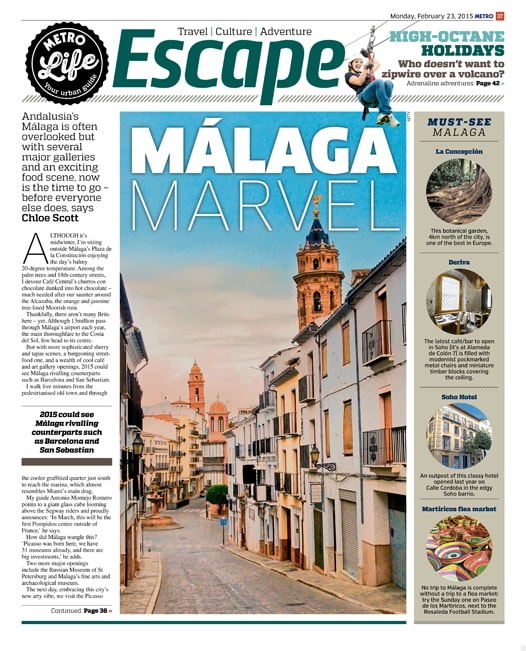 The supplement 'ESCAPE' is distributed daily along with the London Metro Newspaper, captured perfectly the new vibe and tendency Malaga is experiencing in their "Escape, Travel, Culture and Adventure" section. Galleries, trendy cafés, designer graffiti, the SOHO and an "exciting food scene" create a vibrant cultural and culinary offer. It was a true pleasure to accompany the food journalist Chloe Scott-Moncrieff and the photographer Oliver Jones in one of our foodie routes! Thanks a lot to both of them.
Metro has become the third largest national daily newspaper in the UK, read by just under 3.2 million adults. In London, Metro is the most read national newspaper with some 1.8 million readers.
Here you can read some interesting quotations from the report:
Andalusia's Malaga is often overlooked but with several major galleries and an exciting food scene, now is the time to go – before everyone else does.
"(…) sophisticated sherry and tapas scenes, a burgeoning streetfood one, and a wealth of cool café and art gallery openings, 2015 could see Málaga rivalling counterparts such as Barcelona and San Sebastian."
"By day three, I'm on a devoted culinary mission. If you're a foodlover seeking new thrills, head to the sandy seaside, where you will find the local barbecuing ritual, 'espeto'. I watch vendors – old men who have done it for years – gently grill fresh sardines on an open fire built from olive wood. Although I'm told that discerning seafood eaters should wander another kilometre east to Pedregalejo, a fishing village of whitewashed houses and rows of restaurants, I discover there is a more modern scene flourishing back in town. Pedro Sánchez de la Nieta is partially responsible for this movement because of his Food Sherpa tours (spainfoodsherpas.com) that attract twenty and thirty something food obsessives who are after meals away from the mainstream."
We are very glad to find in their "must-see" section the wonderful botanical garden La Concepción, the Martiricos flea market or La Deriva. Moreover, our friend Willy from the "Uvedoble" restaurant was included and the Molina Lario Hotel, with which we work together as well.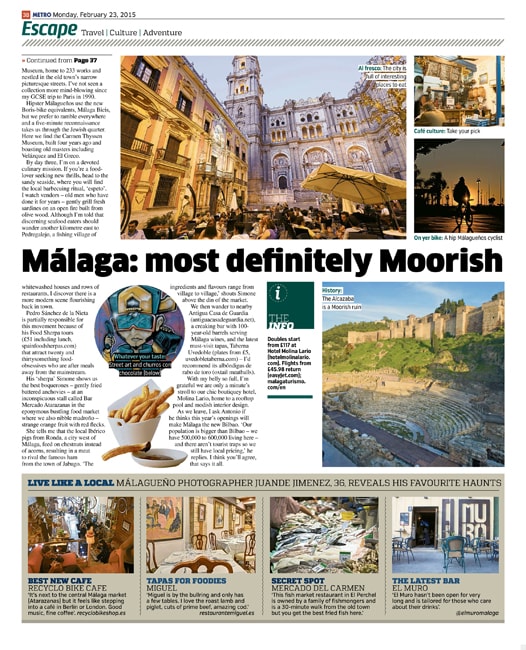 Don't forget to share this post!
Sign up for our Newsletter and get the inside scoop on our favorite recipes, exploring and devouring Spain and more.