What if we imagined a classic Andalusian white town where tradition and avant-garde art coexisted? What if we added to the Arabic layout of its cobblestone streets, to its secluded squares and its colorful balconies adorned with flowers, dozens of works by contemporary artists from all corners of the planet? It turns out that this place exists, it is in the province of Malaga and has its own name: Genalguacil, known as "Pueblo museo", which during the first half of August will host a new edition of its famous Art Encounters.
Genalguacil is located in the Genal Valley, in the heart of the Serrania de Ronda. This valley is a small paradise hidden a few kilometers from the Costa del Sol. A fascinating territory that acts as a natural bridge between the city of Ronda and the Strait of Gibraltar. As a result, the valley has a mild climate, a mixture of the influence of both the Mediterranean Sea and the Atlantic Ocean.
With little more than 500 inhabitants, Genalguacil is located west of the valley, in the area known as the Bajo Genal, 40 km from the city of Ronda and 150 from the capital of Malaga. Its Arab heritage, intermingled in perfect balance with its commitment to contemporary art, make it one of the most beautiful and unique towns of Andalusian geography.
A privileged natural environment.
Just over 30 kilometers separate Genalguacil from the city of Estepona, and it is in the middle of this journey that we find the first artistic manifestation. In this case, it is a masterpiece conceived by the work and grace of Mother Nature: the Royal Nature Reserve of Sierra Bermeja. Located at 1450 meters above sea level, its more than 1200 hectares extend through the municipalities of Casares, Estepona and Genalguacil , the latter being the most extensive.
Almost like a natural amphitheater, there we can enjoy one of the few fir forests that exist in Spain.A unique ecosystem where it is worth taking a pleasant walk surrounded by these relics of the Ice Age, which can reach up to 30 meters high.
In addition, being catalogued as a Special Protection Area for Birds makes it the ideal place for golden eagle sighting, peregrine falcons, royal owls and other species that fly as sentinels in the sky of the Sierra. Some binoculars, water and a lot of patience will be enough to make our trip an unforgettable experience.
And if you are looking to discover this unique place in depth, there are several hiking trails properly marked, which have their summit in such places that it's possible for us to get from the town of Estepona to the peak of Los Reales (the roof of Sierra Bermeja), without hardly stepping on the asphalt.
Genalguacil Art Encounters.
The most special thing of Genalguacil, known as the "Museum Village", started in the so-called Art Meetings, which have been held in the town since 1994 during the first two weeks of August. Although originally it was an annual event, since 1996 they are held every two years.
These meetings have managed to attract the attention of artists from all five continents, attracted by their exoticness, and even the New York Times saw fit to dedicate an extensive report in 2014. The dynamics are simple: the municipality of the locality provides maintenance and accommodation to the selected artists and in return, the creators leave their works as a legacy in the territory where they were made.
However, it is an event that has acquired a certain prestige, so it is not easy to opt for one of the places that are awarded in each call, which are carefully selected by different personalities from the art world. In fact, for this 2018 call, only ten of the 137 projects submitted from 12 different countries have been selected.
During those two weeks, painters, sculptors, potters, and other artists intermingle with the inhabitants of the town and the thousands of tourists and onlookers who come to Genalguacil to enjoy such a unique event.Its streets and squares are full of life and the atmosphere is friendly and festive.
A climate of total communion is generated , where art becomes a communication vehicle that transcends any type of border . During those days, Genalguacil becomes the closest thing to a Global Village.
To this day, Genalguacil has 140 permanent works, of which more than a third are scattered throughout the town .There is no official itinerary that allows us to locate them, because here it is about starting a kind of "treasure hunt" through its narrow streets, roofs, fountains, squares and nooks and crannies .An activity in which children and adults can participate, who will get to know this beautiful town as they discover their different works of art.
Museum of Contemporary Art "Fernando Centeno López".
Located in the center of the town, very close to the Church of San Pedro Mártir, from the 18th century, from which you can see the foothills of Genal, the Museum of Contemporary Art "Fernando Centeno López" is configured as an extension and complement to the spirit that is breathed throughout the town.
Opened in 2004, it bears the name of the mayor who promoted the Art Encounters and houses all those works resulting from the successive calls that, due to their characteristics, cannot be outdoors. It is also a space that hosts different traveling exhibitions of renowned artists, such as the "Unpublished Works of Picasso in Spain", which was commissioned to inaugurate its exhibition hall.
At the entrance to the museum there is an exhibition / shop in which we can acquire some souvenirs of the local crafts. Because Genalguacil is also a land of long artisan tradition, based on elements such as esparto, cork, stone or wood. Not in vain, craftsmanship is another one of the fundamental pillars on which the local economy is based, as well as being an essential activity to understand its history. It is highly recommended to visit some of the workshops in the town, such as textile crafts, where we can see first-hand how blankets, curtains and scarves are made using century-old techniques.
What to eat in Genalgucil.
 Since one needs more than just art, after a long day of stroll through the town there is nothing better than stopping to enjoy its local cuisine, in many cases matching the season.Strong and sierra inspired dishes, such as the various chickpea stews, rabbit stews, pork sausages, fennel stew, mushrooms and garlic stir-fry or its famous hot gazpacho, made with local products.
If what you are looking for is to enjoy a long and quiet lunch, Venta Las Cruces  is the ideal place. This cozy food house located at the entrance of the villa offers endless homemade specialties that will delight any visitor. It is worth mentioning its meat stew (pork or veal, depending on the day) with boletus, pork cheeks stewed or its classic mountain dish, consisting of fried eggs, chorizo, ham and "popes a lo pobre" All this, of course accompanied with a good wine from the earth.
But if what you want is something more informal, tapas are also present in Genalguacil in bars like El Refugio (C \ Duende, 4 – Tel: 952 152 018) or El Patio (C \ Asperilla, 11 – Tel: 680 665 225 ), where we can taste anything from the classic montaditos and tortillas to sausages and shrimp skewers.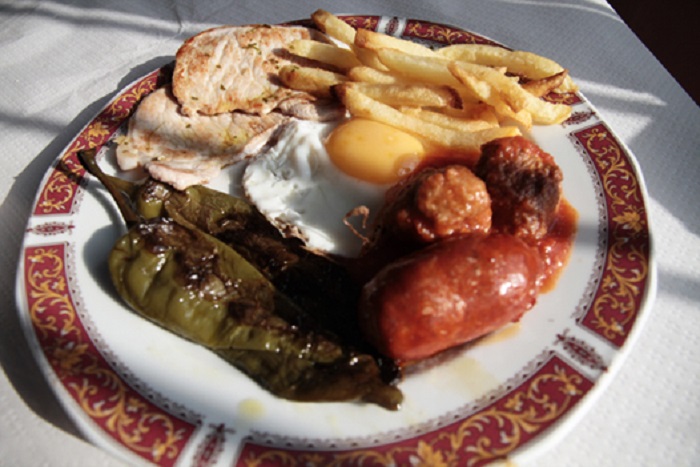 How to get to Genalguacil:
 Access by public transport possible by bus.
– Transportes Generales Comes operates the regular line Ronda -Genalguacil.
For information on schedules and frequencies, please go to the Ronda Bus Station.Tel: 952 871 992.
But if you want to enjoy driving through its roads, there are several options:
-From Ronda you have to follow the road that connects this city with Algeciras. After about 30 kms. you will arrive to Algatocín .There you must cross the town and after about 12 kms, after crossing the Genal River and its lush forests, you will arrive at Genalguacil.
-From the Costa del Sol, starting from Estepona, there is the road that connects it with our town passing through Peñas Blancas and Jubrique. The journey is about 30 km.
-If you have an all-terrain vehicle, you can take the track that is in the Port of Peñas Blancas and that in 17 kms. will bring you to your destination.
Article written by Javier Fernández Elena