The international project "Ark of Taste" was created in 1996 by the organization Slow Food to elaborate a catalog of food products in danger of disappearing, and thus to capture the attention and sensitivity of the public.
Maintaining food biodiversity is one of its main pillars and goals, as it is an incredible heritage of unique raw materials and excellent artisan products produced on a small scale, as well as long lost traditions, history and culture in general. Attempting to document these products can help to recover and protect them as our (world) heritage, supporting their producers and promoting their consumption.
The products of the Ark have to:
• Be of exceptional gustatory quality
• Be linked to a specific geographical area
• Be produced artisanally and on a small scale
• Be produced with sustainable and fair methods
• Be in risk of extinction
In Andalucía our products are:
1. Chestnuts (Serranía de Ronda and Sierra de las Nieves)
Most people wouldn't associate the very south of Spain with such a "northern" tree known from colder regions, but Malaga is full of surprises! So close to the Mediterranean, yet so high in the mountains that the weather is continental, some of these trees grow there since centuries. They are used to obtain wood and chestnuts, but as well many indirect products like honey or mushrooms.
It's a very fragile ecosystem (lots of plagues and diseases, higher labor costs and abandonment of agricultural activities in general) that needs to be protected in order to maintain our biodiversity and to recover old culinary traditions.
2. Andalusian Chicken
Basically, there are two types of breed: Andaluza Azul and Utrerana. But nonetheless, the Andalusian chicken exists in a great variety of colors and even the color of their feet is different: gray. That helps to distinguish them from the yellow ones of their companions, which normally is a sign of a commercial hybrid.
They grow up in liberty, enjoying the natural food the countryside provides them like grass and insects, but they also receive complementary dry food. Only some small scale producers still have this breed and a very low amount of them.
3. Organic Acorn-Fed Iberian Pork ("cerdo ibérico puro de bellota ecológico")
Iberian, acorn fed and organic- could you ask for more?! But let's take it back a step. Iberian refers to the breed and in this case both parents need to be 100% of this "Raza Pura" (an autochthonous one), in comparison to other pigs that might be a cross with other breeds. Acorn fed means that during a certain time these pigs mostly eat acorns, normally from October until February.
And on top of that it really is a pig that grows up in healthy and natural conditions, free range in the countryside, according to an ancestral and sustainable way of breeding, in small family-run enterprises.
4. Sweet Orange "Grano de Oro"
Oranges- autochthonous, but originally from Southeast Asia where they enjoy this delicacy since thousands of years and from where it expanded through the Silk Road until reaching our region. In the orchards of Malaga's Guadalhorce Valley a local orange variety grows with the name "Grano de Oro" (Golden Seed), very similar to the one found in Seville.
It's a "naranja" with little juice, but a characteristic flavor- sweet, fruity, floral and not acid. The harvest is in December and still nowadays it's a very popular variety because of its "healing properties", being children and sick persons the first ones to eat them.
5. "Royal" Olive Oil (variety)
An olive variety that is endangered, since for the farmers it's almost not profitable to cultivate it. Production costs are too high, because it's quite difficult harvest them: the tree suffers important damage during the recollection (very fragile wood) and it is more complicated than normal to pick them from the trees, which is the reason why they need more workforce.
On top of that this variety doesn't produce very much oil, but of an extraordinary quality.  Now another olive variety, Picual, took its place representing close to 95% of all the olive groves. Currently only 5 enterprises/cooperatives produce this oil.
6. Almadraba Tuna and Roe
This red tuna is a product of traditional extractive fishing (selective fishing, only adults). The "almadraba" is located in the localities of Conil, Barbate, Zahara de los Atunes and Tarifa, to take advantage of the migratory routes of the tuna that travels from the Atlantic to the Mediterranean in search of the warmer waters (spring). This way of fishing in the zone of the Strait of Gibraltar goes back to the Phoenicians, lasting until the present time. During the Roman Empire it reached great renown, especially the salting tuna of Cadiz.
All the process therefore, from the fishing, until the elaboration of the (canned) product is made in this region. Unfortunately, overfishing makes this activity less profitable and seriously endangers its continuity. This wild tune is of a much higher quality than the one from farms.
7. "Marismeño" Bovine
This meat comes from animals that grow up and live in liberty, every day of the year, in an unbeatable natural environment- the Doñana National Park (biological reserve). A place of high ecological value, exempt from agricultural and livestock uses, where the cattle (bovine) lives as a wild animal since the 13th century. Nowadays only 10 farmers still breed them.
8. Pink Tomato (Sierra de Aracena and Picos de Aroche, Huelva)
The tomato is an important ingredient of the Andalusian cuisine since the 16th century, after being introduced in Seville from America. And it's in Huelva where they still cultivate this tomato variety: a summer tomato that can be eaten from August till October with a delicate taste: sweet, almost not acid, lots of pulp and a very thin skin.
The best way to try it? The most simple one- raw, as a salad! The only downside is that it's very fragile. The tomato turns bad quickly when not kept in a fridge, so most of them are commercialized in their own region. And if there's too much, the pigs get a treat!
9. "Roteño" Tomato
There's quite a story behind this tomato. Actually, it even disappeared! Traditionally it was cultivated in the orchards close to the Mediterranean in the province of Cadiz, but urban pressure in the coast during the last century deteriorated it until its complete disappearance.
It was thanks to the Seed Bank of the University of Valencia that they could recover this variety, proving them with the original seeds. The flavor is in between sweet and acid and the entire harvest is commercialized as certified "organic" (traditional cultivating system of the mountain range).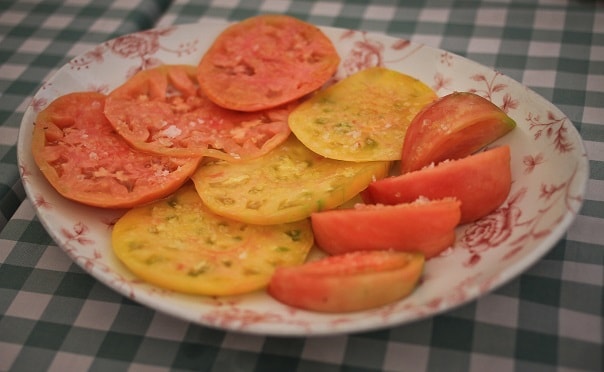 10. Extra Virgin Olive Oil. Local Variety from Zuheros (Cordoba)
The extra virgin olive oil produced in the municipality of Zuheros, in the province of Cordoba, is unique. The traditional production area of this variety gives these oils an outstanding richness and complexity.
Three quarters of the region are occupied by forest vegetation. In the few arable lands, the traditional olive grove persists, with several local varieties. This diversity is typical of a mountain range olive grove more than a hundred years old and an extensive exploitation system.
11. "Aloreña" Olive (Malaga)
The only olive in Spain with a Designation of Origin, an Appellation. Completely natural: crush them open with a wooden hammer, immerse a couple of days in brine (no need for chemicals to make them sweeter, since this variety is nor that bitter!) and season with thyme, fennel, garlic and red pepper.
The "floating pit" is one of its characteristics, since it's very easy to separate the stone from the rest of the olive. A specialty from Álora and all the Guadalhorce valley in Malaga, although it doesn't grow down there, but on the slopes of the surrounding hills, making its harvest more difficult. Crunchy, tasty, healthy. We have written a post about aloreñas olives here
12. Olive Oil Bun (bollo de aceite)
It is one of the most significant products of the traditional pastries from the Guadalhorce Valley (Alhaurin el Grande, Malaga), probably of Arabian origin. The ingredients are the ones that you could find most abundantly in this zone ever since: flour and olive oil. Actually, just a little bit of water and sugar and the recipe is complete.
Nevertheless, although it seems so simple, the elaboration is quite difficult (and the secret of its success!), since the dough needs to be very thin to create many layers. Even nowadays professionals are needed, specialized in this bun in particular, to prepare it the traditional way, the right way, the only way! Bake it in the oven, done.
13. Sea Salt (Cadiz and Huelva)
"Sal de Hielo" or "Flor de Sal" is worldwide the highest quality sea salt and it offers significant differences in color, taste, texture and aroma depending on the sea or ocean it comes from.
In Spain it is produced on the coast of Cadiz and Huelva. In both cases it is obtained by manual procedures only, dating back to the middle of the 19th century. The traditional recollection methods guarantee an excellent quality, because of its exclusive treatment and the absence of any machinery during the entire production process. The salt is collected manually with the moon at dusk, thanks to a tool very similar to a butterfly net.
14. Dry Liquor (aguardiente de Rute)
High proof, anise flavored moonshine (45°-55°), completely artisanal. The ingredients are very few: alcohol (traditionally made from wine, nowadays often from beetroot), water from the mountain range and green anise seeds.
This anise, also called "matalahúva", is obtained from farmers of the province of Malaga, in particular from Cuevas Bajas, where it reaches a really great quality. Only the best seeds are selected by the farmers who pass this tradition and crops on to their children since more than 200 years. Properties: stimulates the appetite, digestive and diuretic.
15. Purple Carrot (zanahoria morá)
Carrots can have many different colors, but this one is believed to be the first one, the "real" one, more than 3000 years old and from the Middle East. Having 6x more nutrients than the commercial, normal, orange carrot, it's a true health boost, simply beautiful and absolutely tasty.
Not knowing what the Purple Carrot was in the beginning, the farmers gave this vegetable to their animals, but of course nowadays we prefer eating it ourselves- raw, as a jam or even as vinegar. Give it a try, many farmers' markets have it already!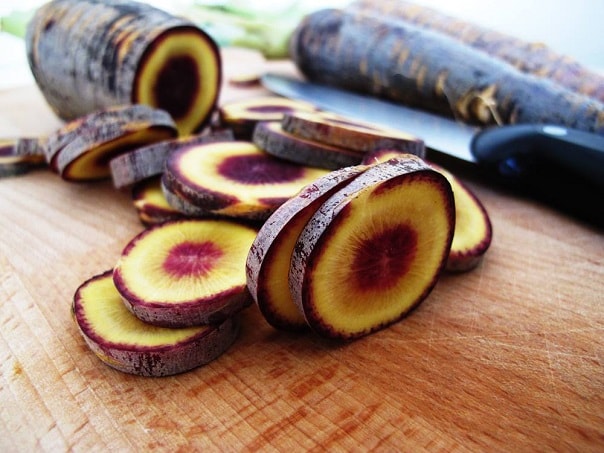 16. "Ochio" Donut (rosquillas de ochio)
Typical sweet from the Guadalhorce Valley in Malaga (Coín), where it has been elaborated traditionally in stone ovens with wood by women and children during the weeks before Christmas and Easter.
It is a type of donut with two different parts: externally, the dough that covers the filling (flour, white wine, sugar, lard, cinnamon and aniseed) and the inside, the "ochio" itself, which is made out of honey, "meloja", syrup and a mixture of crushed nuts: walnut, hazelnut, almond. A delicious treat full of local, natural ingredients.
17. Pero Apple (Ronda)
It's a variety that unfortunately gets plagues and diseases easily. Some of them are that difficult to treat and control, that special qualified technical support is needed. Nonetheless the "pero" apple has its very own "fans".
It is quite complicated to obtain: a couple of years ago only two producers from Ronda got this apple, which was sold out in a few days. The traditional cultivation area is the orchards of the Guadalcobacín, Arriate and the Genal Valley in Ronda. It's as well possible to find it in some garden centers, above all to be planted in private gardens.