We get into the time machine to visit businesses from another era. Arts and crafts in extinction that still survive in Malaga- as an exception. A route designed to discover the true nature of Malaga: to find the best sweet wine, to manually fix a bulrush chair or to get great hemp sandals. They are not written in tourist guidebooks, but they're real museums.
Let yourself be carried away and get ready to explore the living history of the city!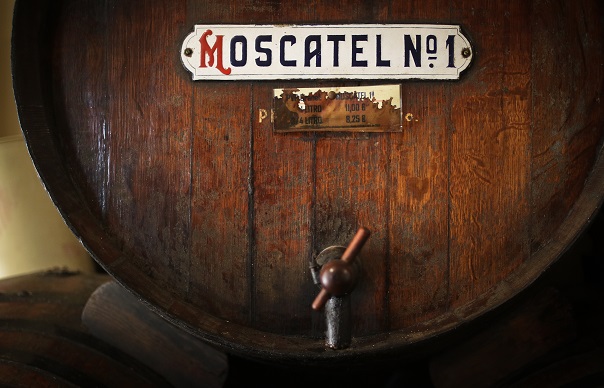 La Manzana de Oro, grocery store · Paseo de Reding, 16
In La Manzana de Oro  they put the world to rights several times a day. A good conversation, friendliness and personal attention are the guidelines of this shop that opened in 1950 near the district of La Malagueta.
That year, Salvador got behind the counter with only 14 years: his father saw the opportunity to acquire this business and so he put his son to work. Today he is still going every day (about to turn 80), because it's his life; but who really is in charge of handling everything is his son Juan de Dios, a big motorbike fan who crossed Morocco a couple of times with it. But that only during the holidays, because he spends the rest of the year in The Golden Apple (so the translation) taking care of orders, customers and chatting about the divine and the human.
Juan de Dios says that new technologies have destroyed the pleasure of talking with people: La Manzana de Oro is an exception. Quality, seasonal produce and the concept of slow food are the hallmark of the business. Also the decoration between old and new makes this place unique: hipsters have barely arrived yet, but give it some time.
In this "ultramarinos" grocery store you can find cold cuts, fruits, canned food, beverages and drugstore products. And "fabes" vacuum packed from Asturias, jams with stevia (natural sweetener), Russian Chatka crab or Himalayan pink salt. A huge shelf houses more than 150 wines, their specialty in a business that is committed to local wines, such as "El buen puntito" from Ronda.
In Spain Food Sherpas  they also recommend some other products from Malaga, among which you can find artisan strawberry juice from the fruit and vegetable gardens of Carolina González , handmade quince jam, "salchichón" salami from García Agua  or a nice local Iberian tomato called En Ort. If they served it right there with a glass of wine or a beer, the world would definitely be set to rights.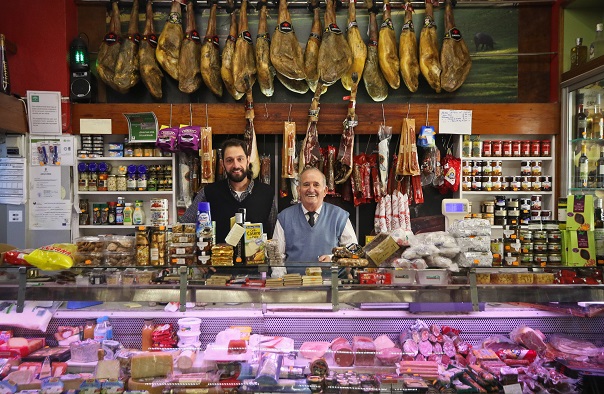 Discos Candilejas, record store · Calle Santa Lucía, 9
There are families that go on a Saturday to Discos Candilejas  to teach their children what music really is about. They show them CDs, vinyl records and tapes, while the kids watch- often in disbelief.
The only exclusive record store that still remains in Malaga is a museum, although it's not listed in the city's guidebooks. This store has earned its place in history after almost 40 years of providing the best music with the help and dedication of José Antonio Castañeda. He founded it in 1978 together with his brother and later on they opened branches in Seville and Huelva, although these did not last very long. José Antonio finally kept the store while his brother founded "Fonotrom" where he recovers classical, flamenco and copla music from old vinyl records.
Candilejas has nowadays over 20,000 musical references available for the last romantic music enthusiasts, those who come to buy a disc every once in a while. There is something for absolutely everyone: pop, new age, flamenco, metal … And if they don't have what you are looking for, they will bring it to you. From Michael Jackson to local bands like Tabletom or Frutería Toñi, to Enrique Morente and the Pet Shop Boys who once actually entered the store to get some records.
The golden age of the Candilejas was in the 90s, but the turn of the century got it bad: rewritable CDs arrived and the rise of piracy changed the situation drastically. The online music platforms were a low blow, so the VAT increase, but Candilejas survives: "For me more than a business, it's a vice. And I cannot do anything else, so here I am. ", said Castañeda.
The shop has always had the love and support of Malaga's music industry, that doesn't hesitate to organize concerts in front of the shop to ask them to continue to exist. The end of the old rental contracts is the latest threat of the business: the case is in the hands of lawyers and any day they could carry out his eviction. The music, however, expects justice. Candilejas deserves it.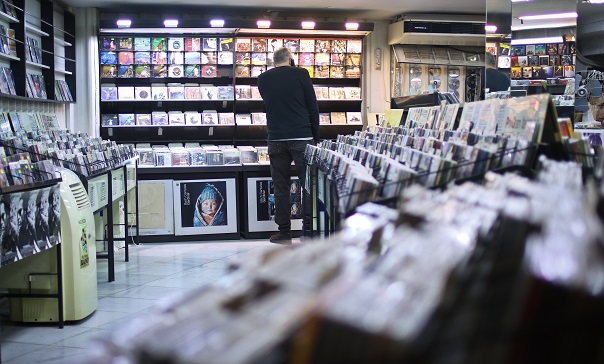 Calzados Hinojosa, shoe store · Calle San Juan, 20
A cash register from 1900. Another Olivetti from the 60's. A journey to the past. A couple of old wooden shelves and hundreds of "alpargatas" sandals. They are made of hemp, they're fresh and only cost six Euros: that's why the "malagueñas" buy several in different colors throughout the summer. And not only the ladies from Malaga: Miranda, the wife of Julio Iglesias, usually passes by when the heat starts, to take boxes full of sandals with her for the guests in their finca in Marbella.
And a great number of actresses and actors enter this place before walking over the red carpet at the Malaga Film Festival. Although they also sell cotton ropes, linen, esparto or jute, but they were the alpargatas sandals – formerly known as a poor man's shoe – that made Calzados Hinojosa famous. They got them with prints, plain, with cartoons, with the face of Doraemon or Daffy Duck, double sole and they can even customize them for you: that is what more than one bride did to be comfortable, when she leaves the high heels and shame in the wedding party behind.
With the arrival of the cold, the huge display with nearly 600pairs of shoes changes completely and focuses on house shoes or rubber boots. The shop first opened in 1885 as "Alpargatas La Comba", but José Hinojosa (who was apprenticed in 1917) acquired it in 1920, changing the name that still survives nowadays.
Calzados (footwear) Hinojosa is much more than just a shoe store and it has hardly changed over the time- except that it no longer sells oil and that they have a profile on Facebook, Twitter  and Instagram. And if there's a queue, don't worry: loudspeakers will tell you the news every hour. About the only reminder that we are in the 21st century. Well, also Doraemon.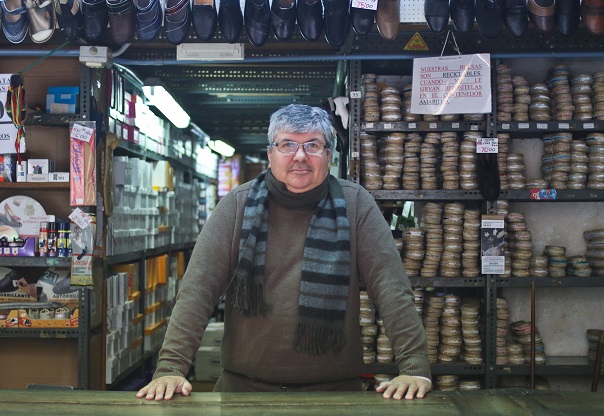 Bulrush workshop · Pozos Dulces, 13
Asunción and Angustias are chatting with the neighbors of the center of Malaga through the bars of their small workshop. They talk about life, the weather, now born children, lunch or the time they spend without seeing someone. They do so, because it's almost impossible to enter the premises of this tiny place from another epoch: chairs, armchairs and sofas are stacked, waiting to be repaired.
This is the only workshop downtown Malaga where they still repair manually the seats' braid and other furniture with traditional materials such as bulrush, esparto, rattan and rope. All natural: these classic materials used for Andalusian chairs for example come from reeds, cane, grass or bamboo.
Asunción and Angustias are sisters and they learned everything they know from their father-in-law, who himself learned it from a lady of the neighborhood -no more data- a century ago. They elaborate everything with care, a lot of patience and great eyesight, requirements they say, that are essential to their work. In fixing a chair they might take two days, so the business is only a supplement for the family's budget. But Spain Food Sherpas  believe it's much more: true living history of the city.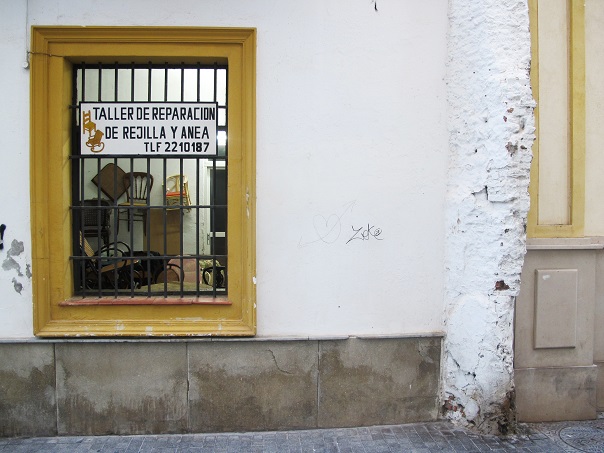 Sharpening shop · Pasaje de Chinitas, 11
Cigar in the hand, retro mustache, wrapped in a blue working coat and with the "Hello" magazine on the counter- Manuel Ocón enjoys life in the "Pasaje Chinitas", one of the tiniest areas of Malaga's old town. His advertising indicates that he is delighted to be born, a tribute he says, to his own mother.
Manuel runs the only surviving sharpening workshop in Malaga, founded by his grandfather in August 1936, days before the Civil War started. The rent was only five pesetas (old Spanish currency), as reflected in the contract hanging on the wall of the establishment. The business maintained since then the same half horsepower motor, the same working bench, the doors and lock. And much more tradition.
The workshop was passed down to his father and later on to Manuel, who inherited it already four decades ago in 1975, when sharpening scissors cost 30 pesetas. The inheritance also included more than 5,000 books and a photo gallery of famous people who today make the seven square meters of this business a museum of famous people from Malaga: from Vicente Espinel or Fray Leopoldo de Alpandeire to Chiquito de la Calzada, who by the way, you can come across relatively easy in Pasaje Chinitas.
The workshop has witnessed Malaga's change and evolution over the years and Manuel knows the history of the city by heart and even insults lying tourist guides when they tell old stories of the Chinitas Café. Between puffs and finishing off the cigar he tells that he survives, because his job is very unique and in fact he has a large clientele of hotels, cafes and hairdressers that bring him all kind of tools: scissors, pliers, knives or any other sharp thing.
Manuel ensures that whoever sharpens a knife, sharpens his intelligence, so perhaps that's why he can spend hours telling stories about the streets around the workshop or rambling about Malaga's idiosyncrasies. Don't hesitate visiting Manuel to chat a little, if you have some spare time, because, as his slogan says: in this house it is customary to make the client wait and who comes often diligent, fails.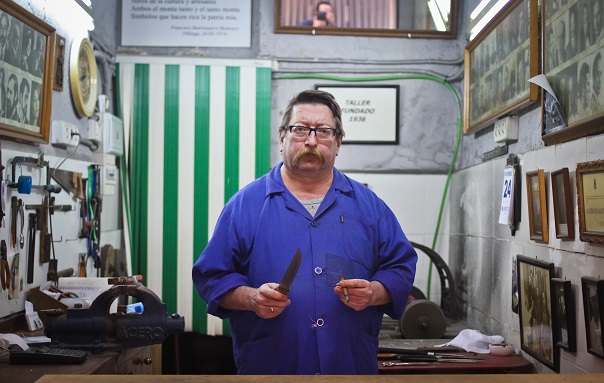 Antigua Casa de Guardia, tavern · Alameda Principal, 18
Seco, lágrima, añejo, pajarete, moscatel, trasañejo, guinda, Málaga Quina o Pedro Ximen. Old labels with these names on old oak barrels will indicate you what your next favorite wine is going to be: in la Antigua Casa de Guardia all of them taste like Malaga and are delicious.
Moreover when you can accompany them with good seafood such as mussels, sea snails, shrimps or smooth clam; also some tuna and cheese skewers or olives wrapped with anchovy- all of them more than recommended by the team of Spain Food Sherpas. You can taste some of these wines and seafoods in their Evening Tapas Tour.

The prices of what you ordered will be written down with chalk on the bar by waiters who seem to be there since the place opened. And that was not yesterday: this old tavern opened in 1840. Since then it was passed through the hands of several families and a couple of different locations and, although it was in quite a bad situation two decades ago, its current owner Antonio Garijo had a vision and brought it back to Malaga's wine heaven.
It's located in the center and when you pass by you'll know, because the smell of wine is in the air, even a couple of blocks around. To visit it is a tradition in Malaga. A place of pilgrimage during Holy Week, the Feria folk fest, the morning of December 24th or when the opportunity arises- who cares anyways: they open at ten o'clock in the morning.
They have their own wine cellar and six hectares where they produce the wine they sell afterwards in the tavern. They also serve their own vermouth, since one century already. They just opened a branch in the new Mercado de la Merced space  and they have launched their own brand of craft beers aged in Pedro Ximénez barrels: a limited edition of 750 bottles made with the team of