Seville or Sevilla is the capital of Andalucía, the Spanish autonomous community known for its flamenco dancing, rattling guitars and ancient history — the gorgeous city has been around for over 2,200 years! It is said the mythological hero Hercules himself founded the city; isn't that exciting?
What's even more exciting is Seville's food. The culinary scene is beyond compare, and the popular food is genuinely life-changing. Still, with so much to eat, where should you start your culinary journey through Seville? Here are the local favorite dishes and drinks.
1.  Espinacas Con Garbanzos
Spinach and chickpeas are one of the most popular 'tapas' or small plates served everywhere in Seville. The stew is a winter specialty, and it's easy to see why; it's just heartwarming! Like many other Sevillian foods, this vegetarian delicacy has Arab influence and goes back to the Persian Empire.
Olive oil, minced garlic, breadcrumbs, sherry vinegar, and paprika give flavor to tender spinach, and snappy chickpeas in a delicious and healthy stew served as a dip. It comes without saying this one is a fantastic way of starting any meal. Try some of the finest spinach and chickpeas at Bodega la Aurora.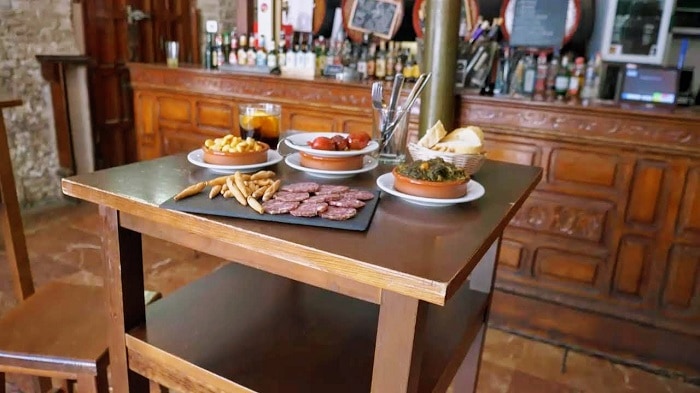 2.  Soldaditos de Pavía
Crispy and golden, the deep-fried two-biters called Pavia's little soldiers, are some of Seville's most satisfying tapas. These are juicy strips of boneless, skinless, fresh cod tossed in an egg, lemon, and oil batter and deep-fried to crackly perfection. Think of fish and chips with a Spanish flair — how's that for a satisfying lunch?
Try these sea-scented soldiers in Bar Benito, founded in 1956 and specialized in the crispy cod. This is an authentic tapas bar in the heart of Seville, so don't miss it! For another take on the classic, visit El Rinconcillo, the oldest bar in the city, going back to 1670! This is an old-school tapas bar and an unforgettable experience.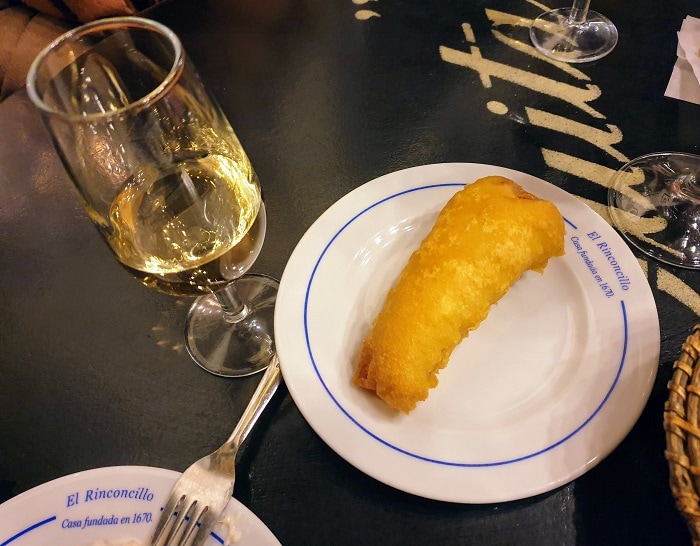 3.  Montadito de Pringá
Did you know the very first sub sandwiches might have originated in Seville? The Montaditos are just that, delicious, meaty fillings in an artisan bun. The best montadito, though, is the Montadito de Pringá; they're filled with leftover stewed pork meat, and you can add some bacon and sausages as well! For the meat lover within you, this sandwich is a fantastic grab-and-go lunch and early dinner.
According to locals, no one makes a better-stewed pork sandwich than Maestro Marcelino, a great place to buy Iberico ham as well.
4.  Caracoles
Snails are a popular Sevillian tapa. After all, the region has the most outstanding Mediterranean coastline and the awe-inspiring Guadalquivir River crossing the area. If you thought you'd never eat snails, at least try these! They're seasoned with garlic, aromatic herbs and a few peppers to give the meaty snails on their shell an authentic Spanish flavor. The ultimate beer snack that's as fun to eat as it is tasty, snails in Seville are on another level.
Try the best snails in Bar El Cateto, with fifty years of experience serving the most attractive tapas and drinks, this place has a fun atmosphere and a young crowd.
5.  Carrillada
The Carrillada is braised pork jowl or cheek, and it's cooked for long hours to deliver the most tender, juicy meat ever. Pork cheeks are a butcher's secret, and they cook them marvelously in Seville; the meat melts in your mouth, and it's served with a sweet and savory brown glaze that's hard not to love!
For one of the finest carrillada in the city, you'll want to visit the Bodeguita Antonio Romero. They've been around since 1994 and take pride in their traditional selection of tapas in a comforting, very Sevillian atmosphere. For a classic dinning experience, this is a great spot.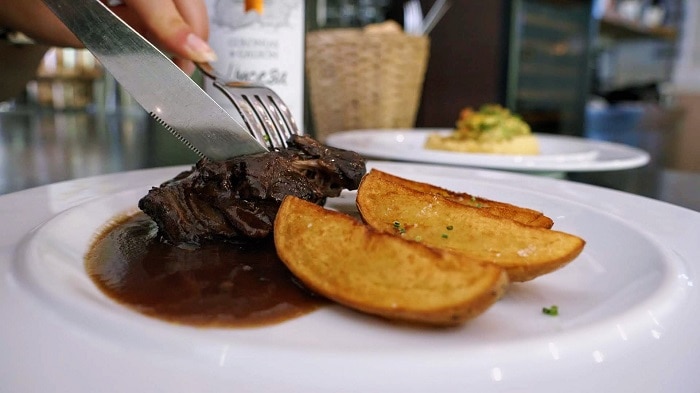 6.  Tortas De Inés Rosales
Legend says a lady called Inés Rosales Cabello created a recipe for these deep-fried flatbreads or 'tortas' in 1910, and the recipe hasn't changed since then. These are beautifully flaky, crackly and regularly flavored with fennel seeds, cinnamon, rosemary and other herbs and spices. The secret is in the premium olive oil in which these tortas are made, and the real deal is still handmade.
You'll find tortas in every store of Seville, but for a classic version, visit El Pasaje, founded in 1987, where they fill them with chicken with curry and sweet chili sauce.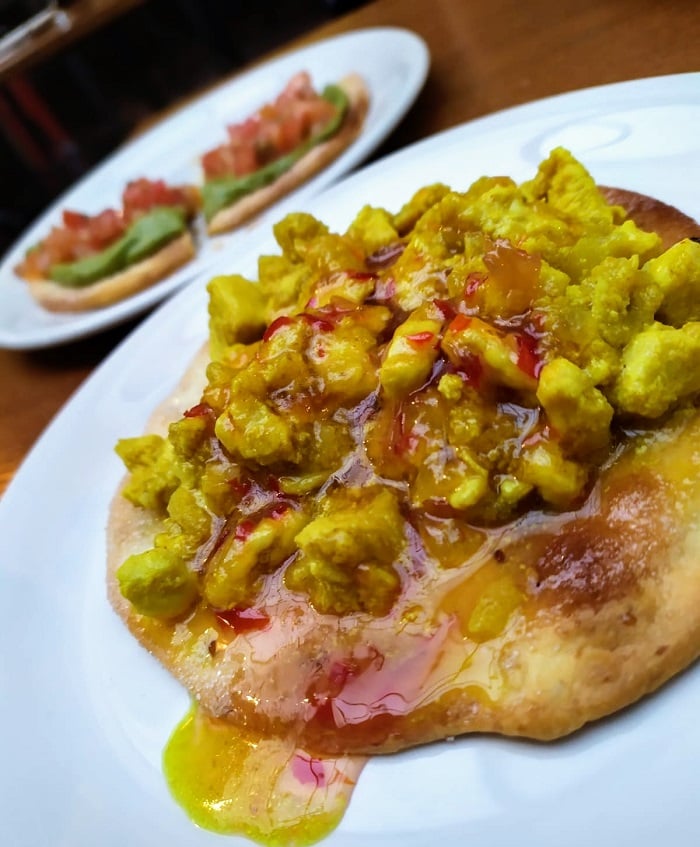 7.  Papas Aliñas
Potatoes have never been so exciting. Papas aliñas are just that, diced or sliced potatoes tossed with onions, parsley, salt, pepper, olive oil and white vinegar. To say this uncomplicated tapa is tasty would be an understatement — you can't stop eating them!
The aliña potatoes are a great side dish to order with your meal, and they're also a nice beer snack to enjoy while you tour the many bars in Seville. You'll find some of the best potatoes in Las Teresas, a historic tapas bar in the city center.
8.  Vino De Naranja
Drinking wine in Seville is a no-brainer; after all, people here make world-class wine of all styles and at all price points. Some wines are more interesting than others, though. The region's famous Orange wine is literally made with sweet wine flavored with orange peels and aged in the traditional solera system.
It comes without saying Sevillian oranges are the most prized in the world. Try this specialty in the Taberna Álvaro Peregil. Legend says the owner of this tapas restaurant invented the wine style, so this one is the original orange wine.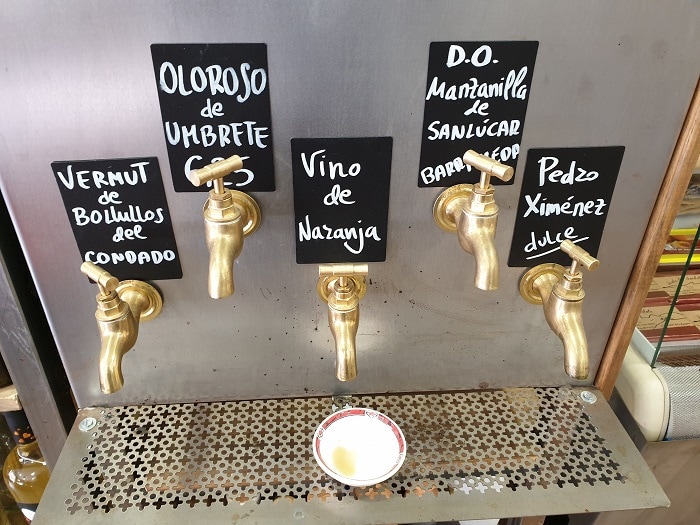 9.  Manzanilla
Seville is more than delicious small plates, drinks are extraordinary as well, and perhaps the most interesting is the famous Manzanilla. This is a type of Fino Sherry made exclusively in the coastal city of Sanlúcar de Barrameda with Palomino grapes. The wine has an attractive maritime salinity and the most addictive dry palate — let's just say it's the perfect drink for enjoying Seville's tapas.
Find extraordinary Manzanilla in the classic Taberna Manolo Cateca, an authentic temple for Sherry wine; they have hundreds of different wines!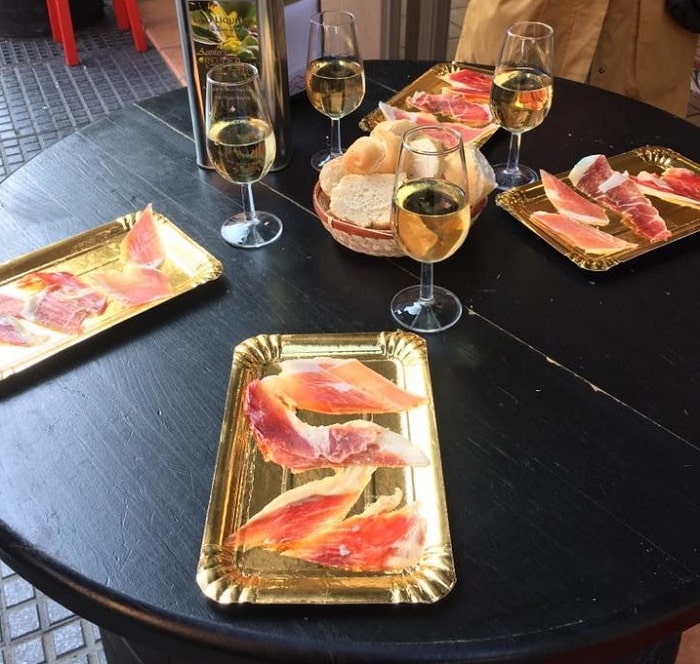 10.  Cerveza Cruzcampo
You'll find Cruzcampo beer in every restaurant and bar in Seville; it's the local beer. Although trendy and youthful, the beer goes back to 1904, so it has deep roots in Seville's culinary scene. This might not be a small-batch craft beer, but it's undoubtedly flavorful and thirst-quenching, just what you need if visiting Seville in summer.
The best part of the Cruzcampo beers is that they're very well priced and of excellent quality. If you get tired of Sherry and red wine, then this is the beer for you. This is one good beer!
11.  Rebujito
Cocktails are well represented in Seville, and that includes modern concoctions and old-time classics. One of the most popular mixed drinks in the city and one not to miss is the Rebujito, mixed dry Sherry and a lemon-lime soda — two ingredients that become one fresh, summery drink.
You'll find the Rebujito in every drink's menu in Seville, and it's popular with both young and more sophisticated crowds. You just can't go wrong with a cold glass of Rebujito, and if you're not a fan of Fino and Manzanilla Sherry, this is a great way to enjoy them.
12.  Tinto De Verano
Let's finish our local favorite food in Seville with another vinous drink, a refreshing wine cocktail called 'red wine of summer.' Imagine a robust red wine mixed with lemonade and livened by a dash of vermouth for a sangría-like drink best enjoyed chilled over ice.
The best part of this refreshing drink is that you can make it at home and take a piece of Seville back to your loved ones. Seville has it all, and it's a paradise for foodies, so if you're planning on visiting Andalucía, be prepared for a lovely meal after another. That's guaranteed!
Don't forget to share this post!
Sign up for our Newsletter and get the inside scoop on our favorite recipes, exploring and devouring Spain and more.