The Prickly pear fruit, known as "chumbo" in Spain, is the edible fruit of the paddle cactus, which can be found in summer in many food markets. Usually, it is sold by local street vendors in the surrounding areas of markets and department stores.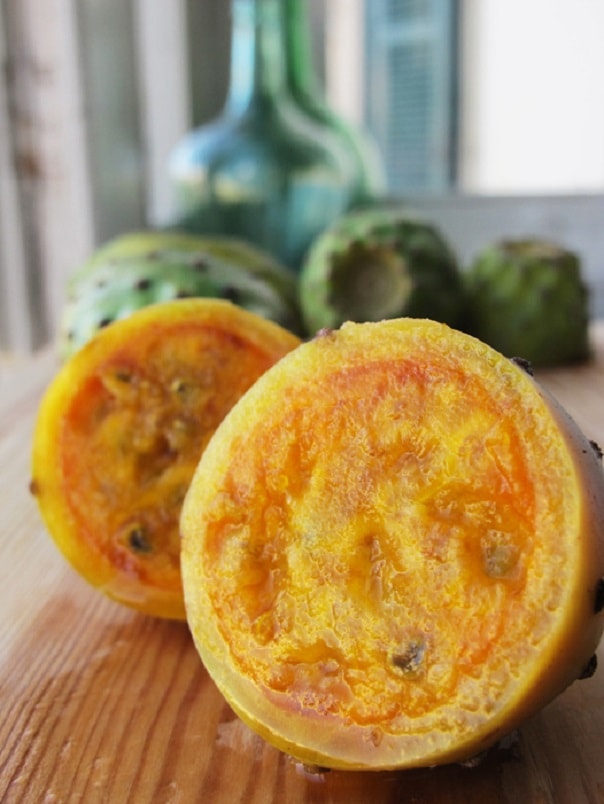 Originally it comes from Mexico, but nowadays this wild shrub is spread all over the Mediterranean basin in rural zones or (vegetable) gardens and it is commonly used as boundary fence for villas. It naturally grows in template or warm climate zones, with sunny weather, little rainfalls and a soil that doesn't need many nutrients, like deserts.
So in Andalusia, the "Axarquía" region in the east of Malaga's province is ideal for growing this beautiful plant, as well as the province of Almeria, featuring the only desert in Europe.
Other frequent habitats are South America and Italy.
The history of this "fig" starts 9000 years ago in Central America, where it was already regularly eaten. So it is not surprising that the first plants and products that were brought from the "New World" to Cadiz or Seville, and from where they started to "conquer" other parts of the European continent, were known as "Indian figs". After the Reconquest of Spain, the Moorish took the plant with them to the north of Africa, where it was called from then on "Christian fig". Because of its high vitamin C and water content, it was the perfect fruit to be taken on long boat sails in the 16th century by the Spanish army, leading to its cultivation in Africa, Asia and Australia.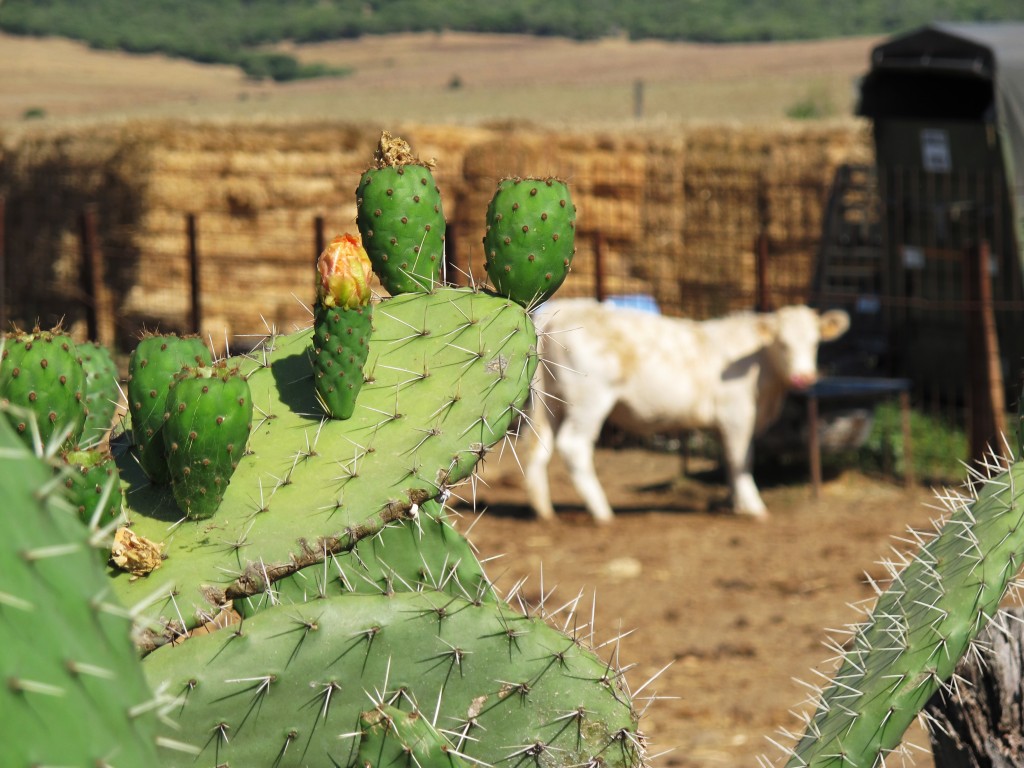 In reference to it properties, these cactus pears have a thick skin, they are covered with small and thin spines (also called prickly pear fruit) and they can sting you easily in your hand, if you handle them without protection. They can be found in various colors, depending on the variety and their ripeness: they range from a light green, to yellow, orange and in the end red/purple- then they should not be eaten anymore, because they are too ripe. Raw and peeled, they are a delicious dessert, fleshy and sweet. They have a similar taste to a sweet, extra tasty watermelon and preferably they are eaten chilled.
This would be one way of enjoying this interesting fruit, but gastronomy is creative, so many other products were developed with the "chumbo" as its protagonist.
Like this you can find flavorful cactus fig ice cream in Malaga city, marmalades or even a spirit/brandy ("aguardiente") traditionally made in Ojén, a village in the "Sierra de las Nieves" mountain range.
However, one of the most famous culinary products is the liquor made out of this fruit. In Sicily it is called "Ficodi", where this plant is as well autochthonous. It is the perfect accompaniment for meat or desserts. Moreover it's a typical drink in Mallorca and it is capable of enhancing any cocktail.
The harvesting is another curiosity about this fruit, since it is quite difficult and laborious to be obtained. In order not to get stung by the spines, a method was developed where sugar canes are used as tongs. Unfortunately the spines are so thin that they fly through the air and might sting the harvester in the eye- so they can only be collected when it's not windy. In addition they are being moved round on the (sandy) earth/floor with a broom to get rid of them and after they are being washed (in any case the vendor usually sells them with the skin peeled off).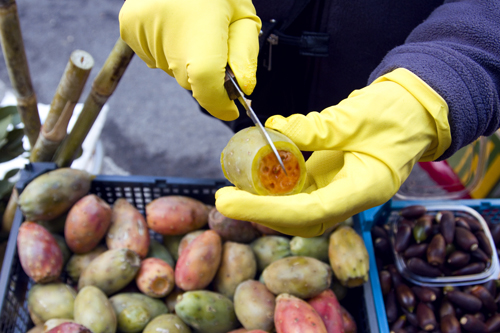 Despite of its sweetness, the cactus fig (prickly pear) contains very little calories (so it's ideal for diets), very much healthy fiber and natural antioxidants like beta-carotene. It is a great vitamin C source and it has a very high water content what makes it excellent for hydration. Additionally, it has many other beneficial effects on our health: it helps controlling the sugar level in the blood of people suffering type II diabetes, it prevents osteoporosis, it regulates the digestion, it improves the heart's health and it even reduces cholesterol. Furthermore it is a common ingredient in beauty products such as shampoos, creams or gels.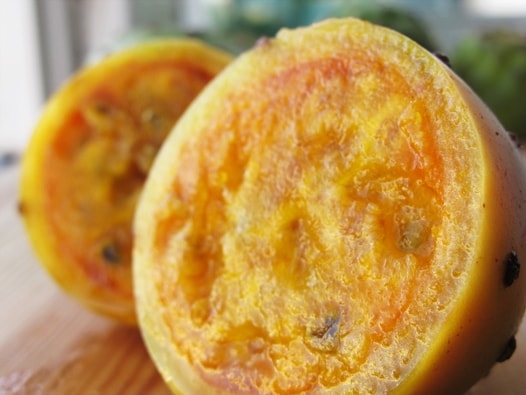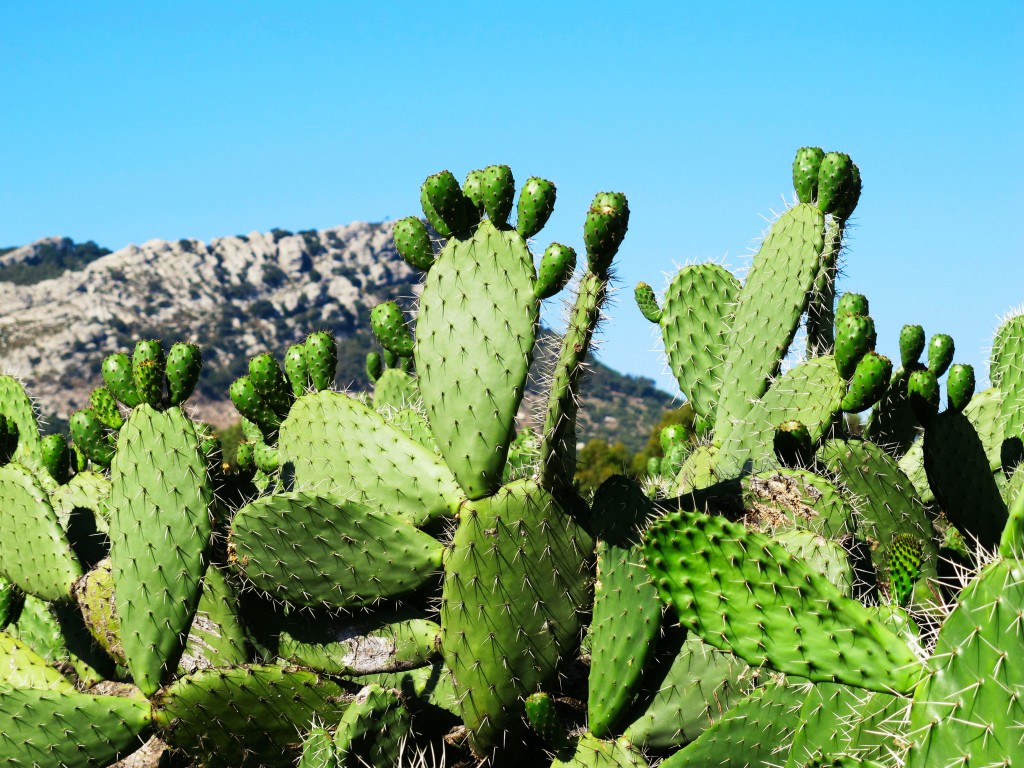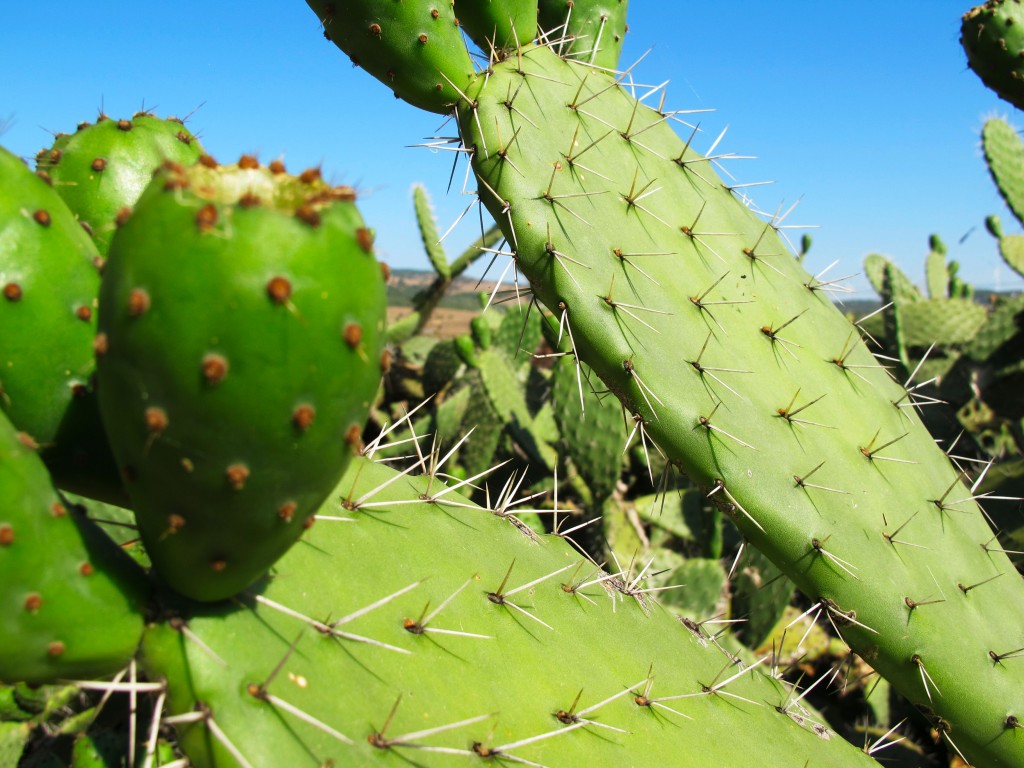 Don't forget to share this post!
Sign up for our Newsletter and get the inside scoop on our favorite recipes, exploring and devouring Spain and more.