We trace the famous "bandoleros"- bandits or outlaws. We sit down to eat with our new adoptive grandmother. We fight the cold with charcoal and brazier. And we learn to appreciate the great variety of the classic "Malaga Mountain Dish". Take your appetite for a walk  to the essence of local produce and the most traditional cuisine. Fearless of curves, we propose a Malaga gastro road trip to discover some of the best rural restaurants of the province.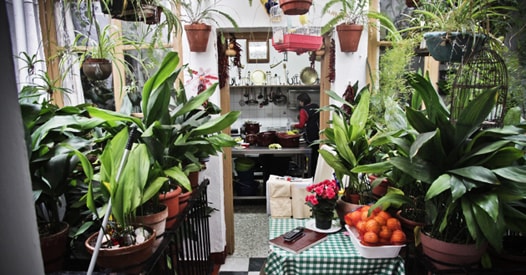 English version of the article "Gastro roadtrip por las ventas de Málaga" (Malaga Gastro Road Trip), written by Nacho Sánchez / Spain Food Sherpas for TRAVELER.es (19/02/15).
Fearless of curves, we propose a Malaga gastro road trip to discover some of the best rural restaurants of the province.
EL ACEBUCHAL · Frigiliana
We start our Malaga gastro road trip seven kilometers away from Frigiliana where one of Spain Food Sherpas'  favorite places is: The "Acebuchal", which is reached by a narrow, curved road and a good stretch of dirt path. It is a village which was evacuated by the Civil Guard back in the 40's of the last century and that still keeps its original essence of white lime walls and beams and reed in the ceilings.
A local family was determined to restore the village and now they manage rural accommodations and the only restaurant in the area. It opened in 2005 after hikers of this zone insisted one time and another, while watching them rehabilitate their houses- a job in which they are all involved: from the great-grandmother who takes care of the kids of the family, to grandfather Antonio 'el Zumbo' peeling potatoes on the doorstep each morning or the youngest, Sebastián, who is in charge of the kitchen.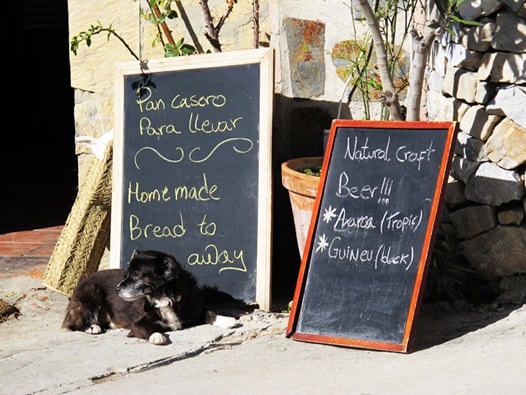 His menu demonstrates the culinary riches of the area, with a great range of mountain meat dishes and dishes with a Moorish touch like potato soup with garlic and fried almonds, apart from classics like good "migas" (fried bread crumbs) or tripe. The offer is completed with a wide and surprising wine list and delicacies like the artisanal beer Axarca , the tropical local pale ale with an intense aroma of mango. Gotta try the spinach croquettes with pine nuts (chef's special) and the homemade apple pie to finish the menu is indispensable, although the taste of any of the desserts will capture you.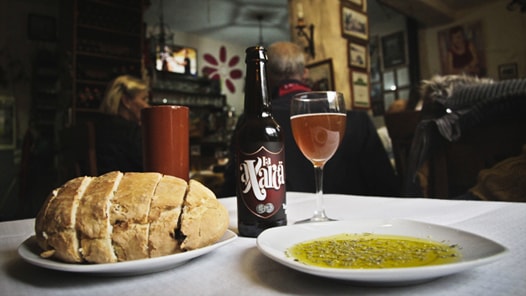 The loaf of bread to accompany is as well homemade every morning in the oven and you can take it with you (ideal for dipping in olive oil, oregano and salt), because it is sold at the entrance to the bar, next to the daily collection from the family garden. The village has a chapel, so give it a thought if you want to marry with style and in the countryside.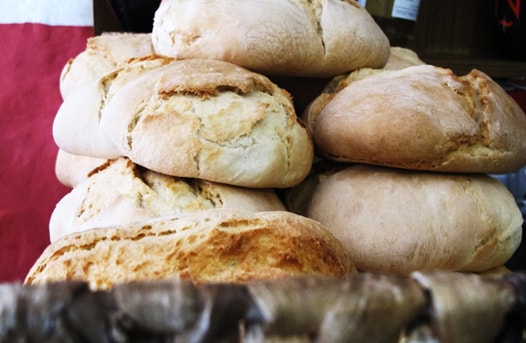 CASA PEPA · Carratraca
In Carratraca there is a five star hotel, Villa Padierna, with hot springs- but we suggest you take a few more steps and approach the eatery "Casa Pepa". It is the actual home of Pepa Baeza, the owner and chef, and if you don't have a grandmother in a village, this is like almost having one.
She spread tables throughout all the rooms and corridors to eat, as if there was no tomorrow. And if you ended up in the living room, you'll have lunch next to the typical "grandma cabinet" with china, pictures of the grandchildren's' communion and wedding portrait.
As you sit down they put a pitcher of water, a bottle of house wine and another one of soda (sweet frizzy drink): that's all there is, not more, not less. There's no menu and the dishes are classics that vary depending on what Pepa feels like cooking.
As a starter, stews and soups –gazpachuelo, puchero, estofado– that you serve yourself from the pot they left on the table until you're already filled up. But then as a main course you get fries, pork in tomato sauce, meatballs, meat in sauce, fried anchovies … Accompanied always by a "chorizo" sausage, a treat of the house and, as Spanish grandmothers always say, a fried egg on top. Homemade desserts, seasonal fruits and ice cream complete a menu with an unbeatable price- like having a buffet in the old times: fixed eight Euros you'll never exceed. Like never ever. There's no coffee, but this is good news, because two houses down is "La Bocacha", who runs Pepa's granddaughter and it is a very peculiar space with biscuits of a special flavor.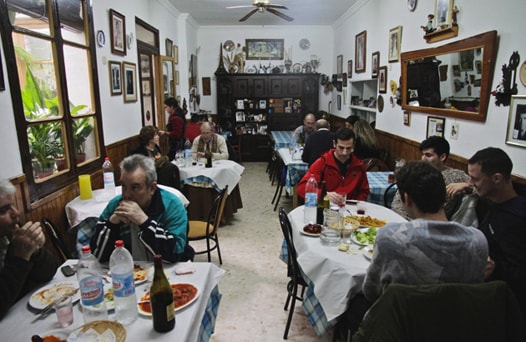 CASERÍO SAN BENITO · Antequera
Crossing the door is getting closer to the eighteenth century. "Alpujarreñas" curtains, rural tools of the time or huge wooden beams allow teleporting without further problems: it's that easy, that big part of the "Bandolera" series was filmed there.
In winter the "migas" (bread crumbs) and in summer the "porra of Antequera" (cold tomato soup) are two of their best dishes. The kitchen, directed by Esperanza Muñoz de León, offers many dishes made with local products, from rice with partridges to spinach soup. Without forgetting the "Bienmesabe", a local dessert made from almonds, "cabell d'àngel" (pumpkin or spaghetti squash jam) and biscuits that nuns from Antequera prepare since centuries and that we at Spain Food Sherpas recommend trying.
It's especially worth going when the cold weather has set in: to sit at the table and receiving a brazier with coal from the fireplace to get warm. The attention and service is exquisite. Next to the "Caserío San Benito" a small chapel stands where Antonio, the restaurant owner, collects all kinds of antique objects- so it became a magnificent museum of popular customs where you can contemplate old sewing machines, cameras, toys, tobacco packages or a beautiful loom. To spend the day. Or almost.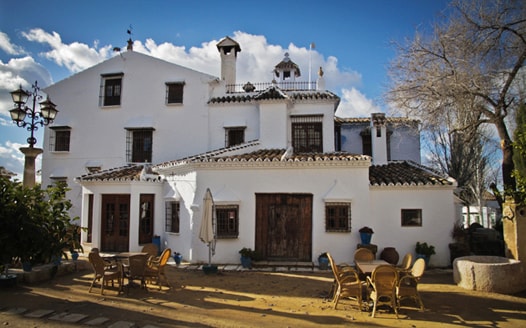 VENTA DE ALFARNATE · Alfarnate
Its main proposal is called "huevos a lo bestia" (something like wild eggs or eggs like crazy). Yeah, just like that. Bread crumbs, eggs, pork, chorizo, blood sausage and some marinated olives create a dish worth sharing- but it might not even fit in your Instagram photo. Scrambled "tagarninas", grilled meats or "anise gachas" with croutons and sugar cane molasses from Frigiliana also appear in a menu mostly made from original recipes of the times of the "bandolero" bandits. One of them, Luis Candelas, spent one day in a guardroom of this restaurant because he stole two horses and a mule back in 1824 and you can even eat with him; well, rather with a sculpture remembering him.
The "venta de Alfarnate" is the eldest of all Andalusia, from the thirteenth century, and its walls are full of rural objects which use or name is now difficult to know. The place is surrounded by almond and cherry trees and limestone formations that create a spectacular scenery. And cold: Alfarnate is one of the few towns in Malaga where it snows every year.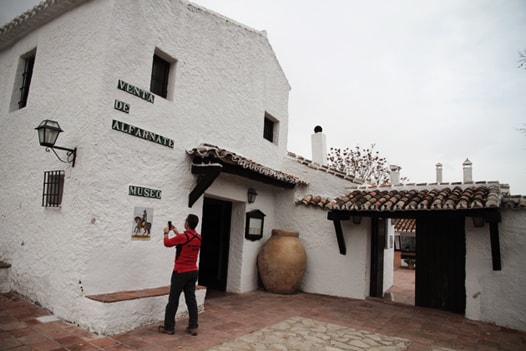 POSADA DEL BANDOLERO · El Borge
Following the bandits and our Malaga gastro road trip, we almost find ourselves in another era, the one of "El Bizco (the cross-eyed) from El Borge": a guy with more aim that any other, no matter what his name states. They say with carbine or pistol, he always hit the target. And they also say from him that he was a brave avenger whose adventures in the Morena Mountains are historical. His birthplace is now the site where everyone who visits "El Borge", a lovely village in the Axarquia, comes to eat.
On the first floor you find "Mesón El Bandolero", a small restaurant dominated by an old and well preserved oil mill and on whose menu meat and regional products prevail: lamb with garlic, "migas", fish and even "pringá" lasagna. They offer tasty red wines from the area, often with a sweet note. In winter you can find the cook knitting in front of the fireplace until you decide what to have for dinner and then she takes off to cook.
For breakfast, apart from tomato and olive oil with garlic, you can accompany your toast with fried eggs and bacon. And, of course, Serrano ham. There you can buy local products such as olive oil fresh from the mill, the kind that stings when you dip bread in it and which is hard to find elsewhere- so highly recommended by Spain Food Sherpas. On the second floor there are rooms to spend the night, something quite unusual in this area.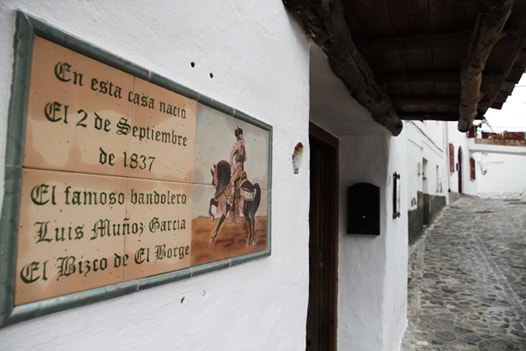 VENTA EL CURRO · Árchez
Whichever way you choose to reach the "Venta El Curro", you have to take so many curves that you might give it a second thought. –  But be brave! The restaurant is located in Árchez, a small village in the Axarquia region in Malaga with less than 500 inhabitants. It is run by Curro (who gives the name to the place) and Bea, from Argentina, who are living on the top floor. If you order the typical mountain dish ("plato de los montes"), you will normally end up asking for a doggy bag to take the pork loin in lard with you: accompanied by fried peppers, chorizo and blood sausage, the portion seems infinite.
Argentinean-style grilled meats are the atypical specialties of this place, rare to find in other local establishments of this zone. Every weekend it becomes the usual meeting point for different rural tribes that inhabit this mountainous region: the regulars, bikers and "guiris" (tourists). The percentage of English, Dutch or Germans living there or in the nearby towns of Cómpeta or Sayalonga makes it quite common not understand what they are telling on the next table. Take a Dramamine* with you for the curves. Who knows…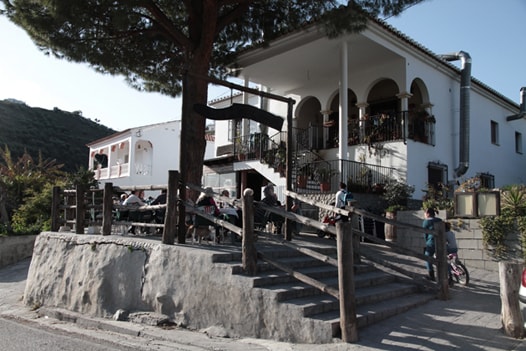 RESTAURANTE BARÓN · Istán
Istan is located north of Marbella, surrounded by mountains and valleys. Very close to exclusive areas like "La Zagaleta", where it is said that Vladimir Putin himself has a house. But Istan, is something else. It is a pretty village of Arabian origin, located high on a cliff, whose inhabitants are called "panochos" (the official gentilic) and where we end our Malaga gastro road trip. And this is precisely how the most famous local dish is called, consisting of loin steaks, fried peppers and potatoes, blood sausage and cinnamon chorizo, as tasty as only few are.