We travel to Malaga to discover four businesses that were launched throughout the last year by young entrepreneurs. People who turned their lives upside down, coming from different fields like biology, architecture, new technologies or teaching, to now fulfill their dreams. Since a few months their ideas are made reality and already now a reference in Malaga. Places that make you feel at home, among friends. Where time passes by at a different pace.
Their cuisine is based on local quality products- so prepare to lick your fingers afterwards. Let yourself be guided by Spain Food Sherpas on this route through Malaga's "ethic" gastronomy. And take notes, because you'll want to return.
Julia Bakery · Carretería, 44
To enter Julia Bakery is as fascinating as talking to María Arquero, the heart and soul of this project. It is a bakery, pastry and coffee shop specialized in Anglo-Saxon products. And it offers such a variety of homemade delicacies and so incredible flavors that, if you dawdle, you'll not make it out there anymore.
Like María, who spends about 18 hours a day with her hands in the dough, preparing all there is to be savored: cakes, surprising sweets and bread that you will not taste anywhere else in Malaga. They are naturally fermented, with organic flour, ground with a stone and they'll be the envy of Iban Yarza.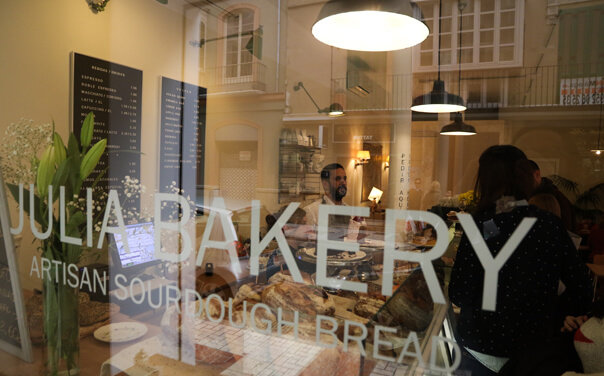 Up until a few years ago, María was a professor at the Faculty of Social Work. And Borja Hernández, the other half of the business, technical architect. Their lives underwent a radical change and they spent a year researching, reading, testing and conducting a market research to be absolutely sure about what they wanted to do. Like this "Julia Cupcakes" was born, which after two years got too small and they needed to move to a new location, the current one, to become "Julia Bakery".
It was opened just a few months ago and has been a real breath of fresh air in the local bakery scene since then. And as well in Malaga's life: shared tables, take away options and special Arabica coffees collected in "microfincas". The relationship between quality and price will seem miraculous to you. And by the way, no product contains chemicals, because health and quality prevail.
In Julia Bakery there are many small cacti in the shop window, but no menu, since María surprises every day with new products and her amazing knowledge about the world of bread: she can spend hours talking about the characteristics of any of the varieties. Her proposals range from gingerbread and cheese to another one with chorizo or blood sausage, apple and pine nuts that melts in your mouth. Also breads based on local products like olives from Álora, flour from Coín, herbs and lemon zest.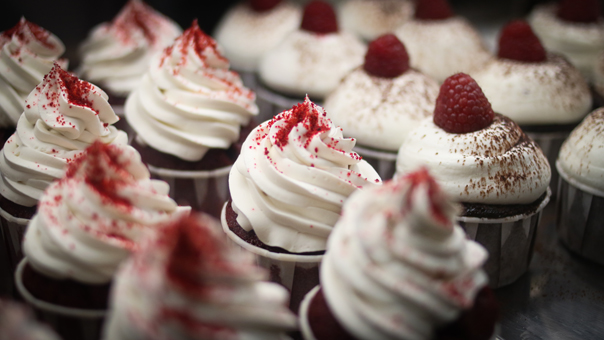 There are also winks to Malaga like the "malagueñito" which is a kind of brioche with extra virgin olive oil, aniseed, chocolate, El Borge raisins and sugar, bathed in sweet wine from Malaga. Without forgetting the specialty of the house: cupcakes- the real ones- who have nothing to do with the typical colored cupcakes. All of this thanks to the tremendous work of María in the bakery. One recommendation: don't miss the special bread they only have on weekends. Well, another one: don't leave without having tried the cheesecake. You will be amazed!
El Mortal · Calle del Agujero, 2
In the "malaguita" dictionary to say that something is "mortal" (deadly), means that you liked it very much! So, although the "señoras" don't see it the same way, El Mortal  is a wonderful name with a local twist! It's written like this on the façade of one of the latest restaurants in Malaga, located in one of the areas that soon will be the alternative reference of the city: the Camas Square. A square as ugly, as it is central, far away enough from the hustle and the cruise ship tourists. Opened in early December, El Mortal is the dream of Jana Sioufy and Juan Moreno. She is a biologist, he a graphic designer.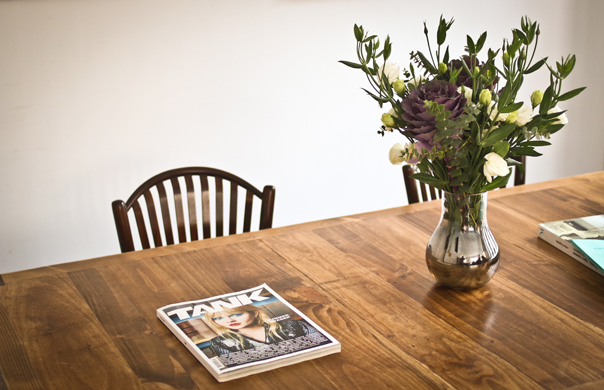 Both are from Marbella, but they met in Barcelona. They spent nearly a decade there and from the many dinners they organized at home, the idea of an own restaurant came up: now they continue doing the same, but with more people. Influenced by the "abacerías" of Seville or places where you would only have cold cuts for dinner in Barcelona, they wanted to introduce this concept to their region and focus on national products. Both remodeled with their own hands the old establishment, asked for help from their friends Modular Studio and skipped installing a kitchen, because they don't need it. You neither, because whatever you try, it will seem freshly made for you.
In El Mortal they feature a dozen cheeses that match perfectly with fifteen wines with designations of origin far away from La Rioja and Ribera del Duero. This, together with cold cuts, pâtés and snacks that they serve on beautiful boards, presented with a great aesthetics.
"It's about having tidbits, but also to go beyond that," says Jana. And in the especially bright living room of her new home, these entrepreneurs will recommend you delicacies such as "Gris de Montaña" cheese made with milk from our goat from Malaga and elaborated in Campillos or "la bandiola", a cold cut halfway between morcón and pork loin that is elaborated in Cortes de la Frontera in Ronda.
Likewise they will also make you taste the magnificent goose pâté, the only non-Spanish product in the bar, coming from Bayonne. In addition, there are wines like Garum, from Jerez de la Frontera, the first Andalusian red wine aged under water. All this for dinner, but don't stop going for breakfast as well to try the mixed "mollete" bun with manchego cheese and roasted duck ham, cut at the moment. They serve it with a hundred percent Arabica coffee. Don't doubt it: you will return!
Their cuisine is based on local quality products- so prepare to lick your fingers afterwards. And take notes, because you'll want to return.
El Bocarte Chico · Calle Nosquera, 2
The first lesson you learn in El Bocarte Chico is that it's best to forget about the menu and go with the recommendations of Manuel Ariza, its owner. The second one is that you will probably have to share a table: two long boards with four banks are almost the only place to sit. And the third one- that you can take home whatever you taste there, because they sell all the products they serve in the most pure "grocery store style". On the shelves there are wines, craft beers and an interesting range of local delicacies ranging from regañás (crackers) to cheese, jams, quality canned food or a tasty organic bread from Humilladero. All of that, while in the background they play a playlist with songs from The Planets, Dorian or Love of Lesbian.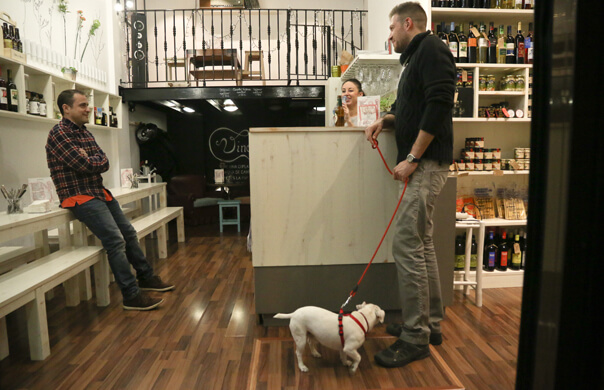 In March Bocarte Chico celebrates its first anniversary. Also owner of the restaurant "Bocarte Sur" in the "Los Corazones" neighborhood, Manuel Ariza -carpenter by profession-, decided to focus his everyday life in this small space, which is the result of an idea he had in mind for many years: a place to sell quality products at a good price and at the same time, to be a meeting point where to have a drink.
Manuel opened it in order to take life easier and relax a little more, but the success of The Bocarte Chico has made him work harder than he expected. He takes things philosophically,  with passion for what he does and a lot of humor: whenever you go, you'll laugh. Among his specialties are tuna from Cadiz (only product beyond the borders of Malaga) or tasty "carne mechada" (shredded meat).
From there on, whatever you ask for will be a success. Of course, Spain Food Sherpas recommends products like the excellent El Borge figs stuffed with praline and dipped in Belgian chocolate, El Llano Jaral cheese from Álora, mango jam from the Axarquía region, Rujaq wine from Moclinjeo, olive oil from Heroína de Villanueva de la Concepción or baby broad beans from Antequera… The list is as tasty as it is endless. When you repeat, get there early to catch the two wingback chairs in the back of the shop- although you might never leave again.
Brunch It · Carretería, 46
Fun, healthy and ethical food in a modern and comfortable space. It's the short description that might summarize the gastronomic proposal of Lydia Nieto: Brunch It. Her partner in this adventure comes from Italy, hence they opted for an Italian restaurant focusing on organic products.
Or to say it in another way, with flavor. And if you doubt it, they'll show you, because the daily fresh vegetables and fruits are exposed in boxes and you can even have a peek inside the kitchen, which has become a showcase to see how they prepare what you are eating. And that would be all around the clock from 9.30 in the morning until 10.30p.m.. Pizzas, smoothies, focaccia or lasagne form the main menu from Brunch It, prepared daily by Roberto, a Roman with a long experience with chefs like Jamie Oliver.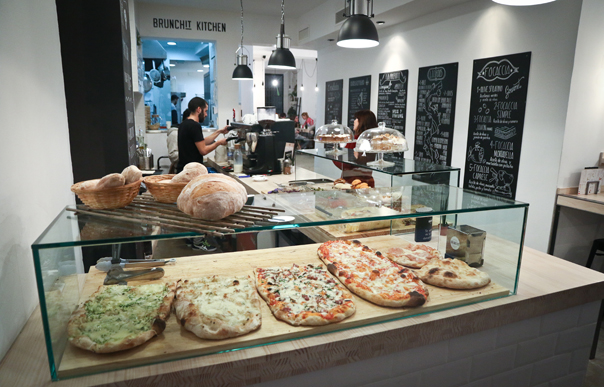 Natural wood tables, white brick walls, small plants or blue pantone coffee pots give a unique flair to the space. "We like good vibes, surfing, positive energy. That's life and what we wanted to move here", says Lydia, who until last year was living in Barcelona working in the field of new technologies.
You can feel that: there are outlets everywhere for you to charge your mobile phone or laptop. Two Ipads are embedded in a table for you to use whenever you want to and a third one they use in Brunch it to control the air conditioning. And the WIFI flies. In addition, there is electronic music and permanent video projections running in one corner of the room.
Is the perfect environment to try a tasty pizza with gorgonzola and pear or pumpkin cream with bacon. There is also a great variety for vegetarians available like the vegetable focaccia or delicious organic vegetables baked in the oven. And if you're a carnivore, watch out: don't miss the beef burger.
Although it opened in November 2015, the idea of Lydia and her partner is to open up to eight more restaurants under the same brand: first two more in Malaga and then another in Bali- and later eat the rest of the world.
Don't forget to share this post!