Flamenco shows are a picturesque art form, where phenomenal dancers in brightly colored gowns dance at the rhythm of complex, melancholic guitar music.
Seville and tablaos or traditional flamenco settings are one and the same; the city's folklore revolves around flamenco, and it's everywhere. And while all tablaos have their charm, the best of the best are not as easy to find as you would think.
Thinking of you, we've put together a list of the best tablaos in downtown Seville and the finest in the unique  Triana neighborhood. Pick your favorite, or better yet, visit as many as you can and experience the most charming show in your life.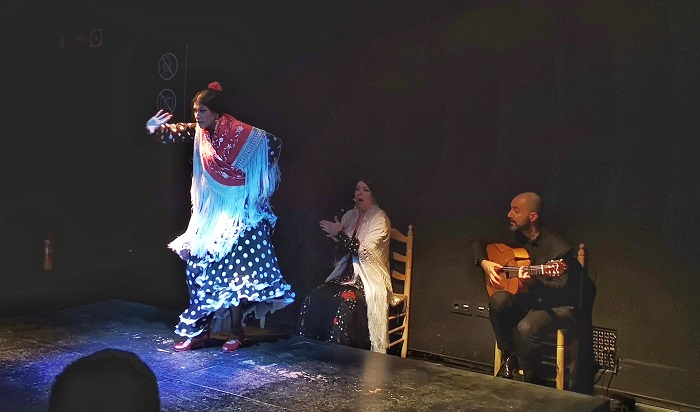 Casa de la Guitarra 
Inside a gorgeous 18th-century house, this cultural center close to the town's cathedral is one of the most authentic tablaos in the city.
Award-winning dancers perform here regularly, so you know this is no tourist trap: it's the real thing.
If you have time to inspect the guitar Museum on the premises, please do; it's an eye-opening visit.
Address: Meson del Moro 12
Shows: Mo-Su 19:30/21h
Price: 18€
La Casa del Flamenco 
This is another monumental old house hidden in the pebbled Sevillian streets, and the production here is as impressive as the building.
Watch carefully, there are no speakers or microphones in sight; the acoustics are perfect.
Address: Ximénez de Enciso, 28
Shows:
Fall/Winter 19:00 and 20:30 (Some days 17:30)
Spring/Summer – 19:00, 20:30 and 22:00
Price: 18€
Los Gallos
Expect elite dancers, singers, and musicians in Los Gallos. This iconic tablao has a solid show that never disappoints.
With ten artists on stage every night, this is a favorite tablao for tourists and locals alike.
Don't be fooled by the cozy dining room and the small stage; this intimate experience has been going on for over 50 years.
Address: Plaza de Santa Cruz, 11
Shows: 20h /22h
Price: 35€
Museo Baile Flamenco
If you wish to dig deeper into the intricate world of flamenco, this is where you want to be: The Flamenco Dance Museum.
The interactive museum teaches you all there is to know about Sevilla's noble art of dancing, and it's a learning center too! Take a lesson and learn to play and dance flamenco from the best.
The antique basement is overwhelming and worth the visit alone, but you know you're here to admire the legendary flamenco dancer Cristina Hoyos, one of the most celebrated dancer in the country.
Address:Calle Manuel Rojas Marcos, nº 3
Shows: 17h /19h/20:45h/22:45 (peak season)
Price: 22€
Tablao Alvarez Quintero
You'll find Tablao Alvarez Quintero in the street of the same name, close to the town center square.
This small temple for flamenco is home of both young and seasoned artists that put together an energetic, precise show in a red-lit, compact stage.
The auditorium has a classic, rustic decor, but the vibe is modern. Acoustics are unbeatable, and the experience is perhaps not flashy, but straightforward and legitimate.
Address:Calle Álvarez Quintero, 48
Shows: 19h /20h
Price: 18€
El Callejon del Embrujo
Located inside and old 15th century convent, El Callejon del Embrujo is a close and personal tablao adventure.
Your ticket includes a drink and a traditional tapa, making this a well-priced show. For one-hour, experienced artists give it all in an spirited and honest display of talent.
Address: Calle Argote de Molina, 26
Shows: 20:30h
Price: 20€
If you want to learn more about Flamenco, enjoy the best and -most important- most authentoc Flamenco show in Seville while you eat your way through the Old Town, don't forget to join us on the Seville Tapas & Authentic Flamenco Tour
Sala Fabiola
This is another monumental old house hidden in the pebbled Sevillian streets, and the production here is as impressive as the building.
Watch carefully, there are no speakers or microphones in sight; the acoustics are perfect.
Address: CALLE FABIOLA 9
Shows:
March-November: Tu-Su 20:00
December/February: Fr-Su 18:45
Price: 17€
La Cuna del Flamenco
The Quintero Theater is home to a massive flamenco spectacle. The place sits 300 people, which contrasts significantly with the small tablaos that dot downtown Sevilla.
The show here revolves around seduction, making it a unique tablaos experience with a central theme.
Taking pictures with the artists at the end of the show is an excellent way to wrap up the evening.
Address: Calle Cuna, 15
Shows: 17:30h/19h/20:30h/
Price: 20€
Tablao Orillas de Triana
If you think you've seen it all, come to Triana neighborhood. At Orillas de Triana, a place with a splendid view of the Guadalquivir river, artists bring flamenco to the modern era.
A well-structured show that includes a snack and a drink reveals a different aspect of flamenco, a theatrical one.
This place is also a flamenco school, so expect top-notch talent.
Address:Calle Castilla, 94
Shows: 20:30h
Price: From 20€
Cristina Heeren or Teatro Flamenco Triana
Drinks and music are spectacular at the Triana Flamenco Theater. The one-hundred-seat modern space offers a wide range of shows with great artists, most of them coming out of the Cristina Heeren school, the most prestigious academy in the region.
Come to see the show, have a bite and take a short dancing lesson. This theater is a mecca for flamenco.
Address: Calle Pureza, 76
Shows: 19:30h/21:15h
Price: 20€
Don't forget to share this post!
Sign up for our Newsletter and get the inside scoop on our favorite recipes, exploring and devouring Spain and more.