Sevilla is home to Spain's most vibrant traditions: Flamenco, Semana Santa, Feria de abril, Bullfighting and of course, Tapas.
The city thrives with a dynamic food scene that dates back centuries. Food is simple but flavorful, and the passion of dedicated cooks spice up every dish. Enjoyed with a cold beer or a glass of fantastic wine, going out for tapas in Sevilla is an experience of a lifetime. These are our favorite spots. Buen provecho!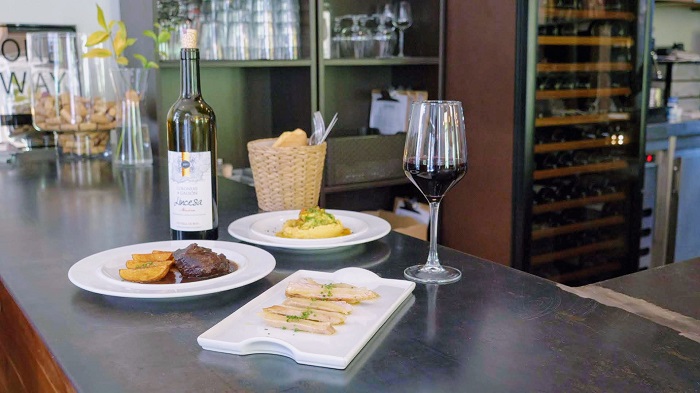 Bodega La Aurora • Pérez Galdós, 9 
Five generations have passed through the bar of La Aurora winery   since 1913, the date of its opening.
With popular prices and frequented by very different characters: poets, painters, politicians … it is still a small and beautiful winery, with an old Cuban hand-carved mahogany bar, columns of forge and old boots, where the wines and spirits of the land of Andalusia were kept.
Try the choricito al infierno, a cured sausage served as it has been done in this cellar for more than a century.
They serve it raw, in a flaming clay pot (they light it on the fly) and you are the one who are going to cook it to taste. When it is made to our liking, you  only have to add it to the bread and eat it! A typical delicacy.
Also the spinach with chickpeas which is one of the most traditional dishes of Sevillian gastronomy.
Taberna Manolo Cateca • Calle Santa Maria de Gracia 11
Mahogany wood bar, wine barrels, no stools or tables,…this little bar, tucked away in a corner alley off the beaten track, hasn't changed anything since
it opened its doors in the 50s (called La Goleta at the time)
They have an amazing selection of sherries, delicious well-priced tapas and lots of atmosphere.
If you're looking for a truly authentic Seville tapas bar without tourists this would be the one!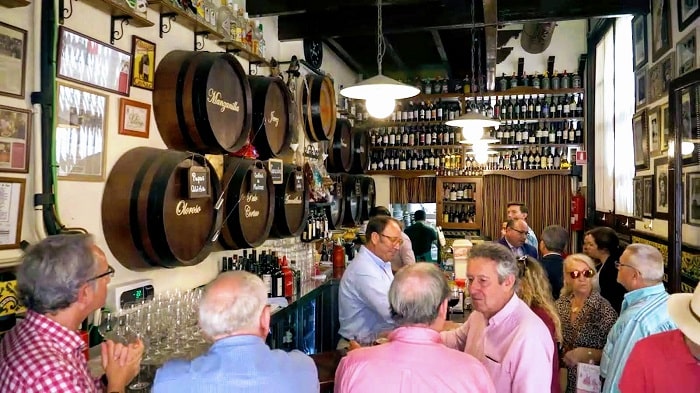 Casa Ricardo, Ronda de Triana, 6
Named for the owner in 1985, this imposing tapas house has its walls covered with religious art and pictures of famous characters; this place has a unique devotion to the Easter holidays and the feast around it. 
Try the the house speciality croquettes, the fried Camembert with cranberry sauce, pork loin in whisky or Cod fish. This is as authentic as it gets.
La Flor de Toranzo • Calle Jimios, 1
La Flor de Toranzo is one of the most famous bars in Seville, founded in 1942.  There you can often find politicians, writers, artists and other personalities of the city.
As it does not have a kitchen, its tapas are based on chacinas (cured meats) and high quality canned food . It is almost mandatory to taste your Anchovies with condensed milk , as well as foie gras. The montaditos (small sandwichs) are famous for being the best in the city,
Their anchovies montadito is a great classic of Seville, the anchovies are imported from Santoña (Cantabrian) and they use sweet condensed milk to alleviate the intense flavor of the salty fish creating this particular combination.
The origin of this curious mixture is a mystery. One that surely awakens many theories. Were they wrong when they tried to use mayonnaise?, we speculate at the bar. It could be, but the official legend on the other side and that the waiters inherit when they start working here is that a can of anchovies in poor condition was the culprit many years ago.
Throwing it away didn't seem right, so someone had the idea of compensating the excess salt of the fish with the sweetest thing that was there: condensed milk. Everyone liked it and what began as a fix to not throw food away ended up being one of the brands of the house.
This is place in Seville is so popular that its owner received in 2018 the Gold medal of the city.
To all the curious foodies out there who want to try something new,  you get to try the anchovies montadito on our Seville Food Tour But there are other alternatives of course!!
Restaurante La Moneda, Almirantazgo, 4 
A newcomer for Sevillian standards, La Moneda has been serving great seafood-inspired dishes and tapas since 1991. 
The austere eatery with checkered floors is a legend for seafood. Shrimp croquettes, prawns or stuffed squid, tortillitas de camarones (shrimp omelette) , fresh fish with salt from the oven, cut clean at the table, it's all delicious. Fried fish as a specialty and you can't visit La Moneda without trying it.
Manolo Leon, Guadalquivir, 8
 This place is gorgeous, a big house of high ceilings, dim chandeliers, and a fascinating inside patio in the famous Guadalquivir street. This place has an in-depth dining menu, so expect a big meal here; don't worry, it's worthy of your evening. 
Cheese, ham, different fish (specially the sea bass or the tuna tartar with avocado and tomato) and meat, and the diversity of desserts is fantastic. The setting and the service are a big plus, but the food alone won't disappoint.
El Rinconcillo, Calle Gerona, 40
 This is the oldest tapas bar in Sevilla and is over 400 years old! Like traveling through time, tapas here are traditional and full of authentic flavor. They still write your bill on the bar as you go.
It's sually crowded,so if you find a spot at the bar don't hesitate and grab it.  Tortillas with everything from mushrooms to Bellota ham, and from Manchego cheese to chorizo, are one of  the best in town;  iberian cold cuts, Payoyo chesse, pig cheeks or the oxtail stew are great; And desserts taste like home, try the cheese flan! 
Bodeguita Casablanca, Adolfo Rodríguez Jurado, 12
 Three generations have run this historical restaurant. This rustic tavern with a high-end feel and a bull-fighting theme is one of the locals' favorites and its clear why: the food.
Stew of the day, omellete in whiskey sauce, squids with broad beans,  Tapas here are epic! Visit at noon for a freshly made plate of seafood paella.
Eslava, Eslava, 3
 The San Lorenzo neighborhood is home to Eslava, a stunning Restaurant and Tapas Bar. They present the food as in a Michelin starred restaurant, the atmosphere, although modern has a familiar feel of an old-fashioned tapas bar in town. 
 Modernist techniques and local products make tapas here out of the ordinary and worth checking out. The Un cigarro para Becquer translated as A cigar for Becquer (Brick pastry cigar-shaped with cuttlefish and algae) is  superb; chicken blood pudding might put you off until you try it; fried fish sardines, or a tasty rack of lamb with rosemary and honey, it's all as good as it sounds.
La Brunilda, Calle Galera, 5
 Hidden in a narrow street, this small eatery of lofty ceilings and beautiful large windows, wooden tables, and a well-stocked bar offers simple, exquisite tapas. 
Some of our favorites are pan-seared foie with red wine-marinated pears, grilled octopus and spicy patatas bravas — everything fresh, and nicely plated. Be prepared for a good time, the ambiance is festive, and food is way above average. 
 Tip: It's very popular and there don't take reservations, so it's best to get there and queue 10-15 minutes before they open (8:30pm)
Al Aljibe, Alameda de Hércules, 76
 Al Aljibe is not really a tapas bar but a restaurant. The food is so good that we had to inlcude it.
This place is dim-lighted and downright romantic. The best tables are on the open patio in the entrance or on their terrace (a stunning view!). The old house offers an Avant Garde selection of food in a modernist setting. 
 Tapas, cold or hot, are all pristine quality and deliciously crafted. Ox carpaccio, fried cod with tartare sauce, duck magret, and even a beautiful vegetarian dish of grilled vegetables. Order as many dishes as you wish and share them with friends. 
 Don't know where to start? Join one of our food tours in Sevilla and enjoy the best tapas in town like a local.
Séptimo, Calle Pastor y Landero, 21
Its gastronomic offer is based on a cuisine of high quality products and a large cellar that offers a perfect combination for each dish.
Its chef, Florián is of French origin, although he has been living in Seville for years and cooking products of our land. He proposes a modern market cuisine, where the  product looks appealing, and the slight nuances highlight its flavor and quality, a daring cuisine, but faithful to traditional flavors.
Specially recommended are the hummus with guacamole on top, fusing the flavors of these two appetizers in a very special way.
And the carrillera or carrilada which is a traditional recipe in Seville. This meat comes from the cheeks, the sides of the face of the animal. The best is the Iberian pork . This stewed meat is considered a whole delicacy and is prepared with sofrito with different herbs such as thyme or rosemary, a good wine and a
stew over low heat for several hours. In this recipe they also add honey to give it a sweet touch.
And while you are in Seville, don't forget to join us on a Food tour that will introduce you to some of these delicious local specialties as you learn about Seville's cuisine, customs and history.
SIGN UP FOR OUR NEWSLETTER!
You'll get Spanish recipes,the latest Malaga food news, local tips and special discounts on our tours and cooking classes!
Don't forget to share this post!
Sign up for our Newsletter and get the inside scoop on our favorite recipes, exploring and devouring Spain and more.