Punta Umbría, Huelva
If you love the sea, Punta Umbría will not leave you indifferent. This district in Huelva is surrounded by the Atlantic Ocean on one side, and by the river mouth of the Tinto and Odiel rivers on the other side. In the area by the sea there's a beach of several kilometers with high tides. A walk to its breakwater is a magnificent way to start your visit. In the Ría de Huelva area (where the aforementioned rivers flow), there is a promenade from which you can contemplate the moored boats, or the ones that arrive from fishing outings. Unsurprisingly, Punta Umbría and fishing go hand in hand, which is why you cannot leave this place without tasting the typical fish and shellfish dishes of the area: coquinas, white shrimp, anchovies, sardines or fried cuttlefish.
If nature is your thing, you can go to Avenida del Oceano where you will find a bike path that goes into the pine forest that surrounds the town. We encourage you to cross to the forest through the juniper groves, all the way to the wild beach and its dunes.
Punta Umbría is about an hour and a quarter from Seville by car, the most recommended option. You can also use public transport. Buses leave from the Plaza de Armas station to Huelva approximately every hour. Once at the bus station in Huelva, buses also leave very frequently to Punta Umbría.
Riotinto, Huelva aka Mars
The place on Earth that most resembles Mars is in Huelva, and it is called Rio Tinto. Before you take off for this red planet, we are going to tell you why this town is undoubtedly one of our favorite options for a day trip.
Rio Tinto has one of the largest open pit mines in Europe. These mines have been exploited by different ancient civilizations, and after a hiatus of several centuries, they were reopened in the 19th century. At this time, they were sold to the English, who settled in the area and brought their culture with them. So much so that sports such as football and tennis entered the peninsula through Rio Tinto, since they were totally unknown sports in Spain at the time.
The visual impact of the mines will not leave you indifferent. Neither will the Tinto River: due to the minerals that circulate through it, this river's color is similar to that of red wine. This is why the comparison with Mars is often made. Actually, to undertake space trips to Mars and understand its possible ecosystem, NASA even carried out field studies in Riotinto. The microorganisms that develop in the river and its surroundings survive in conditions that may be the same as those of the Red planet.
The visit to Riotinto can also be quite educational. In the mining museum you can take a historical tour. There is also a train where you can take a tour of the mines and the most interesting areas. Riotinto, as you can see, has all the ingredients for a great trip.
Public transport is very scarce, our recommendation is to rent a car. In just one hour you will be at your destination.
Carmona, Sevilla
Just half an hour from Seville lies Carmona, a town through which Romans, Muslims and Christians passed; a living part of the history of Andalusia. The town's great monuments give it a special charm that makes walking through it a delight.
We recommend that you get lost in its streets and discover corners such as the Plaza de San Fernando or the food market, which dates back to the 19th century. On this walk, you will surely come across many palace houses and noble buildings that attest to their past splendor.
And, of course, the town's main attractions: El Alcázar del Rey Don Pedro (or Alcázar de Arriba), the Alcázar de la Puerta de Sevilla or de Abajo and the wall or Puerta de Córdoba.
And if all of that were not enough, Carmona also has a wide gastronomy- it is not for nothing the town has a great reputation for "going out for tapas". The cherry on top for the perfect visit.
The public transport connections are quite good, from the San Bernardo Station there are cheap and frequent buses, we recommend choosing this option for this day trip.
Aracena, Huelva –
In the north of Huelva lies its mountain range, where Aracena is the capital. This municipality, one hour and fifteen minutes from Seville by car, is a white town surrounded by mountains and oak forests.
Our recommendation is to stroll through its alleys and get lost, without a doubt you will reach its most special corners: the Plaza Alta where you will find the Church of the Asunción, the Plaza de San Pedro with its Mudejar hermitage, the set of outdoor sculptures that form the Museum of Contemporary Art of Andalusia or the Interpretation Center of Aracena.
We also encourage you to conquer its castle, a Muslim fortification from the 8th century from which you will have a wonderful view of the city. You could also visit its two main attractions: the Ham Museum and the Grotto of Wonders.
In the surrounding area of Aracena, they breed a very unique pig: the Iberian pig. From it, they obtain the area's star product: Iberian ham. You cannot leave without trying it, and visiting the Ham Museum.
And finally, The Grotto os Wonders: a magical place. It is a cave over a kilometer deep that has seven lakes, and hundreds of typical formations such as columns, stalactites and stalagmites.
To get to Aracena, you can take a bus from the Plaza de Armas bus station, although the frequency is very low. We recommend going by car: this way you can visit other towns in the area.
Dehesa de Abajo, Sevilla
The largest rice fields in Europe are found in the Guadalquivir marshes, bringing about an interesting ecosystem with landscapes of water, birds and rice fields that change depending on the state of the harvest. If you are a bird lover, you will definitely love this day trip.
Right in the middle of this rice field territory lies La Dehesa de Abajo, a nature reserve. In its landscape, you'll discover lagoons such as La Rianzuela, which is surrounded by scrub, pine trees and wild olive trees. The reserve has a bird-watching area, from which to observe species such as flamingos and red or blue ducks, depending on the time of the year. There are also well-marked paths along which you can take a more than pleasant walk.
In the area there is a restaurant and also a picnic area, although our recommendation is to try the local cuisine. And of course, the star dish is… rice cooked with different ingredients. The rice with duck or crayfish is well worth a taste.
Being an area of pure nature, it can only be reached by car.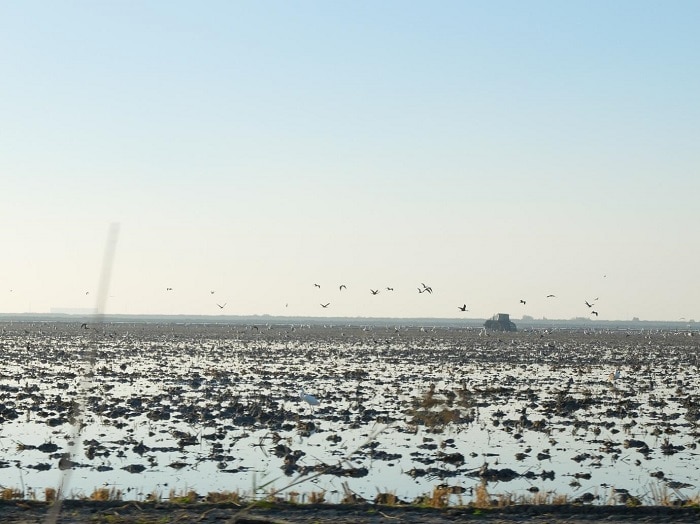 Bonus: Ronda, Málaga
You have probably heard about Ronda already. If you haven't this is really a must. The city that dazzled characters such as Orson Welles and Ernest Hemingway because of its "El Tajo", a breathtaking structure that makes the viewer dizzy, the Bullring of the Real Maestranza, its food, wines, people….
There is so much to see in Ronda. If you have just one day, check out are article One Day in Ronda. Beyond the Puente Nuevo Bridge
Don't forget to share this post!