Situated a mere 20-minute drive away from Malaga, in the mountains lies Benalmadena Pueblo. Benalmadena itself is situated in three sections – the Pueblo, Arroyo De La Miel and Benalmadena Costa, but the beauty truly lies in the white washed buildings of the Pueblo. Stuck somewhere between a typical Spanish town and an international village, it has a lot to offer. Let's see what!
Upon driving into the pueblo, you're greeted with one of the main draw cards – The Stupa. This Buddhist temple was constructed in 2003 and is famous for being the largest temple of its kind in Europe. From the Stupa, breathtaking views across the Mediterranean Sea across to Morocco and Gibraltar greet you.
If you manage to make it before 6pm, it's worth crossing over the road and visiting Mariposario – the Butterfly Park. Here you can see an exquisite range of butterflies at different stages of their life cycle. Watch them fly around you, and even meet Wally the Wallaby who hails all the way from Australia!
Once you've taken the time to reflect upon the beauty of the Stupa and the butterflies, take a short drive or walk across town to Pan Deluxe. Pan Deluxe opened recently and is one of the best bakeries in town.
Run by Marlene Heldal, her commitment to freshly baked bread and sweets is now legendary around town. My recommendation here is to try the Brunsviger, a type of Danish cake topped with caramelised brown sugar. Take a coffee and your cake and sit on the terrace embracing the views again over the Pueblo out to the sea. Make sure to take some treats home!
Now that you're all sweetened up, take a walk down to the bottom of the town to Colomares Castle – a monument dedicated to Christopher Columbus. You'd be mistaken for thinking these intricately detailed buildings are hundreds of years old.
In fact, it was only constructed between 1987 and 1994 as a labour of love by American Dr Esteban Martín Martín who alongside two builders spent his weekends and spare time creating this beautiful place which nods at a wide variety of architectural styles including Byzantine, Romanesque, Gothic and Mudejar.
Hungry again now? I'll bet!Benalmadena Pueblo is far from lacking in amazing places to eat. For typical Spanish fare, try La Cepa.
La Cepa is a tapas bar in the pueblo which offers a wide variety. Here, the very simple décor is made up for in great food. I recommended to try the variety of croquetas on offer, especially the less traditional spinach and pine nut croquetas – what a combination! In the summer months, sit on a table outside and watch life go by.
If you can't get enough of the views around the town, then make your way to El Muro and request a table outside. Here, breathtaking views greet you again but so does good food. We hope you're hungry here, because the whole salt-bakes sea bream with potatoes will most definitely fill any appetite.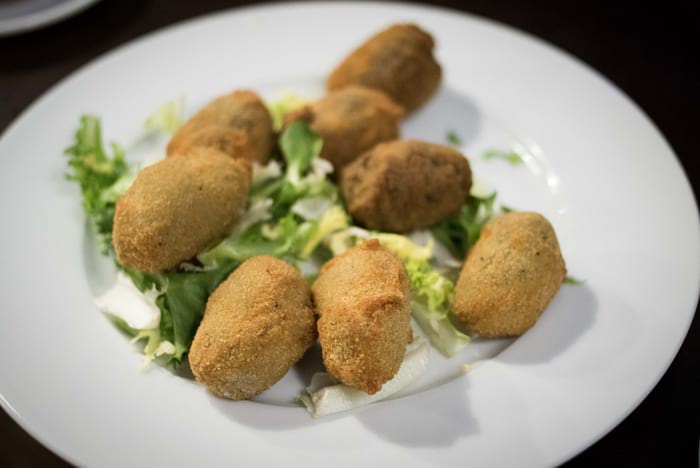 Once you've had your fill (and a glass of wine or two), take some time to wander the streets of the pueblo. Here, the hilly streets provide a great opportunity for some beautiful photos. The town is scattered with small boutique shops offering local produce and handmade products ranging from jewellery to soaps, clothes to oils.
At the top of the pueblo lies the Pre-Columbian Art Museum, which houses hundreds of pieces from Central and South America. It also features pieces from archaeological findings around the area of Malaga. Well worth a visit!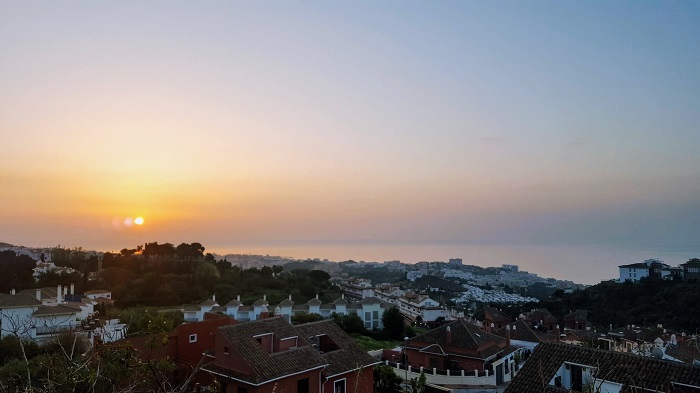 If the hills by now haven't gotten the best of you, then make your way back through the town to the church of Santo Domingo de Guzman, a 17th century building at the top of town.
From here, take in the views again, and find the little passage way with stairs leading you to La Cupula. Here, enjoy a cocktail or two while watching the sunset. La Cupula specialises in great dishes on the barbeque including salmon and steaks, as well as tasty burgers.
If you're craving something more traditional, then head to La Perlita. La Perlita has recently undergone a renovation and provides a wide menu which caters to even the fussiest of eaters. Make sure to try the cheesecake here. If Italian fare is more to your liking, then La Pala D'Oro is highly recommended – serving up of the best pizza and pasta on the coast!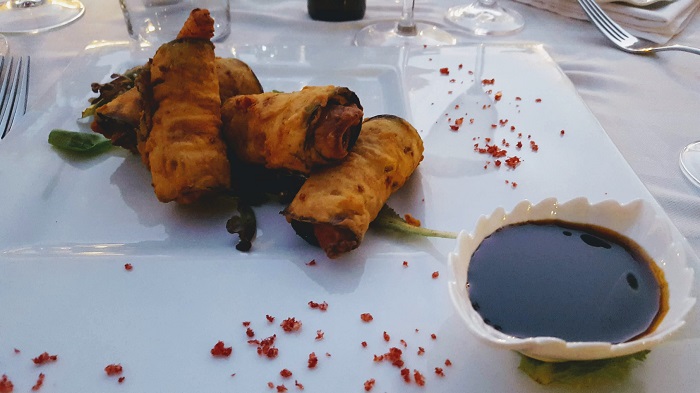 For the hottest place in town, then La Mar Chica is where to go. Opened a little over a year ago, husband and wife duo Dennis and Kikki run a great little restaurant with seasonally changing menus and ecological produce. The menu is not extensive, but here in lies the beauty. Every dish here is beautifully presented and cooked.
If you aren't sure what to eat, then take 'The Big Trip' and let chef Dennis take you on a culinary journey which will delight all of your senses. Make sure to book ahead!
Although a small town, if you want to get out of the hustle and bustle of Malaga then Benalmadena Pueblo is the perfect day trip out and a town that will keep your eyes and stomach's very content.
Where to Stay?
The offer of acommodations in Benalmadena is huge and varied, from the amazing five-star Vincci Aleysa in front of the beach, to the affordable good old Hostal Sol y Miel 
And if you are in Malaga , don't forget to join us on a Food tour that will introduce you to some of these delicious local specialties as you learn about Malaga's culture and history.
Don't forget to share this post!
Sign up for our Newsletter and get the inside scoop on our favorite recipes, exploring and devouring Spain and more.