MALAGA TRAVEL GUIDE FOR FOODIES
Many of our customers ask us for recommendations on the best places to visit, what to see and taste or what our favorite restaurants are. If you are spending some days in Malaga, this guide will help you make the most out of your visit. Our team gathered some of the attractions, hotels, restaurants, wine bars and taverns we like best, as well as a selection of tapas, dishes and drinks you shouldn't miss during your stay. If you want one of our Food Sherpas to accompany you and discover the fabulous cuisine of our city and province, book any of our food tours or cooking courses.
Check out our Malaga Tourist Map with the main attractions and useful information.

ESSENTIAL FOOD AND DRINKS TO TRY IN MALAGA
Fried Fish and "Espetos"
You cannot leave Malaga without having enjoyed the terrace of a "chiringuito" bar on the beach in Pedregalejo or El Palo. The stars among the summer dishes are the "fritura malagueña" (a wide variety of fried local fish like red mullets, white anchovies, squid or school shark) and grilled sardines. You will see that the preparation of an "espeto" is pure art: 5 or 6 sardines put on a skewer and roasted with coarse salt over an open olive wood fire. That's the essence of Malaga! You can taste "boquerones fritos" on our daily Taste of Malaga Tapas Tour
Malaga Style Salad
A traditional recipe from Malaga with an interesting twist, that's very well known and loved by locals (and visitors). Its preparation is simple and can be found in many restaurants and bars, served as a tapa or full dish. The ingredients are potatoes, cod, onion, Aloreña olives (no others!) and… orange – a delicacy from our Guadalhorce valley that adds a citric, sweet flavor to it! All seasoned with the best extra virgin olive and salt. Prepared for this flavor experience?
Meatballs in Almond Sauce
A classic, and an essential part of our regional cuisine which you can find in almost every tapas bar. Historically, Malaga is one of the largest almonds producers of Spain, so it is common to find them as a protagonist in many of our traditional dishes and desserts. ¿Have you tried ajoblanco for example? Learn how to prepare them and enjoy this regional specialty of Arabian origin in our cooking courses (and later again at home with our recipes)!
Porra Antequerana
Not just another cold tomato soup of the gazpacho family, but the perfect dish for hot summer days, refreshing and creamy! It is usually served in a bowl and accompanied by a garnish of chopped Serrano ham and/or tuna and egg- some might say the best part- that adds a wonderful touch to it (in taste and texture). Absolutely delicious and amazingly simple. Made from fresh, ripe tomatoes, white bread, garlic, extra virgin olive oil, Sherry vinegar and salt.
Eggplant with Sugar Cane Syrup

Malaga is known for the quality of its vegetables which reach their entire splendor in the Guadalhorce Valley. Our fried eggplant is finger-licking good (literally), especially when you serve it with "miel de caña"- a thick molasses made of our local sugar canes that still survive on the coast of Malaga and Granada. It sounds easy, but reaching the right point where the fried eggplant is golden and crunchy needs training. Eating it, not that much…
Artichokes
The preparation of "alcachofas confitadas" is not that easy. It takes quite some time since the artichokes need to be slow-cooked in olive oil for more than an hour (over low heat) to get tender and perfect. You can find them in traditional taverns or "mesones" and some restaurants. They are usually accompanied with foie gras, Iberian ham or even bacon. Please, if you get the chance, order them – they're a delight! Or try them any other way: a la plancha, rebozadas, montillanas, fritas,… Tip! Try the best in town on our Malaga Wine and Tapas Evening Tour
Pil- Pil Prawns
Being one of the most typical Andalusian treats, this tapa is a "must" of our gastronomy. It is usually served in small earthenware pots, accompanied with bread for dipping in the sauce. Just be careful, because the pot is very hot (it goes from the stove straight to your table), as are sometimes the prawns (now because of the chili). This is all you need: fresh prawns, cayenne pepper, garlic, paprika powder, salt and extra virgin olive oil. Absolutely delicious! You can learn how to prepare them on our Tapas Cooking Classes
Muscat Wine /Homemade Vermouth
If Malaga tastes like something, it's probably its sweetest delight: Muscat wine. You can almost taste the sun in its sweet berries and wonderful fruity notes in the wines. Not only is it great for dessert to complete an extensive meal, but also as an aperitif to whet the appetite and awake your senses- especially with some cooked prawns or cured cheese. An explosion of flavor! Also try our homemade vermouth, from Moclinejo for example, made from the same grape! Sample  this excelent wine on a progressive wine tasting on our Malaga Wine and Tapas Evening Tour
Dry Muscat White Wine
Gotta try it to believe it: it smells like a Muscat wine, fruity and sweet as we're used to. However the first sip is going to change your mind! Our winemakers and oenologists from Malaga elaborated a dry white wine from the famous "Moscatel" grape. It is a perfect wine to make those hot summer days a little more easy-going, accompanied by fresh fish or shellfish, and in good company. It is light, fresh and a wonderful makeover of our classic.
MALAGA'S BEST RESTAURANTS
Taberna Uvedoble
Tavern from the 21st century. Indispensable. Renewed Spanish cuisine.
Calle Císter 15
T. 951 248 478
Open: Mon-Sat 12.30-4 pm/8 pm-12 midnight.
La Cosmopolita
Wonderful restaurant with great, homemade dishes.
Calle José Denis Belgrano, 3
T.952 21 58 27
Open: Daily 1 pm-12 midnight
Mesón Mariano
Open since 1970. The artichokes are "the queen of the house".
Calle Granados, 2
T. 952 21 18 99
www.restaurantemesonmariano.es
Open: Tu- Sun  1 pm-12 midnight.
La Recova
Tradition, good taste and simplicity. Local gastronomy and handicrafts.
Pje Ntra. Sra. de los Dolores de San Juan, 5
T. 952 21 67 94
Open: Daily  08:30 am-4 pm.
Café Restaurant El Mortal
Impeccable selection of Spanish cold cuts, cheeses and wines.
Plaza Enrique Garcia Herrera 18
T. 952 21 67 94
Open: Mon-Thu 9 am – 5 pm/8 pm-11:30 pm. Fri & Sat 10 am-11:30 pm.
Óleo Restaurant
Mediterranean cuisine and Sushi bar in the Modern Art Museum.
Calle Alemania, 0
T.952 21 90 62
Open: Tu-Sat 1:30 pm-4pm/8:30 pm-12 midnight. Mon 8:30 pm-12 midnight.
La Deriva Restaurant
Traditional cuisine with modern twists.
Alameda Colón, 7
T.951 28 69 21
Open:Mon-Fri 8 am-1 am. Sat 10 am-1 am. Sun 12 noon-1 am
García Taberna
Small restaurant with lots of charm. Mediterranean fusion cuisine.
Calle San Juan de Letrán, 17
T. 951 46 52 30
Open:Tu-Thu 8 pm-2 am. Fri & Sat 1:30 pm-2 am.
Cañadu, Vegetarian Restaurant
Discover the delights of our organic vegetable gardens from Malaga.
Plaza de la Merced, 21.
T.952 60 27 19
Open:Mon-Thu 1:30 pm-4 pm/7:30 pm-11:00 pm. Fri & Sat 1:30 pm-4:30pm/8 pm-12 midnight. Sun 1:30pm-4:30pm/7:30 pm-11:00 pm.
El Lirio Restaurant
In the very heart of Pedregalejo. Probably the very first "chiringuito" in Malaga. Better impossible.
Paseo Marítimo el Pedregal, 11
T. 952 29 00 22
Open: Daily 1 pm-5 pm/8 pm-11 pm.
KGB
Tapas Bar from Kisko García, Cordovan chef, awarded with a Michelín Star for his restaurant El Choco in Córdoba.
Calle Fresca, 12
T. 952 22 68 51
Open: Tue-Sat 1 pm-4:30 pm/8 pm-12 pm Mon 8 pm-11:30 pm.
Pez Tomillo Restaurant
Tapas bar at the beach. Mediterranean cuisine with a personal touch.
Paseo del Pedregal, 1
T. 955 440 030
www.equipompuntor.com/pez-tomillo
Open: Mon-Fri 1:30 pm-4:30 pm/8:30 pm-12:30 am. Sat & Sundays & Public Holidays 1 pm-4:30 pm/8:30 pm-12:30 am.
La Trastienda
Mediterranean cuisine in the very heart of the Malagueta quarter, just some meters from the beach.
C/ Cervantes, 10
T. 952 21 67 80
Open: Tue-Sat 1 pm-11:30 pm . Sun 8 pm-11 pm.
El Refectorium Catedral
Andalusian cuisine with great, seasonal produce.
C/ Postigo De Los Abades, 4
T. 952 60 23 89
Open: Tue-Sat 1 pm-5 pm/8:30 pm-12 midnight. Sun 1 pm-5 pm.
La farola de Orellana
A tiny local bar with more than 75 years of History.
Calle Moreno Monroy, 5.
T. +34625 20 91 02
Open: Tue-Sat 1 pm-5 pm/8:30 pm-12 midnight. Sun 1 pm-5 pm.
OUR FAVORITE THINGS TO SEE AND DO
Have Lunch or Dinner in a Chiringuito
If you visit Malaga, we invite you to eat like a "Malagueño" 🙂 Don't hesitate- you've got to go to a "chiringuito"! These are restaurants on the beach, mostly family businesses, that have existed for two or more generations and that are specialized in the elaboration of the typical fried fish from Malaga (different types of fish, squid, anchovies … all local), sardine skewers and traditional seafood dishes like soupy rice with boquerones. You will spot them easily because of their terraces- they are located in front of a boat where the skewers are roasted over open olive wood fire. These are places with lots of charm, the waiters shout while passing between the tables and running from one side to another and the food is usually very abundant. We recommend El Lirio, Las Palmeras or El Merlo on the Paseo Marítimo de Pedregalejo.
Visit our Monuments
Malaga is one of the oldest cities in Europe, of Phoenician origin, and was home to many different cultures like the Carthaginians, Romans and Arabs. All these influences have left an important cultural and monumental legacy that you will discover during your visit. Our recommendation: Take it easy and enjoy! In addition to visiting our emblematic monuments such as the Cathedral, the Roman Theater, the Alcazaba or the Castle of Gibralfaro, while strolling through the city, you will have the opportunity to discover places, streets and wonderful squares such as Plaza del Siglo, Plaza de la Merced, Plaza del Obispo or the Constitution Square. If you have time, we particularly love the Church of the Holy Martyrs and the surrounding streets, especially the shops and the charm of Andrés Pérez Street and the area called Pozos Dulces.
Take your time. If you don't see the whole city during your stay, you will have an opportunity to continue exploring our city on your next visit!
Enjoy our Parks and Gardens
If you are going to stroll through the historic center of Malaga, you can't miss the opportunity to enjoy our Park! It's easy to find, since it is located right in the city center- a great promenade of almost a kilometer with gardens on both sides that extend from the Plaza de la Marina to the district of the Malagueta. It's a Mediterranean garden with numerous subtropical plants and many others from all the five continents. The Park is considered to be one of the most important public parks in Europe.
And since you are already there, you might as well have a walk through the Gardens of Pedro Luis Alonso, next to the Town Hall- a garden surrounded by orange trees and cypresses where you can enjoy more than 70 different types of roses. Lovely! A few meters away you will find the "Jardines de Puerta Oscura" on the hillside of the Alcazaba and the Gibralfaro Castle, where you can contemplate jacarandas among other botanical species.
Finally, if you have time and a little further away from the historic center, you can visit our Botanical Garden, La Concepción. Created around 1855 by two important families of Malaga, it became a Monument of Cultural Interest (BIC , Bien de Interés Cultural). It's a magnificent collection of tropical and subtropical outdoor flora. Species from Europe, America, Asia, Africa and Oceania.
Day Trip
Enjoy a day trip! The center of Malaga and its neighborhoods are amazing and they have many things to offer and to see, but don't forget that the province of Malaga is quite large and equally impressive! If you are going to stay a few days in Malaga, try to escape one day and visit towns like Frigiliana- without a doubt, one of the most charming white villages of the Axarquía; Nerja, and just like that enjoy its wonderful beaches, or those of the nearest village, Maro!
There are many other towns and villages near Malaga, but we must insist you to visit Ronda. Worldwide a unique spot, famous for its landscapes, nature, architecture, urbanism and history. Stop by some of its wineries as well! The itinerary from Malaga is a real treat.
How to order Coffee in Malaga
Let's be honest- it doesn't matter where you go for a coffee in Malaga, it will always be very tasty! That is, if you don't order Latte Macchiato, Capuchino or Americano, but completely blend in and order your coffee like a "Malagueño" does.
And not only is it delicious, but it will definitely suite your preferences, since we have 9 different names to order it! Basically it depends on the quantity and proportion of freshly brewed, strong coffee and milk.
It all starts with "nube" (cloud), because, as you can imagine, there is very little coffee inside and lots of milk (10/90, approximately). If you like it a little bit stronger, go for a "sombra" (shadow), where the coffee proportion already rises to 20%. "Mitad" (50/50), "largo" (90/10) and "solo" (expresso) are other popular combinations, always increasing the quantity of coffee and lowering the one of the milk.
You can even decide if you want warm or steaming hot milk; in summer maybe with an extra glass with ice cubes to enjoy it cool; order it in a cup or a glass (the latter is very malagueño!); or make it complete and accompany it with authentic "churros" or a mollete bread with tomato, extra virgin olive oil and Iberian ham. Best breakfast ever!
Visit our Markets
If you are into markets, our city is just right for you! You can choose between 15 food markets, all belonging to different neighborhoods. Our main municipal market carries the exotic name of "Atarazanas" (boat arsenal) and not only is the building itself well worth a visit, but as well the mouth-watering local, seasonal produce and the people selling them. Others might be smaller, but not less interesting or beautiful like the Salamanca market for example. And of course all of them are a feast for the eyes, ears, nose and mouth!
Or take it to another level with our wonderful Local Organic Markets that travel around the province of Malaga and reach our capital every other Saturday. That's truly our countryside, culture and heritage in one basket, thanks to the nonprofit association 'Guadalhorce Ecological'.
Check out our Ultimate Guide to Malagas Atarazanas Food Market!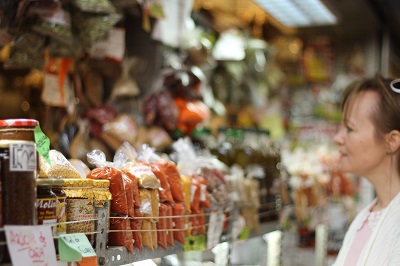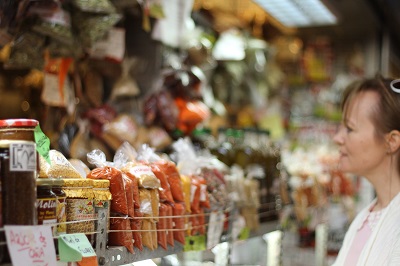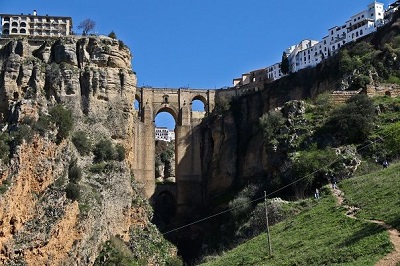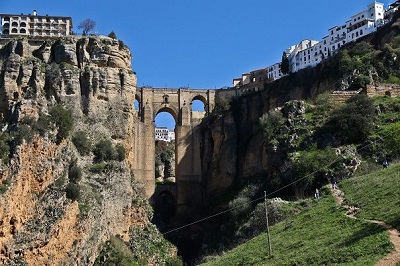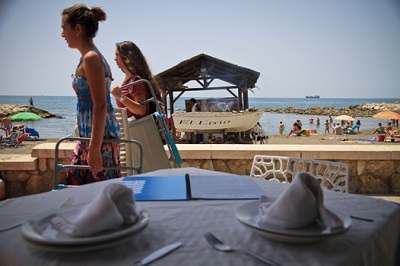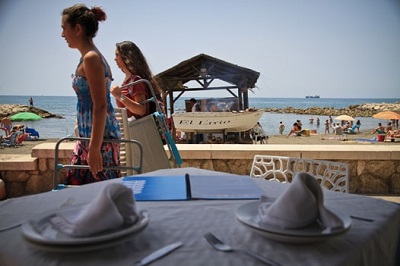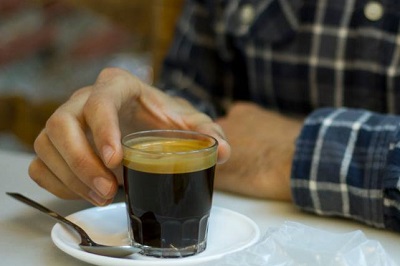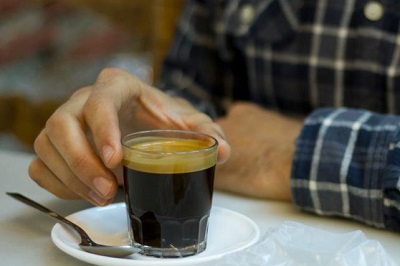 LOOKING FOR SOMETHING DIFFERENT TO DO IN MALAGA?
CHECK OUT OUR FOOD TOURS AND COOKING CLASSES: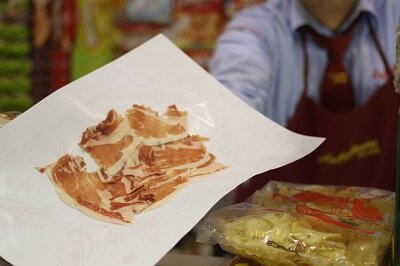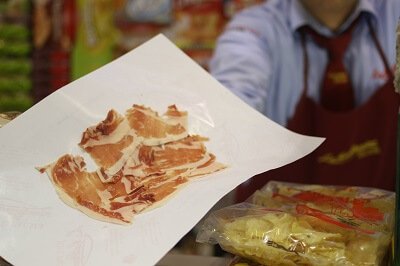 TASTE OF MALAGA TAPAS TOUR
Experience Malaga the way Malagueños do by visiting the bustling Food Market, tasting hand cut Iberian ham and giving in to many mouth-watering tapas.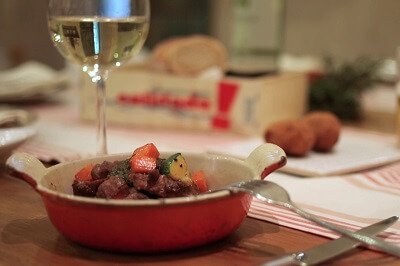 MALAGA WINE & TAPAS EVENING TOUR
A night on the town for wine-loving foodies. Discover Malaga from an insider's perspective by nibbling on tapas in the best local bars and taverns.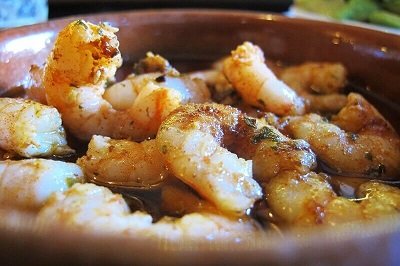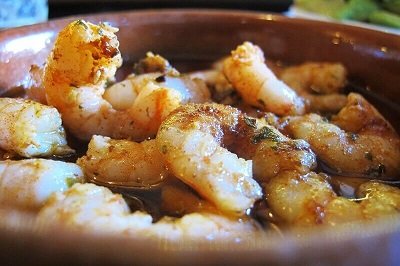 TAPAS COOKING CLASS & MARKET VISIT
Care for a delicious tapa? Or two or three? Immerse yourself in our food culture by learning how to prepare (and eat) some of our most traditional and tasty tapas!