A MESSAGE ABOUT COVID-19. LET'S STAY POSITIVE!
Update: Spain will welcome back tourists from July 1st
The last months have been such a confusing and stressful time for everyone with the rapid ongoing spread of the COVID-19 virus.
On March 11 the World Health Organization characterized COVID-19 a pandemic and from March 14, Spain has been in lockdown.
From May 11, lockdown measures are being lifted gradually under a three-phase plan.
Spanish Prime Minister Pedro Sánchez announced on May 23 that Spain will welcome foreign tourists back in conditions of safety from July 1.
As the cities we operate in – Malaga, Granada and Seville – start to reopen, we're working hard to adapt our food tours and cooking classes to what will soon become our new 'normal'.
At Spain Food Sherpas, the health of our guests, tour guides and local partners remains the key priority. We want our guests to be and feel safe while providing an authentic, meaningful and top quality experience!
There is epidemiological evidence showing that COVID-19 incidence has declined to very low levels in Spain and especially in Andalusia, which being the most populated region has been one of the least affected in the country.
At the end of May, the incidence in Andalusia is fewer than 2 cases per 100.000 people.
The following chart shows how the pandemic has evolved in Andalusia from March 6th to May 25th. Source: juntadeandalucia.es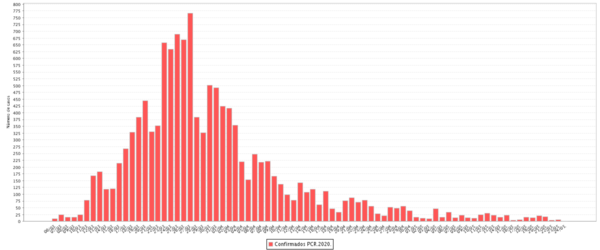 We have reinforced our commitment to safety with the development of health protocols in line with the operational considerations for COVID19 risk management issued by relevant health authorities, namely , the Spanish government, the Andalusian government, the World
Health Organization and the European Centre for Disease Control and Prevention with regard to restaurants and tours and trip operations.
The new procedures include:
Operations Safety Regulations
1. Reducing group size. Our food tours and cooking classes group sizes will be reduced to a maximum of 6 people during the intial period.
2. We'll make sure that the restaurants, bars, vendors and other locals we encounter are compliant with the safety guidelines provided by the health authorities.
Hygiene and Safety Regulations
3. The use of masks in Andalusia and most regions of Spain is mandatory for tourists as well as residents in all public spaces (outside an indoors), even when social distancing cannot be guaranteed .The fine for not wearing one is 100€.
Exceptions will be made in situations where wearing a mask is "incompatible" such as for doing sport or when eating and drinking at bars and restaurants.
This means that wearing a mask will be mandatory on our tours only when walking from stop to stop.
Our guests will be requested to bring their own masks to the tour.
4. Our Guides are trained on infection prevention and to know how to deal with guests presenting COVID-19 compatible signs or symptoms and emergency situations.
5. Any guide who feels unwell and/or presents even the slightest sign or symptom will not lead any tour until they are well.
6. Hand hygiene: Our guides will carry alcohol-based hand sanitizers and will provide it to our guests frequently.
7. Physical distancing is the most effective preventative measure. We have put in place measures to maintain physical distancing throughout most of the tour.
8. Where physical distancing cannot be guaranteed, our guides will wear a face mask and advise our guests to use them.
9. Our guests will be encouraged to wash their hands regularly and use hand sanitizers or sinks when we have them available to us.
Peace of Mind – Cancellation Policy and new Payment methods
We know it won't be easy to plan your travel in the next few months so we have made updates to our cancellation policy and payment methods in response to COVID-19:
1- Free cancellations or date changes (subject to availability) are allowed up to 24 hours before it starts.
No refund will be provided for cancellations made within 24 hours of a tour /class, or in case of no-show.
To check the availability, please use our calendar
2- We now accept PayPaland cash payments. To pay in cash on the day of the tour, please contact us
Give the Gift of an unforgettable Foodie Experience in sunny southern Spain.
This will pass and we'll be here in Spain waiting for you. Our Gift Vouchers are a great option for securing a 20% discount today without having to choose the exact date because they can be redeemed within the following 2 years of the purchase date.
Gift Vouchers make for a great gift and will cheer someone up during this difficult time. After the purchase, you will have the option to customize it with your own image and message.
That's why we will be offering 20% off all Gift Vouchers in Malaga, Granada and Seville until all is back to normal. Just use the promo code SPAIN20 at the time of booking. Click here to purchase yours